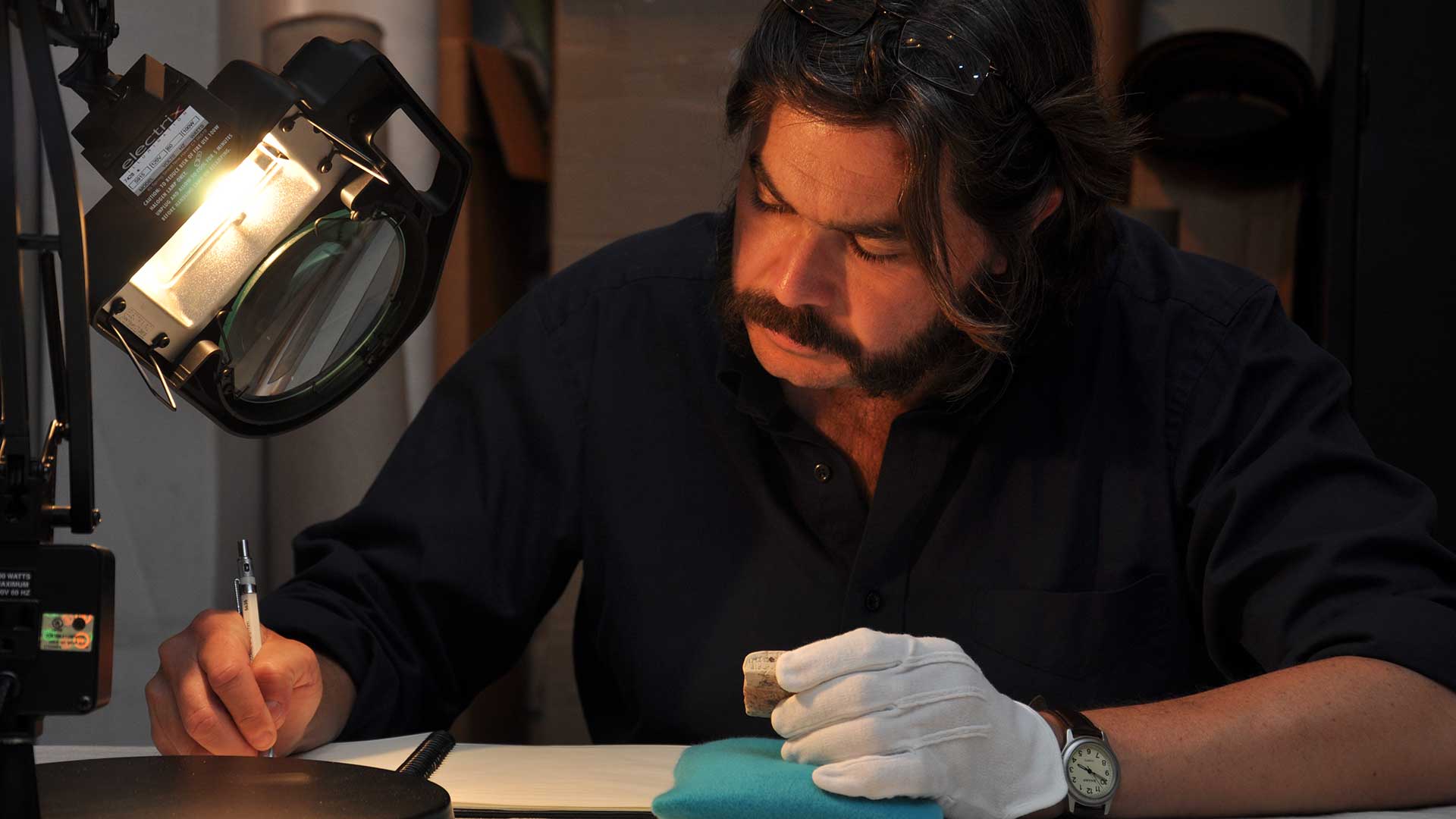 A long history of research continues today
Post Date

3/11/2016

Author

Wayne Pitard

Reading Time

2 minute read
Research on its artifact collections is one of the key missions of the Spurlock and has been ongoing since the Museum's early days in Lincoln Hall. Before we moved into our new building, scholars had published significant parts of the collection, including a large percentage of our Greek and Roman ceramics, about half of our Mesopotamian inscribed clay tablets, a significant portion of our South American materials, our collection of ancient Greek papyri, as well as individual artifacts, such as our Egyptian mummy, our Early Bronze Age goddess figurines from Kültepe, Turkey, and the ancient inscribed door socket of the Temple of Shara, from the city of Umma in Iraq. A PhD dissertation was written on our Merovingian archaeological collection, and three MA theses were written on our vast Roman coin collection.
New Collections
Since 2002, when we opened in our new location, research has continued on several levels. With a large influx of some 11,000 new artifacts into our collections since we opened, our Registration Section has done a preliminary study on each artifact before it is presented to the Acquisitions Committee for acceptance. Student workers and volunteers in Registration also attempt to solve mysteries concerning the identity and provenance of old pieces in the collection whose information has been lost. Interns from the University and from abroad often undertake larger scale research projects during their time at the Museum.
Scholarship
In addition, the Museum brings in expert scholars to study collections that we are preparing for exhibits in our temporary gallery. These scholars familiarize themselves with the artifacts related to their area of expertise, help us choose the pieces that will go on display, and provide detailed information on those objects. Through their work as exhibit coordinators and curators, members of the Education Section have developed substantial expertise on many of our collections.
Scholars from around the world continue to study and publish their research on our collections. To date, they have produced over 150 books and articles on artifacts from the collection. Researchers from Great Britain, Israel, China, Cyprus, Spain, the Netherlands, the University of Chicago, the University of California at Los Angeles, the University of Southern California, the Getty Museum, and the Detroit Institute of Arts have recently worked on publications of our artifacts.