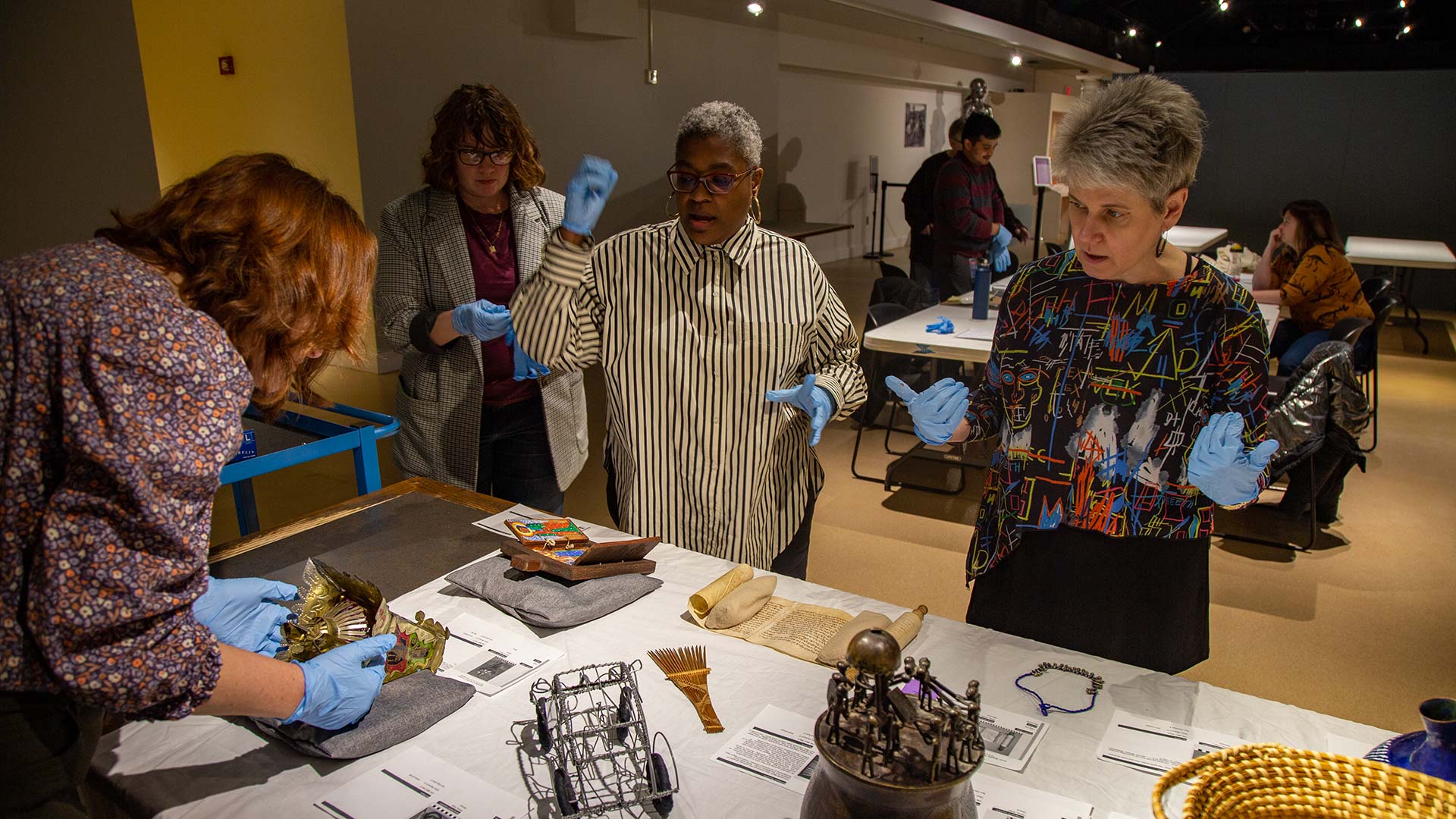 Director
Wayne Pitard earned his PhD in Ancient Near Eastern Languages and Civilizations from Harvard University in 1982. He has been Professor of Religion at the University of Illinois since 1983, teaching Hebrew Bible and ancient Near Eastern Religions. After many years of serving as the curator of the Mesopotamian exhibit, in 2007 he became the Director of the Spurlock Museum. While here at the Museum, he has become the Spurlock historian and has written articles on a number of the Museum's most interesting artifacts.
Wayne's research interests have focused on the cultural background of early Israelite religion, and he has written extensively on the ancient Canaanite religious texts from Ugarit, Syria, as well as on the ancient Aramaeans and their cultural relationships with biblical Israel. He has been recipient of a National Endowment for the Humanities Fellowship, a Fulbright Grant, and was named a University of Illinois University Scholar in 1993.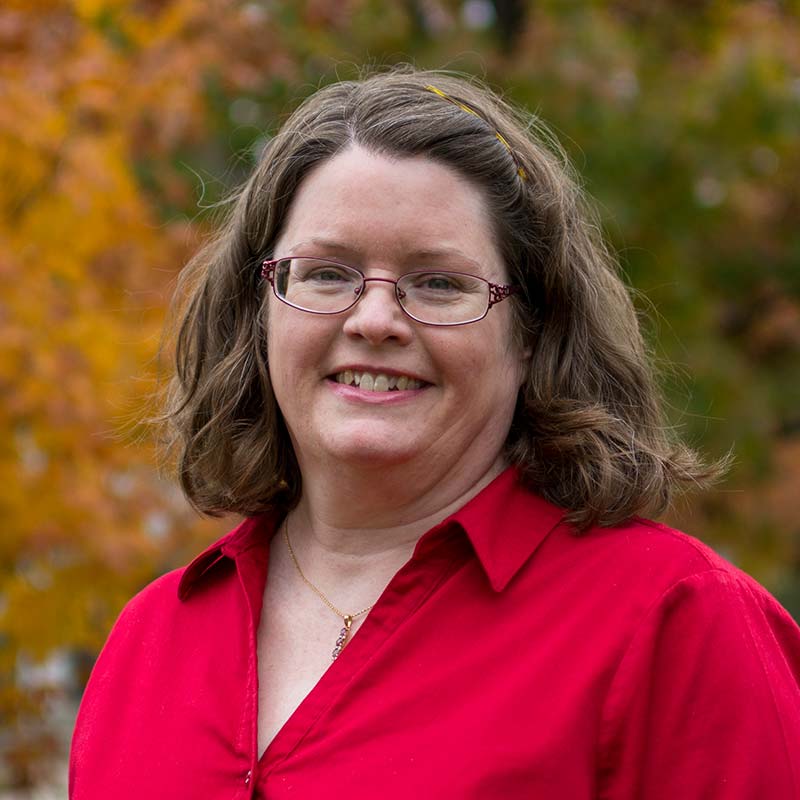 Business/Administrative Associate
Following careers in historical archaeology and retail, Karen joined the Spurlock Museum Business Office in 2004, assisting with purchasing, payroll, financial reporting, and human resources. After the retirement of the Business Manager in 2010, she assumed sole charge of the office, adding budgeting, grant administration, facilities, and equipment management to the mix. One of the greatest challenges of the job is keeping Museum staff compliant with ever-changing state and University policy and regulations.
In her free time, she enjoys trolling antique stores, finding good barbeque and Indian food, listening to her son play the euphonium, and reading a good book in a quiet corner.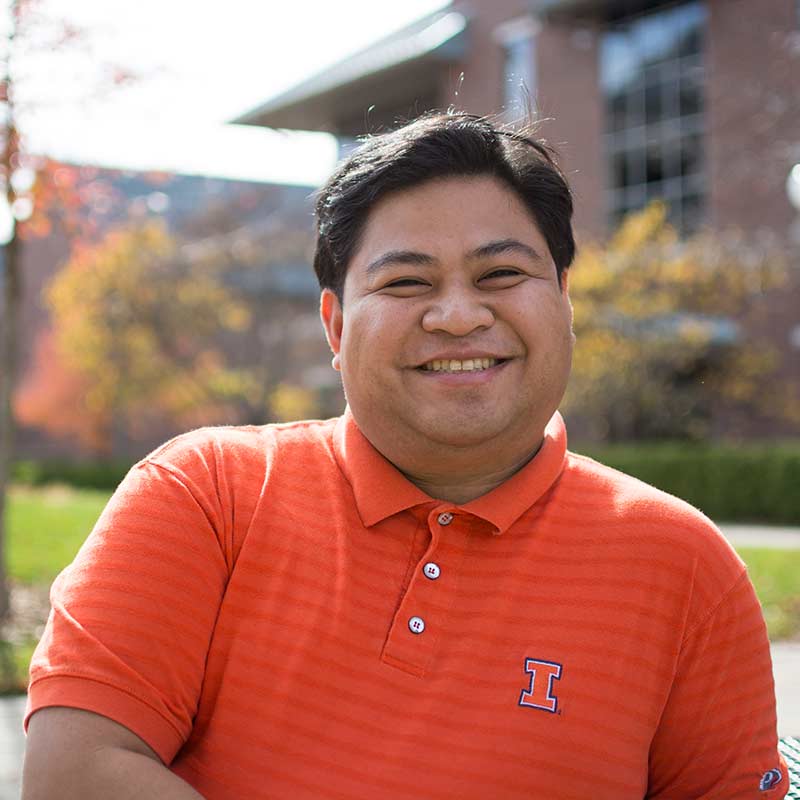 Special Events Coordinator
Brian is one of those that moved to the University of Illinois for school and never left. Before starting at Spurlock in 2005, he did make one earlier appearance at the Museum by visiting Spurlock on its grand opening in 2002. With a group of 10-15 students, he keeps the Museum's Information Desk and 300+ events each year running smoothly.
You likely wouldn't guess that the Museum's desk/events guy obtained his degree in computer science, but his analytical skills are applied while troubleshooting last-second audio/video crises or coordinating work schedules with the changing student class schedules. Brian is usually one to not pass up exciting opportunities, so if you can find him, things he might discuss with you include, but are not limited to: travel, friends, family, contests, baseball, daylight saving, and bacon.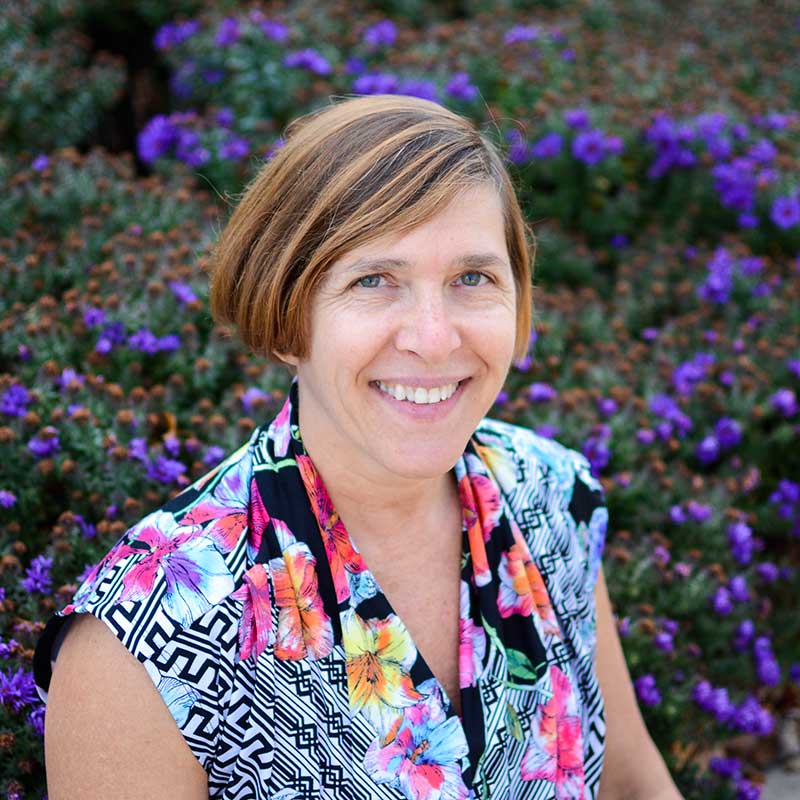 Registrar
Jennifer completed her BA and MA at Northern Illinois University in Southeast Asian Art History with a Museum Studies emphasis. As a student she documented artifacts for the newly founded Burma Gallery at NIU. A stay in Philadelphia for a 9-month Collections Management Internship at the University of Pennsylvania Museum of Archaeology and Anthropology turned into 10 years when she became Keeper for the Asian Collections, occasionally moonlighting as curatorial consultant at the Ryerss Museum.
Jennifer returned to Illinois as Spurlock's Registrar in 2001 and now works with a staff of nearly 20 full- and part-time employees, student assistants, interns, and volunteers to manage the growing collections, preserve and enhance their documentation, and teach Museum Studies. Outside of work her days are full of aerial arts; Argentine tango, swing, blues, salsa, and other forms of dance; quilting; gardening; learning Spanish; and exploration into teaching English as a second language.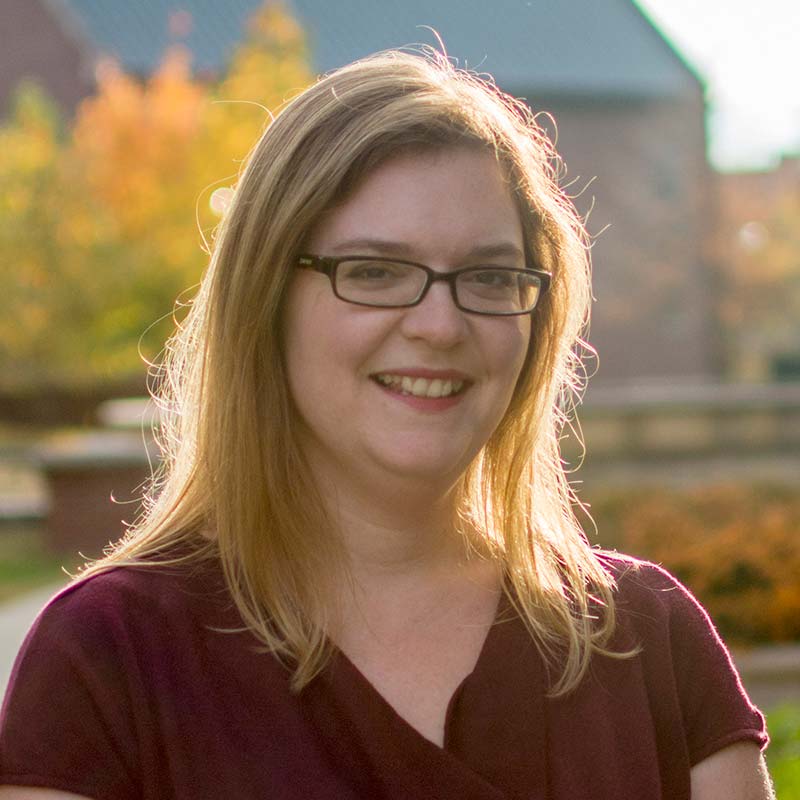 Assistant Registrar-Acquisitions
Amy went to college to become an archaeologist, but her fear of snakes and love of the university's museums led to career change. She holds BAs in Archaeology, English, and Classics from the University of Missouri-Columbia and an MLS in Library and Information Science from the University of Illinois at Urbana-Champaign. Amy joined Spurlock as Assistant Registrar for Acquisitions in 2006. Her primary duties include facilitating museum loans, acquisitions research, and collections documentation. She is the voice on the phone if you have questions about the collections or want to donate an artifact.
Outside of the museum, Amy enjoys reading mysteries and trying to get her kids to watch classic movies. And coffee. Lots of coffee.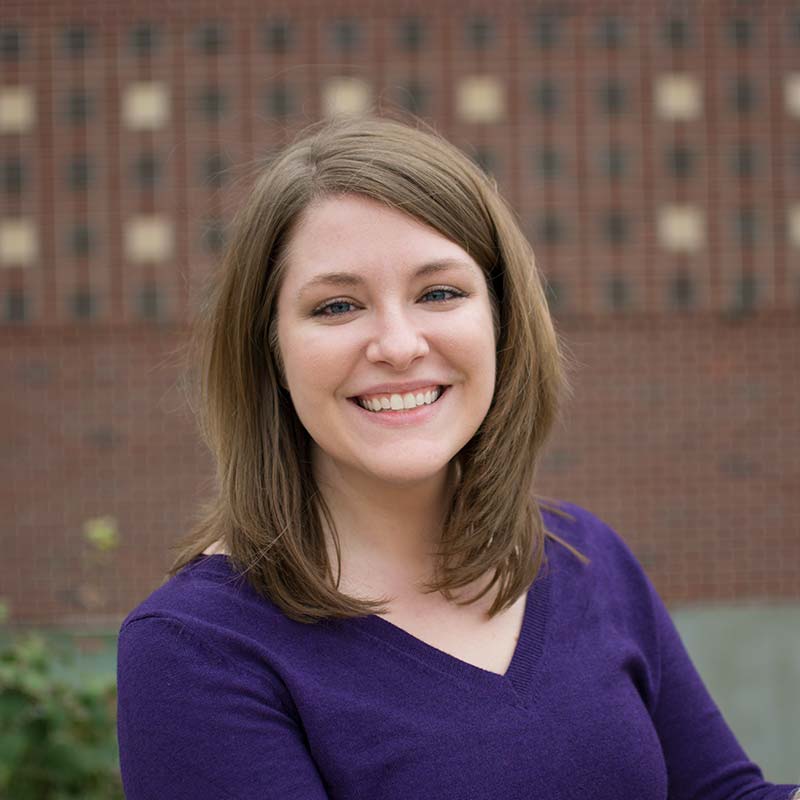 Registration Associate, Photography and Image Rights
Jessica joined the Spurlock Museum team in 2009 as Registration student assistant, helping to process, catalog, and photograph artifacts. This up close and personal interaction with world history had her hooked. She pursued a degree in Anthropology and graduated from the University of Illinois in 2011.
In her current role, Jessica manages the Documentary Multimedia Collection, which consists of over 40,000 photographs, slides, film, and other audiovisual materials. This collection is being organized, digitized, and cataloged into a searchable database. Jessica walks people through the process of requesting Museum images for research or publication. She also oversees a team of undergraduates that carries out artifact photography. When Jessica is not busy at work, you'll find her talking about movies, attempting a new baking recipe, or gushing over all things puppies.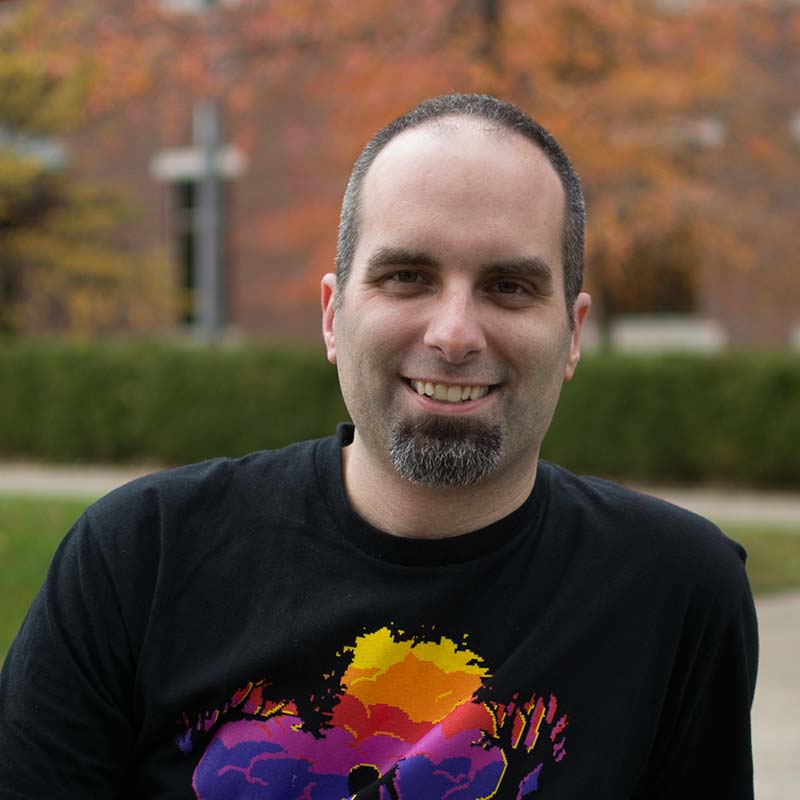 Director of Information Technology
Jack started his museum career volunteering in a one-room local historical museum in his hometown. He started working for Spurlock in 1998, performing data entry to support the hectic move from the Museum's original Lincoln Hall location. Jack's role has since evolved, but he continues to work his dream job 15+ years later, learning and finding new things to get excited by on a near-daily basis.
An alum of the Graduate School of Library and Information Science at the University of Illinois, Jack manages a small team of undergraduates to run the Museum's daily tech-based operations. When he's not creating databases and videos, building digital content for exhibits and the Museum's website, or researching technology and museum issues, you might find him talking about video games, board games, Japan, or his persnickety cat Brockett.