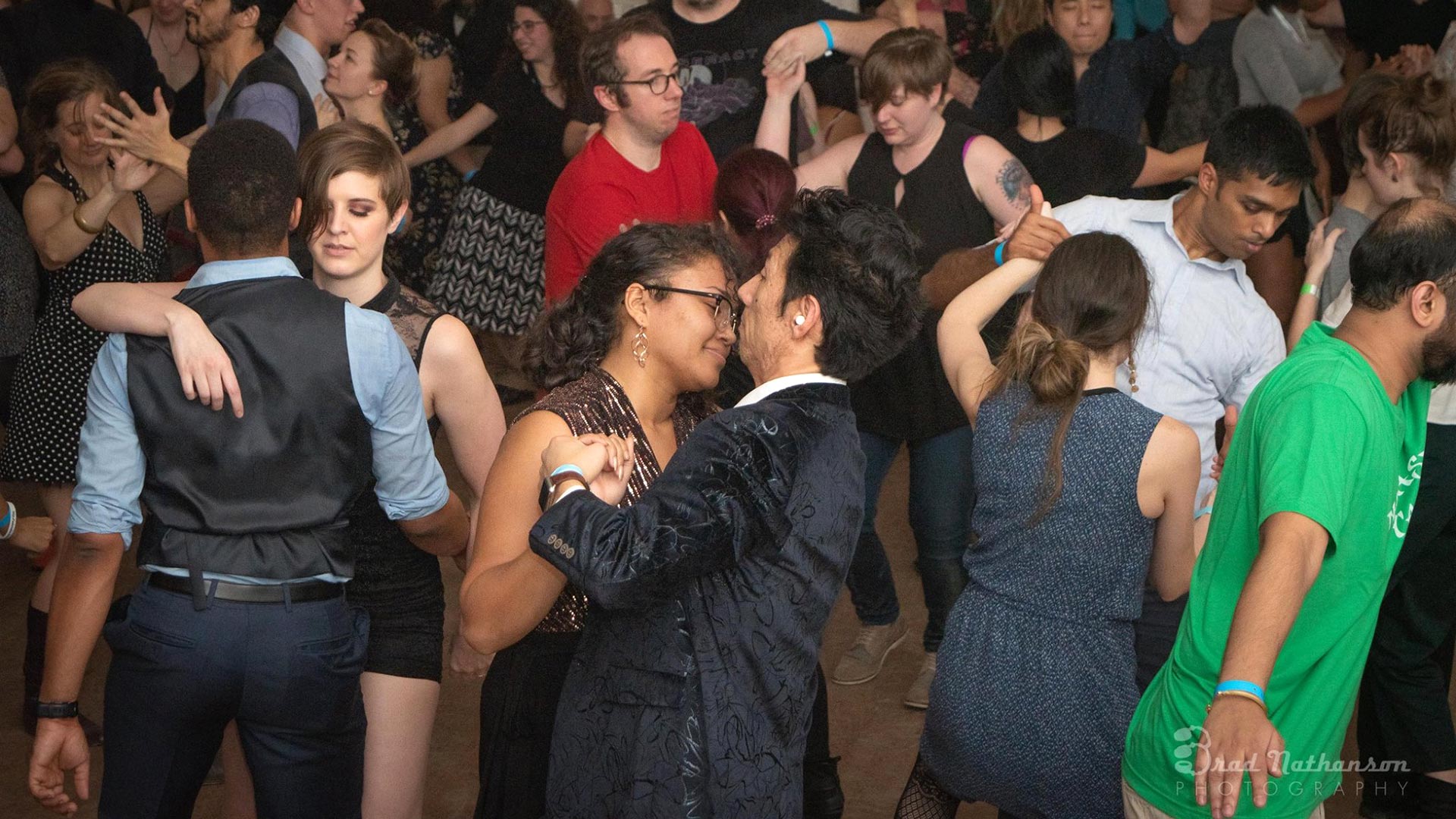 Blues Dancing. Brickyard Blues Dance Festival, Atlanta, Georgia, 2019. By Brad Nathanson.
Blues Dancing
and its

African American Roots
"Blues dance" is a new name describing a family of dances done to blues music and created within African American communities. Today blues dancing is popular throughout the country and beyond the communities from which it originated.
This exhibit explores the history, characteristics and styles of blues dancing and presents artwork and personal stories by dancers.
Oral Histories
Listen to the stories of dance in the lives of African Americans who graduated from the University of Illinois or have lived in Champaign and neighboring communities and view artwork created by a local dancer.
Oral Histories
Blues Dancing in Champaign-Urbana
There are diverse opportunities for members of the Champaign-Urbana community to engage in blues dancing. The Urbana Park District and Osher Lifelong Learning Institute (OLLI) often offer classes for blues dancing and other dance styles originating from African American communities. Also see BluesCENTRAL (external link), a local not-for-profit organization, founded by community members in 2011 to conduct and promote teaching, learning, appreciation, and practice of blues dancing and its African American vernacular dance heritage.
Blues Music Playlist
Here is a spotify playlist with music references in the exhibit as well as some other classic Blues songs. Feel free to listen to this playlist while perusing the exhibit.
Spotify Playlist
Acknowledgements
Oral History Interviewees

Shirley Ajayi-Carroll
Victoria Bostic
Dawn Clark
Toni Kersey
Larry Lawrence
Monica M. Scott
Mike Sherfield
Lisa Vernon
Stan West

Advisors

Grey Armstrong
Ronald William Bailey
Jessica Elizabeth Ballard
Thomas DeFrantz
Cynthia Oliver
Scott Schwartz
Kenneth Shipp
Damon Stone
Christi Jay Wells

Art and Photographs

Laura Gillen
Brad Nathanson
Michael Sherfield

Archival Photographs

Scott Shigley
Hogan Jazz Archive, Tulane University Digital Library
Indiana University Archives of African American Music and Culture
University of Illinois Archives

Exhibit Team

BluesCENTRAL
Madeline Boehm
Emilye Lewin
Dery Martiínez
Jacqueline Masiunas
Matthew Mayton
Anna A. Rataj
Monica M. Scott
Ria Shah
Kim Sheahan
Vil Song
Melissa Sotelo
Travis Stansel
Patty Templeton
Jack Thomas
Beth Watkins
Jennifer White
Hayat Zarzour

Funding

Thanks to the Donald W. and Dorothy Berkey White Endowment Fund and the Betty Ann Knight Permanent Endowment Fund for help funding this exhibit.