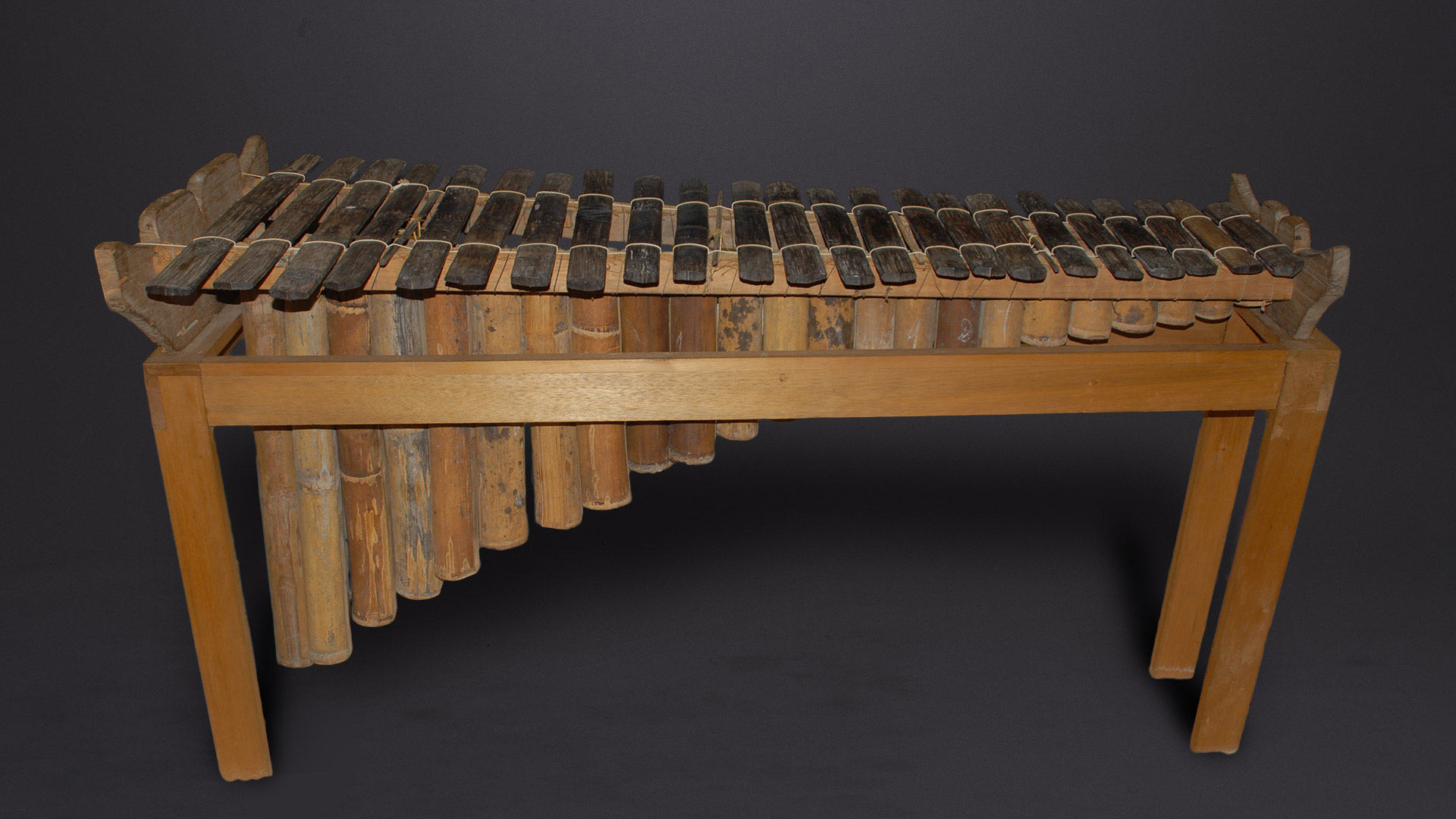 Audio Student Staff Pick: Marimba
Post Date:

8/9/2022

Author:

Anna Rataj, collections student; Gavin Robinson, collections storage coordinator

Reading Time:

3 minute read
We asked our student employees to talk about some of their favorite Spurlock artifacts. Here's an excerpt of what Anna Rataj, student staff member working with the Collections and Exhibitions Coordinator, Melissa Sotelo, had to say. The audio and transcript follow a photo of the object.
Audio
Music credit: Verano Sensual by Kevin MacLeod | License
Transcript
(Narrator) Today, we're going to be taking a look at the Colombian musical instrument, the marimba. The cultural and historical significance of this instrument will be described by our student staff member, Anna.
The first piece of information I was told is essential to understand this artifact is that Colombians know how to party. This marimba boldly calls out to the viewer. The case is pressed up against a modest, white, far wall of the South America exhibit. Yet, it is filled with loud, colorful articles of celebration, among them the massive marimba. The marimba struck me as an amplifier of spirit in that music itself is an artistic expression that transcends what words can convey and is generally played for an audience receptive to its meaning. It is often seen as the heart of what we consider "The Music of the Pacific". Geographically, Afro-Colombians largely resided along the coast, and as such, the ocean held a great deal of cultural significance. Celebrations are often held on beaches, and bands of musicians would play on boats floating along the coast.
The marimba on display would have hung the ceiling of a boat. On top of great music, there was also an immense volume of spirits at these celebrations. Imagine a musician, absolutely zonked, playing a marimba that is hanging, swaying to the rhythm of the ocean. Now, imagine that the marimba is on fire. Yes, the musician would throw liquor onto the instrument, set it on fire, and continue playing. You can still see dark brown burn marks remaining on the tops of the wooden bars from the burnt sugar of the liquor. The marimba is one of the first objects in the museum that inspired my imagination. As Melissa described the cultural significance of the instrument, a picture was painted in my mind of colorful celebration. There are so many interesting details to the artifact, from the water acting as a natural amplifier, to the burn marks that show the particular sweet liquor preferred in the region. It reminded me that every artifact in the museum has an intricate story. The artifact speaks to me in that it showed me how an artifact is not simply an object, that the materiality of the artifact is only the tip of the iceberg.