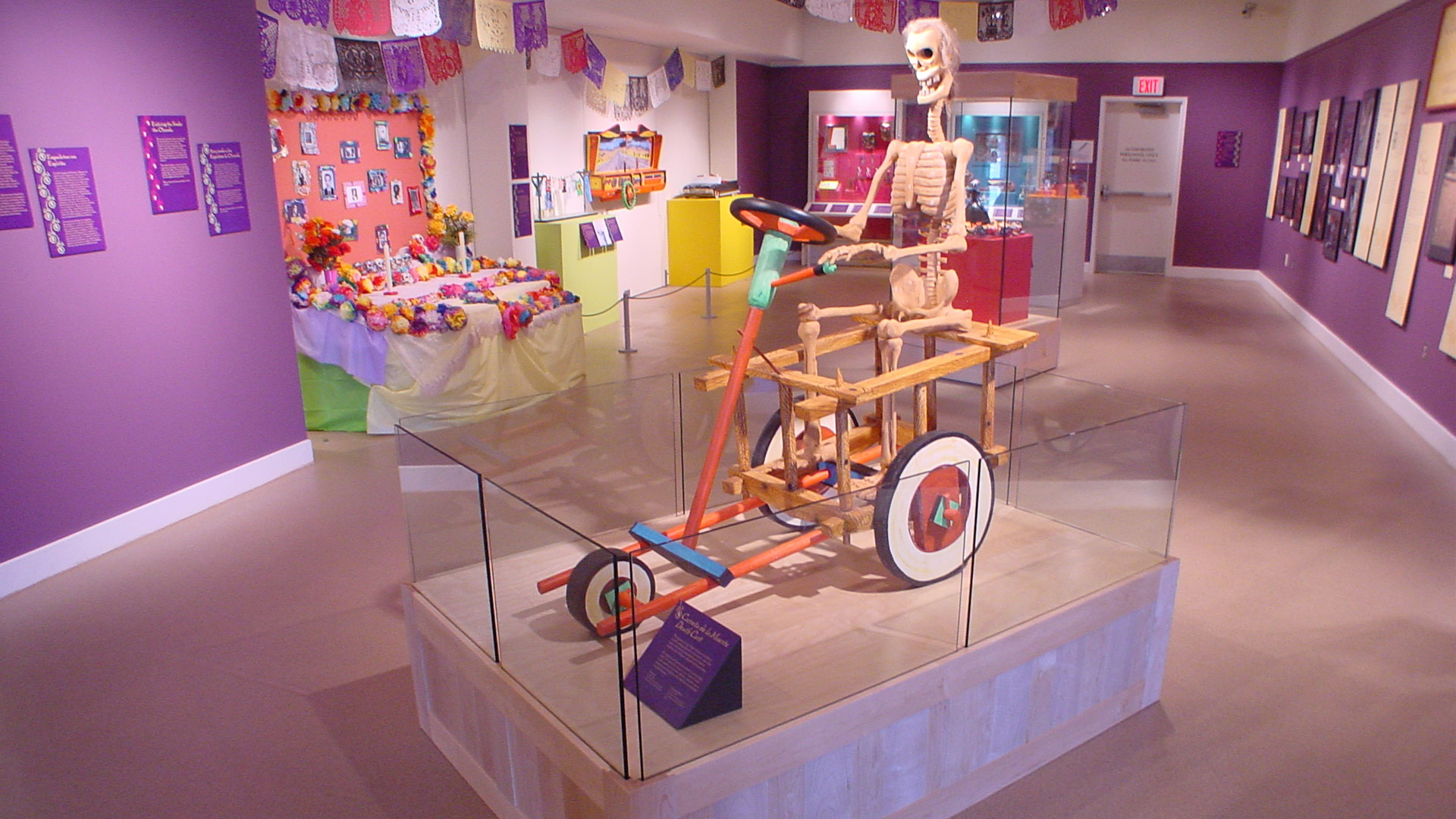 A Celebration of Souls:
Day of the Dead in Southern Mexico
Duration:

Temporary

Location:

Campbell Gallery
(date) 9/18/2004–12/30/2004
This exhibit features two sections: the first is a traveling exhibit of photographs borrowed from the Field Museum of Natural History (developed by The Field Museum in collaboration with Mars, Incorporated) and the second is a collection of artworks featuring the Day of the Dead symbols of skulls and skeletons.
Day of the Dead is a celebration to honor deceased loved ones and welcome the spirits' return home. It is one of the most important holidays in Latin America and is observed from the end of October through the beginning of November. Across the Americas, different languages and traditions have created many different versions of the holiday.
Before the Spanish arrived in Mexico, the people of the southern state of Oaxaca viewed their dead as intermediaries with the supernatural world. Small tombs were built below the floors of houses to bury dead ancestors. Feasts and offerings were made at the time of burial and during other occasions to ask for supernatural direction and favor. After the Spanish conquest in the 16th century, ceremonies honoring the dead became focused on the Catholic All Saints' Day and All Souls' Day (November 1st and 2nd). On those days, the European tradition of offering food at the graves of loved ones has become interwoven with indigenous Oaxacan practices.
The skull and skeleton motifs now associated with Day of the Dead have been present in Mexico for several millennia. Skeletons were popularized in the late nineteenth century through the political illustrations drawn by José Guadalupe Posada, who used them to represent both the oppressed and impoverished and the rich and powerful: ultimately all people will be reduced to bones. La Catrina, Posada's famous figure of a lady from high society, is one of the most recognized icons of Day of the Dead. Over the decades, skeletons have found their way from the political cartoons in newspapers to a wide array of everyday and holiday items. Their topsy-turvy liveliness is a reminder that death cannot be ignored and that it does not need to be somber. Life and death are not necessarily fixed opposites—neither are social roles and the status quo fixed entities.