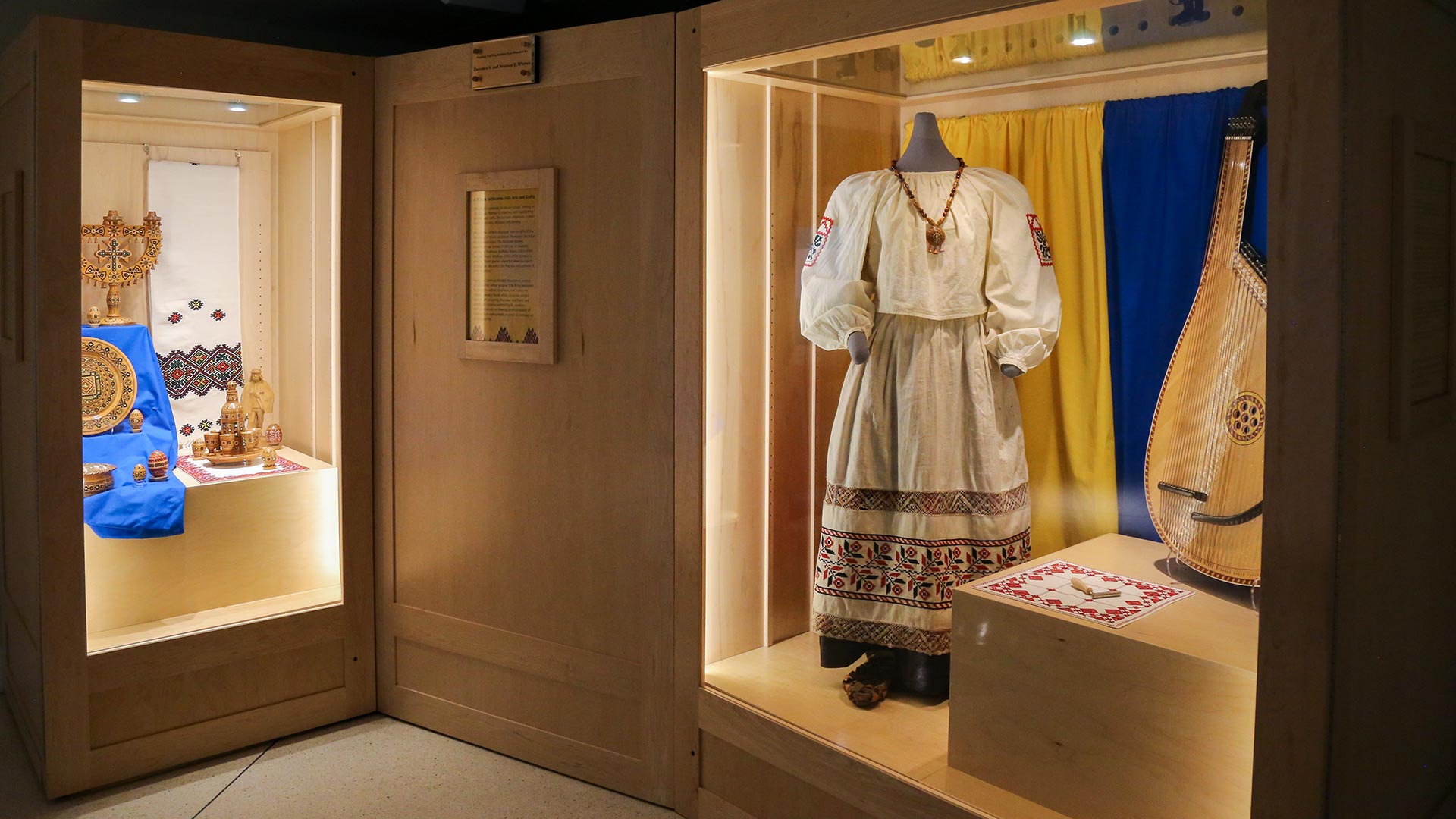 A Tribute to Ukraine:
Folk Arts and Crafts
Duration:

Temporary

Location:

Whitten Featured Object Case
(date) 4/26/2022–7/10/2022
The Spurlock Museum is pleased to open a pop-up exhibit, A Tribute to Ukraine: Folk Arts and Crafts, on view now. The exhibit was created in collaboration with the Russian, East European, and Eurasian Center (REEEC), in the College of Liberal Arts and Sciences, at the University of Illinois.
The Spurlock collections contain over 140 artifacts affiliated with Ukraine. In collaboration with REEEC, Spurlock Collections staff chose some of the finest artifacts to highlight the rich cultural traditions of folk arts and crafts. Traditional Ukrainian folk crafts include decorative painting, egg decorating (pysanky), embroidery, pottery, textile weaving, wicker weaving, and woodworking. Different regions in Ukraine are known for particular styles and designs.
Hutsul Woodworking
Several of the wood pieces displayed in the exhibit are from Hutsulshchyna, in the Carpathian mountains. Hutsuls are considered an ethnic subgroup of Ukrainian highlanders and are known for their woodworking skill. Hutsul woodworkers make boxes, plates, and other household items from a variety of seasoned local woods, including sycamore, maple, pear, apple, alder, yew, cedar, walnut, and oak. The pieces are then carved or inlaid with geometric ornamentation, beads, and mother of pearl. 1978.04.0026 is a wood carving of an older Hutsul man.
Ukrainian Embroidery
Ukrainian embroidery is equally well known and regionally distinctive. The most common colors used in embroidery are red and black, and the textiles often include geometric forms and plant ornaments–frequently, laid out in bands. Embroidery is used to decorate household items, clothing, and, of course, souvenirs. These features are visible in the apron on view (and pictured above), as well as on the serviettes and runners on display. Rushnyky (pictured above) are ritual cloths embroidered with symbols and cryptograms. They are used in religious and ceremonial events, such as weddings and funerals. But perhaps the most well-known Ukrainian embroidered item of clothing is the vyshyvanka, or shirt, which typically has embroidery around the neck, cuffs, and hem with designs that are thought to be protective.
The Bandura
This object was researched by Charlie Rovin (BS 2019) for REES 200: Introduction to Russia and Eurasia (2018). What follows is a summary of his research.
The bandura is a plucked string instrument, which traditionally would have had 5 to12 strings and would have been made from a single piece of spruce. Through much of the 19th century, the bandura was largely used to accompany folk songs. Additionally, epics known as dumy (singular duma) were recited while accompanied by the bandura. In the 20th century, the face of the instrument continued to be made from spruce, but the back was carved from other wood. Additional strings were also added (reaching 56 to 68 strings!), and the bandura was incorporated into orchestras.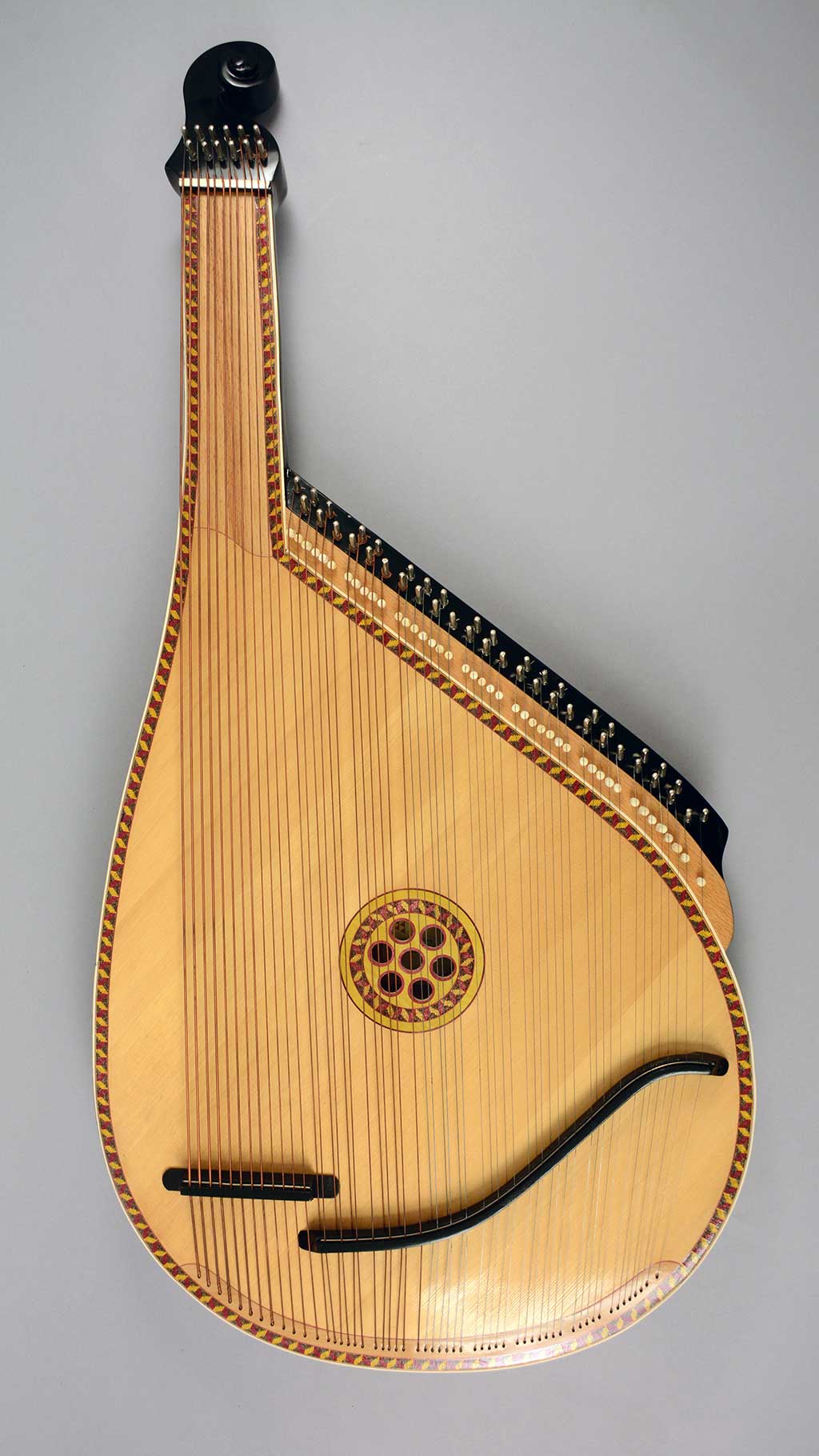 The bandura is widely linked to Ukrainian culture and identity. For that reason the object has at times become a political pawn. For instance, Tsar Alexander II of Russia banned the performance of the bandura in 1876, along with the use of the Ukrainian language in publications, plays, and lectures. However, at the turn of the 20th century, the bandura regained favor. The Mykola Lysenko Institute of Music and Drama, in Kyiv, began offering bandura classes in 1908, and the first primer was released in 1909, by the instructor Ivan Kuchuhura-Kucherenko. However, in 1937, during the Great Purge, Kucherenko was sentenced to death by the NKVD for being anti-Soviet.
Over the next decades, bandura music continued to experience periods of development as well as repression. Today, the bandura is sometimes referred to as the Ukrainian national instrument, and concert instruments are manufactured serially, while conservatories and music colleges offer degrees in bandura performance and pedagogy. The bandura in the exhibit (and pictured above) features writing in English, which suggests it was mass produced around 1980 to 1991.
The Ukrainian Student Association
Several of the artifacts displayed in this exhibit were gifts from the Ukrainian Student Association at UIUC. The Ukrainian Student Association was formed in 1961 by 17 students. The group, advised by Professors Nicholas Britsky (1914–2005; Art) and Dmytro Shtohryn (1923–2019; Library), was formed in order to "foster greater interest of American Youth of Ukrainian descent in the fine arts and customs of their ancestors. Today, the Ukrainian Student Association remains an active RSO, whose purpose is to bring awareness of Ukrainian culture, traditions, and history on campus; to create a forum where Ukrainian subject matters can be openly discussed and heard; and to provide an inclusive community for students, with an emphasis on creating an environment of multicultural embracement among all members of all backgrounds.
Sources