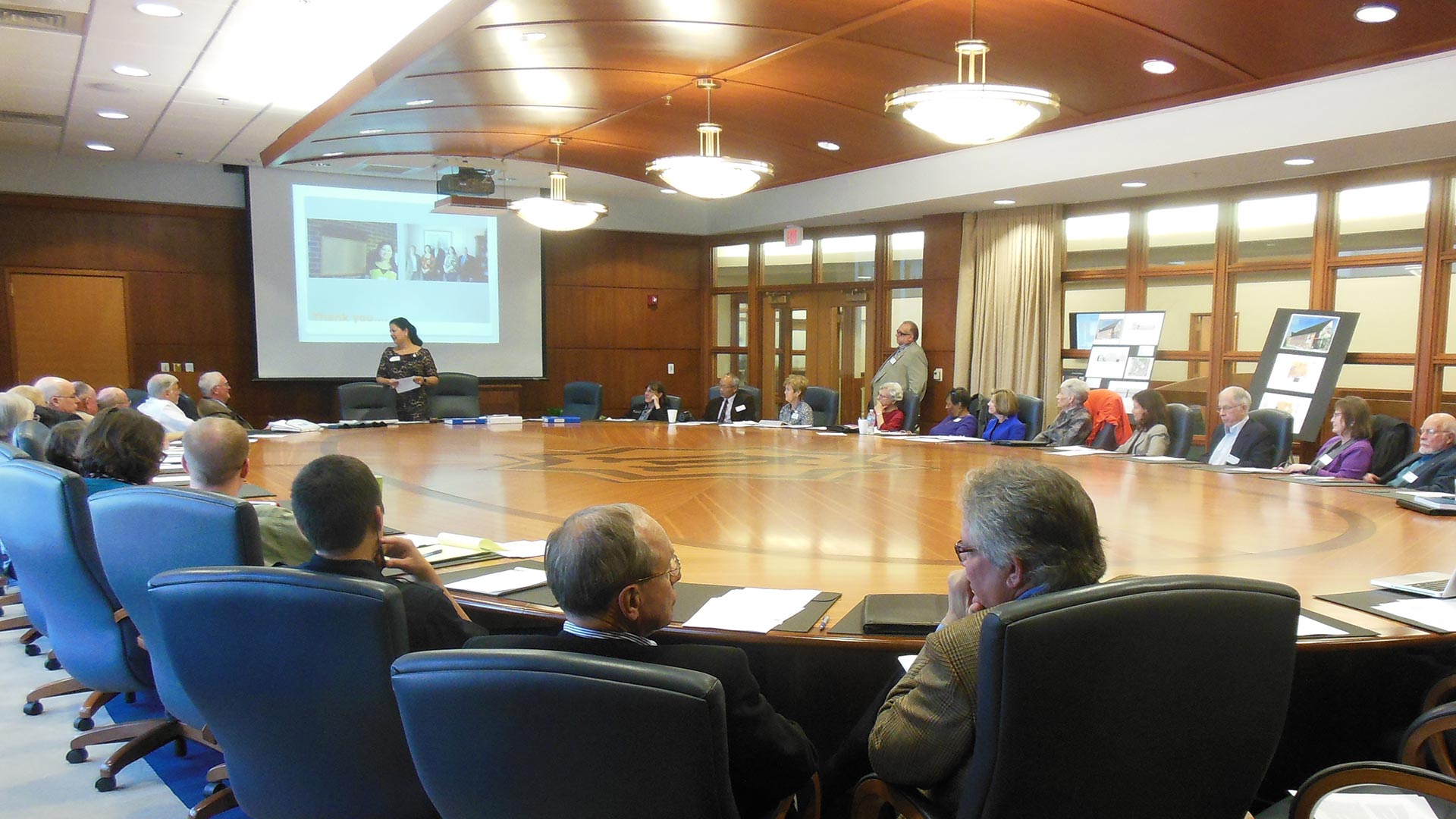 Spurlock Museum Advisory Board
The purpose of the Board is to serve as a liaison between the Spurlock Museum and its communities: the University of Illinois at Urbana-Champaign, the State of Illinois, and the world at large. The Board develops and enhances relationships with individuals and organizations in order to raise the awareness of the mission, assets, and needs of the Museum. It serves in an advisory capacity to the Museum and the Museum Director.
Officers
Lisa Wilson, President
Liz Jones, President Elect
Michael L. VanBlaricum, Past President
Dennis Kimme, Secretary
Trustees
Helen Cangellaris
Clark Cunningham
Robert Easter
Charles Hundley
Liz Jones
Dennis Kimme
Antonios Michalos
Michael L. VanBlaricum
Yu (Ian) Wang
Norman Whitten
Lisa Wilson
Members
Peggy Anderson
Harlan Berk
Maureen Berry
Allan Campbell
Helen Cangellaris
Clark E. Cunningham
Joseph Czestochowski
Robin Douglas
Robert Easter
Anna Maria Escobar
Barbara Ford
Gregory Freund
Charles Hundley
Jane Jerch
Liz Jones
T (Kesh) Kesavadas
Dennis Alan Kimme
Napolean Knight
James S. Lowers
Antonios Michalos
Tiffany Xanos Rossi
James Sinclair
Mary Slater
Michael L. VanBlaricum
Safwat Wahba
Joy Thornton-Walter
Yu (Ian) Wang
Wayne Weber
Norman E. Whitten
Lisa Wilson
Joyce Wright
Honorary Members
Henry Blackwell
Douglas Brewer
Robin Fossum
Bernie Freeman
John Heiligenstein
Janet Dixon Keller
Jill Knappenberger
Martha Landis
Sara de Mundo Lo
Anna J. Merritt
Wayne Pitard
Grover L. Seitzinger
Charles R. Shepardson
Claire Skaperdas
Ruth Watkins
Museum Liaison
Brian Cudiamat
LAS Representative
Joseph Baldwin
Board Committees
Advancement Committee
This committee coordinates activities in support of the Museum with the University of Illinois Foundation, the College of LAS, and interested persons.
Promotions Committee
This committee will support publicity and programs to enhance the mission of the Museum.
Publications Committee
This committee will support and assist Museum staff with Museum publication efforts, including but not limited to, the Museum magazine, newsletter, website, and blog. The chair serves as a liaison between the Board and all Museum publication efforts.
Nominating Committee
It is the responsibility of the Nominating Committee to provide the names of nominees whose skills and experience best address the needs of the museum and are representative of the geographic and demographic areas served by the Spurlock Museum.
Events Committee
This committee shall facilitate and support events held in support of the mission of the Museum.