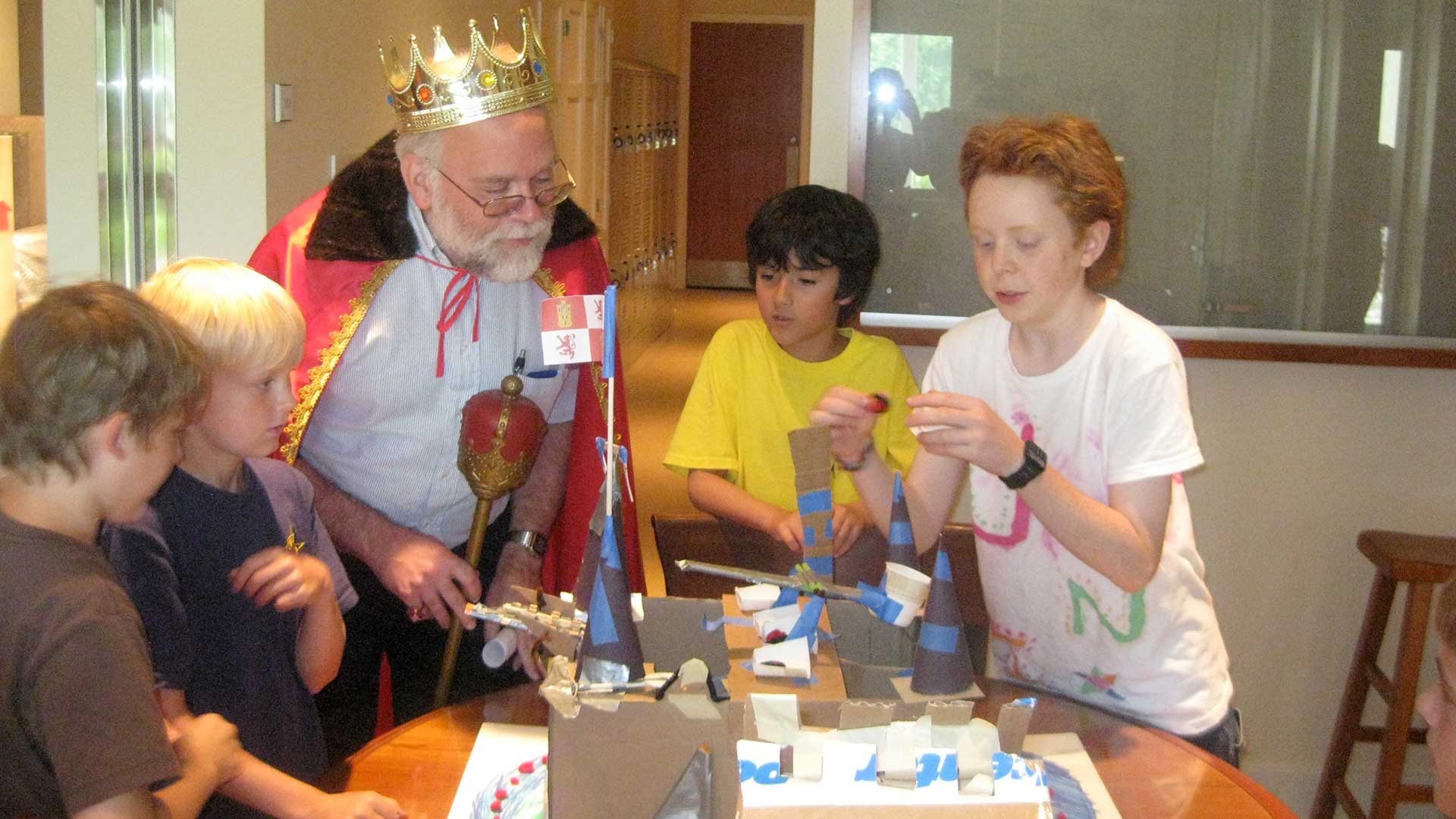 Castles, Catapults, and Coats of Arms
Post Date:

7/15/2009

Reading Time:

2 minute read
Last week, the Spurlock Museum transported 14 young campers back in time to the Middle Ages during the Club Invention day camp "Castles, Catapults, and Coats of Arms." The campers, ranging in age from 9 to 11 years old, spent 3 days at the Spurlock Museum building cardboard castles, learning about the everyday lives of apprentices in Medieval Europe as they made pipe-cleaner chain mail, and defending the Museum by constructing drawbridges and catapults from string, popsicles sticks, and rubber bands. Their studies also included sculpting clay gargoyles, learning how people in the Middle Ages used water wheels to lift weight, and investigating Medieval armor in the galleries.
After the campers spent three days exploring culture, technology, and work in the Middle Ages, the King of Spurlockia (played by the Museum's Director, Wayne Pitard) requested an audience with the young medievalists to survey the fine work they had completed in honor of his kingdom. Dressed in regalia fit for a king, Pitard listened intently as each group of campers explained the inner workings of their castles. After having approved each castle, the King of Spurlockia gathered everyone around him and knighted each camper "Protector of the Realm of Spurlockia" and presented them with an official scroll of completion for the program.
The kids all enjoyed the camp and came up with creative methods and models of building their various medieval contraptions. If you visit the Museum within the next month, you can see some of the campers' handiwork—one group charitably left their cardboard castle for display in the Museum's Learning Center.