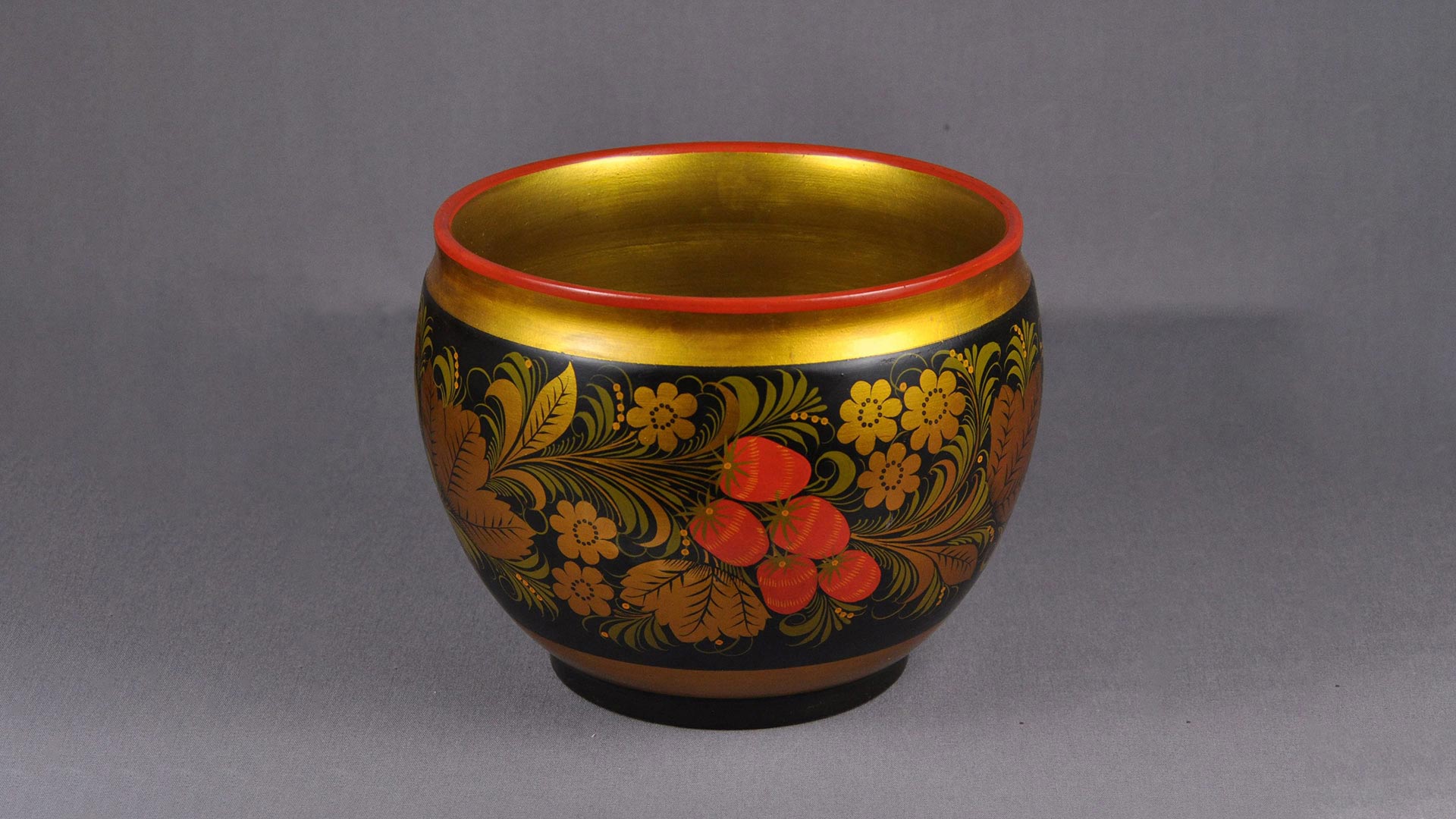 Featured Object: Borsch Serving Bowl
Post Date

8/25/2016

Author

Yulia Bezriadina

Reading Time

3 minute read
This colorful and intricate borsch serving bowl from 20th century Russia symbolizes 2 rich regional traditions. One is demonstrated in how the artifact was made and the other in how it was used.
The bowl itself is a beautiful example of traditional Khokhloma ware. Ornamental wooden containers and serving pieces are carefully carved, polished with powdered silvery metals, painted, lacquered, and finally fired in kilns. This multi-stage technique dates back to the 17th century and originated in Khokhloma, a town in the Gorky region, about 300 miles east of Moscow. This particular piece is a serving bowl for borsch, and the floral decorations on the black background are a very common design for both Russian borsch bowls and Khokhloma ware in general. The use of gold, red, and green also reflects the colors used in Russian churches and religious icons. Khokhloma designs such as this also draw on the themes of simplicity and nature that Russians find appealing.
Borsch
This bowl is part of a 10-piece set of borsch ware that also includes 4 individual bowls, a soup ladle, and 4 soup spoons. This type of set would normally provide enough borsch-ware for the whole family.
Borsch is a food tradition embedded in Russian and Slavic culture for centuries. Soup in general is very popular in Russia and is almost always eaten as a side for lunch. This hearty red soup is made primarily from beets and has many variations: hot or cold, clear or dark, light or thick, and with additional ingredients like carrots, potatoes, cabbage, onions, meat, and dill. Usually the cheapest and most common Russian ingredients are used, indicating its origin in the peasantry, although it has spread even to the elite of Russia and Eastern Europe. Many Russians also eat the soup with sour cream, and often the borsch is topped off with a big piece of bread, which is the main staple in the diet of the Russian people.