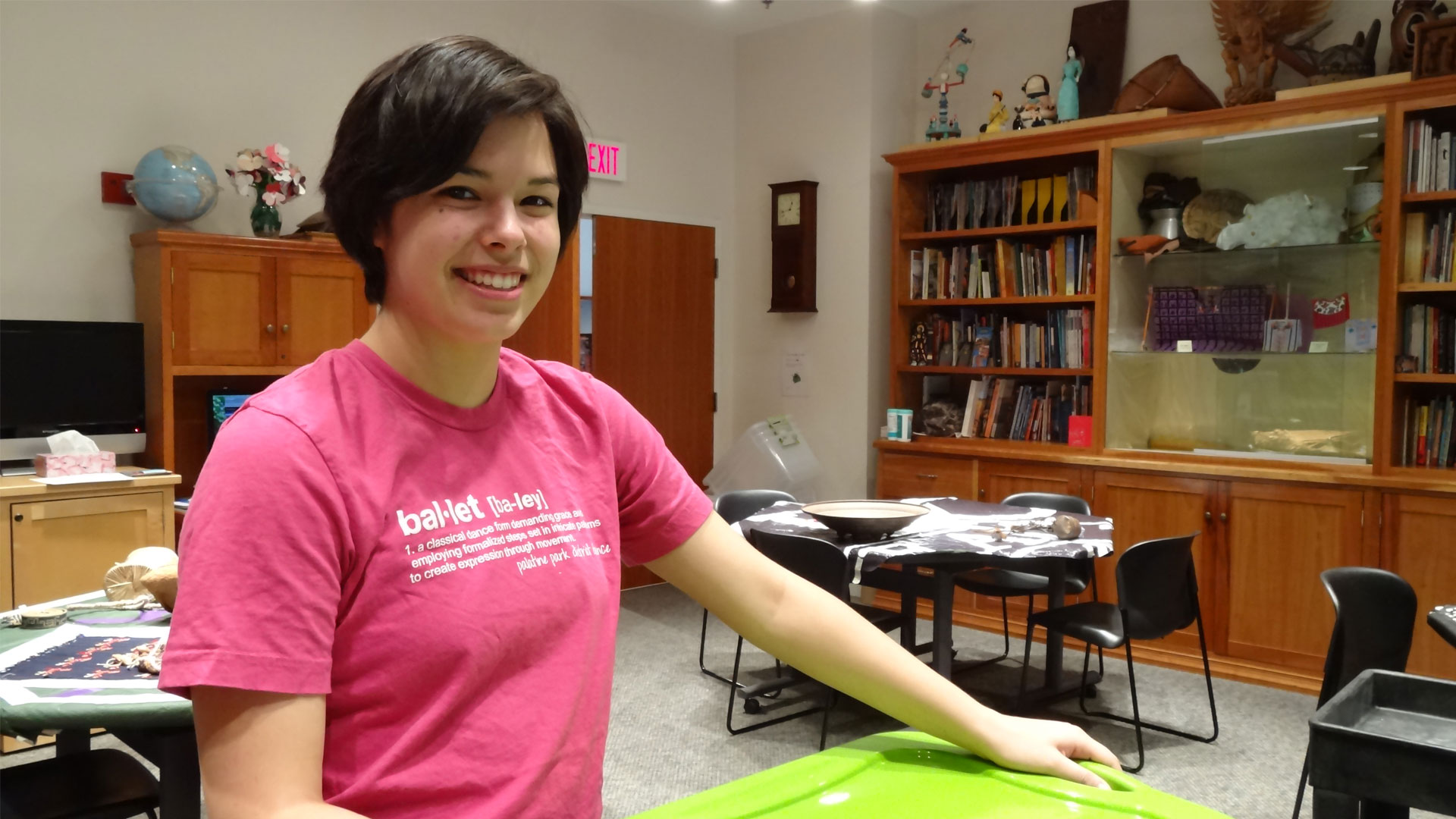 Meet our new intern: Lauren Brooks
Post Date

12/5/2014

Author

Kim Sheahan

Reading Time

4 minute read
Since 1989, Guild members have been strong, enthusiastic supporters of the Museum. First as the World Heritage Museum Guild, then the Spurlock Museum Guild, this organization has raised money to fund educational programs, purchased artifacts for the collections, supported an annual performance and lecture series, provided volunteer service, and helped to spread the word about the Museum and its work.
This fall, the Guild added one more facet to its support: the initiation of an internship program for University of Illinois (UIUC) undergraduate students. The first Guild intern is Lauren Brooks, who works in the Education Section as a Teaching Collections Assistant. We interviewed Lauren to find out more about her and what brought her to the Spurlock Museum. Here is what we discovered.
Please tell us about yourself.

I am 18 years old and a first year undergraduate student at UIUC. I've grown up in the suburbs of Chicago but have travelled frequently from the time I was only 2 weeks old. My half-Taiwanese, half-European heritage is hugely important to me and has led me to crave knowledge about different cultures. As a result, I am pursuing a degree in Global Studies with a thematic concentration in cultural conflicts with the hopes of also obtaining a double major in Religion. Working at a museum dedicated to world cultures has been an experience that fuels my academic passions for the topic.

Aside from school, I enjoy spending my time drawing, playing violin, and participating in the performing arts on campus. I am currently taking an African Dance class and am a part of two UIUC productions: West Side Story with the Illini Student Musicals and The Merry Widow with UIUC's Lyric Theater department.

Why did you choose UIUC?

When I was considering schools, I was looking at majors that I felt would complement an international and/or governmental career. I liked that UIUC offered a Global Studies program, as I found it to be much more liberal than an International Relations program. I also really appreciated the emphasis that Global Studies had on interdisciplinary study.
What are your future plans or career goals?

I am, as of yet, unsure of my career goals. However, I know that I want my job to be either culturally focused or involving travelling abroad. Current considerations include law school, other graduate study (possibly in Taiwanese Studies, Mixed Race Studies, or Museum Studies), and eventual careers with the U.S. government, NGOs, or in museums.

How will your experiences working at a museum help you in reaching your goals?

Working in a museum exposes you to a wide range of cultures, so even if I don't decide to pursue museums as a career, it still will have expanded my sense of cultural literacy. I am a firm believer that cultural literacy greatly enhances communication, which is essential for virtually any career. Likewise, museum work reinforces basics in organization, database entry, and decision-making that are all universal workplace skills.

What has your internship involved?

Thus far, my internship has involved training in how to handle, store, and process artifacts, as well as how to work with the Museum's Teaching Collection database. I've also done research on various artifacts that will be used in a statewide version of Spurlock's An Artifact Speaks program. The Education department is pretty relaxed, so I like that I also often do little odds and ends tasks because they keep me on my toes and make the job even more dynamic. As a new person to the Museum, it's been a little overwhelming at times trying to remember the little quirks of how to do things and or where to put things, but all in all, it's been really enjoyable.