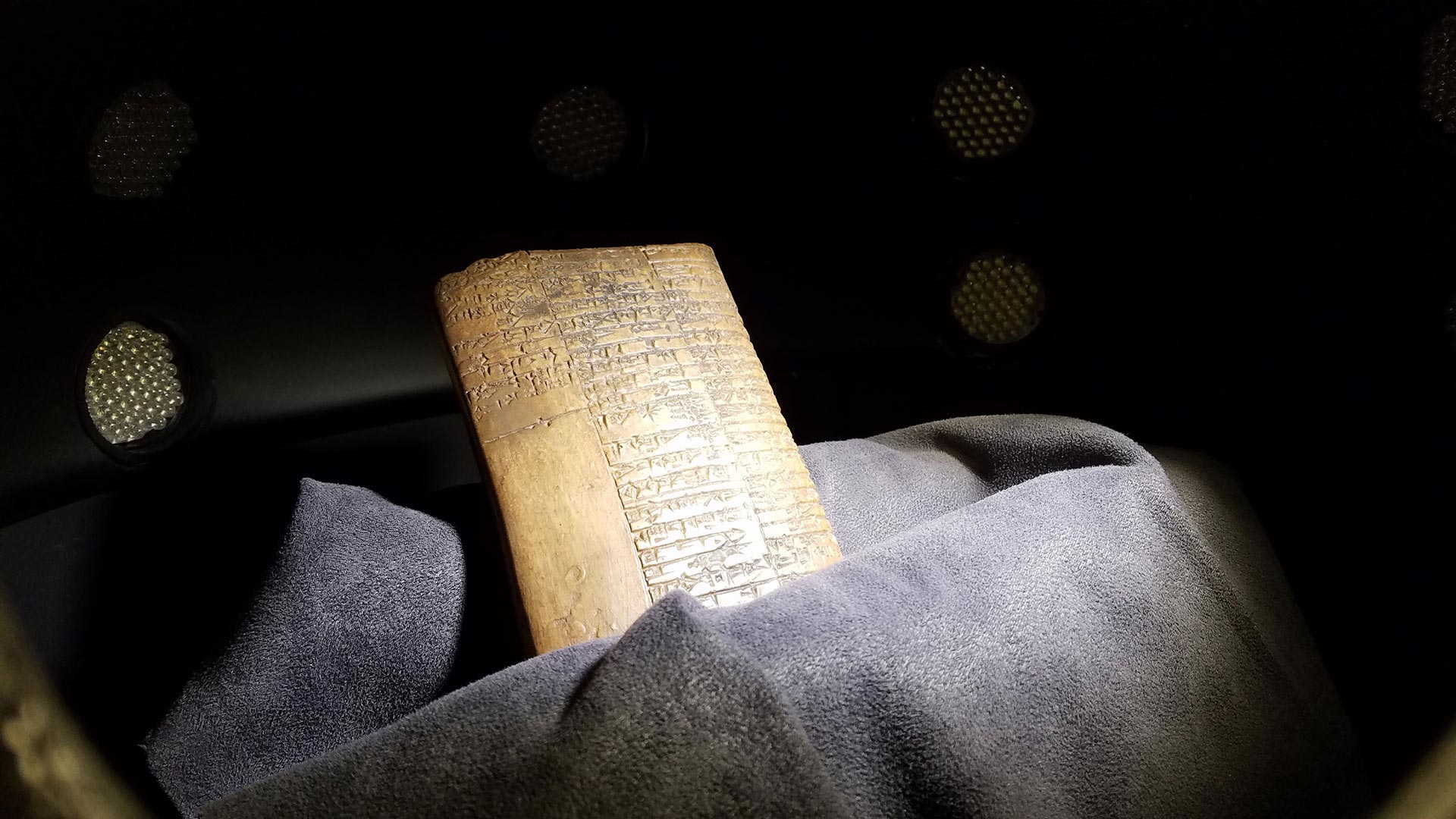 Ordinary Items, Extraordinary Uses: The Transformative Power of Kinetic Sand
Post Date:

4/3/2019

Author:

Aaron C. Graham

Reading Time:

3 minute read
"Parents hate this stuff." The clerk helping me out at a local craft store was desperately attempting to strongly dissuade me from purchasing a large number of bags of kinetic sand, continuing to elaborate: "Unlike regular sand that vacuums up, once this gets into your carpet, good luck—it's nearly impossible to get out."
I thanked him for his perspective and then explained that, while a parent myself, this particular purchase was actually intended for some museum work: by packing the material into a sealed plastic roll and covering this with a soft felted fabric, Spurlock Museum's Collections Coordinator, Melissa Sotelo, had revolutionized our ability to quickly and easily position artifacts perfectly in order to photograph them properly from almost any angle needed. The sand's dual properties of moldability and rigidity (it stays in place once molded) mean that the researcher can safely angle very delicate and awkward objects however needed, which is often essential when trying to compose the best lighting or record a hard-to-see section.
Before the "kinetic sand snake" was invented, museum researchers were forced to rely on a painstaking process of aligning a number of foam wedges in a variety of positions, covering them with soft cloth to protect a given artifact from further damage, check the object's position, reposition if necessary, and repeat until the photos produced were just right. While the positioning may still take some time, the continuous form of the snake enables this step to proceed much more organically. The snake has not only saved time, but meant the positioned objects are much more secure against slippage than they were in the era of foam wedges.
Sometimes specialized equipment costs hundreds of thousands of dollars. However, other times the exact opposite is true. All it often takes is some creative thinking, willingness to experiment, and courage to consider even the children's aisle as holding the potential solution to one's problem!