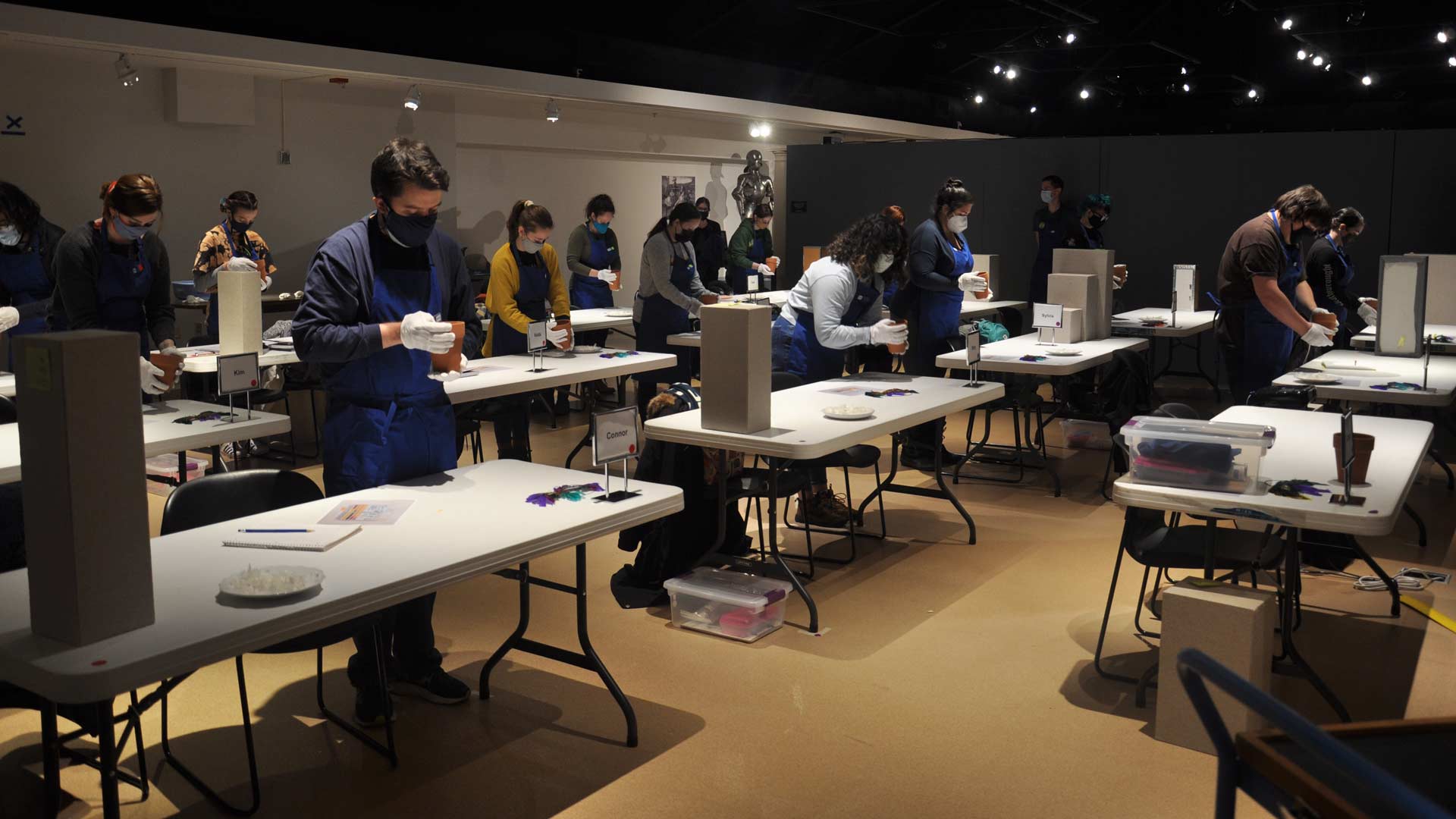 Spurlock hosts first iSchool class in new Collaboration and Community Gallery
Post Date:

3/12/2021

Author:

Gavin Robinson, collections storage coordinator

Reading Time:

3 minute read
After months of planning, Spurlock Museum's very own collections manager, Christa Deacy-Quinn, and assistant collections manager, John Holton, have launched their first museum preservation class at the University of Illinois School of Information Science (external link)(also known as iSchool at Illinois). The course (IS573: Preservation Museum Artifacts) is one of only a few in-person classes being offered by the iSchool this semester. Museum Artifacts takes a practical, hands-on approach to teaching the management and preservation of museum collections. This is the first time an iSchool course has been taught inside the Spurlock Museum, and it has been quite a journey leading up to this moment.
A few months before class planning began, staff at the Museum realized that we needed a space to assist UIUC professors with University classes, and that we needed to service 20 to 30 students (this was pre-COVID, of course). So, Director Elizabeth Sutton along with Deacy-Quinn and Museum staff decided to create a new space by carving out and repurposing some of our existing space. Collections staff redesigned Spurlock's European Gallery and designated space for a new Collaboration and Community Gallery (CCG). The gallery space would be used as a multipurpose room, where activities, like community gatherings, workshops, University classes, and pop-up exhibits, could be held. Consisting of approximately 1700 square feet of open space, with high ceilings, the gallery was a perfect location in which to host the Museum Artifacts class—and it would be a great test run of the CCG's capabilities.
In the final weeks of 2020, efforts were made to space work stations 6 feet apart, create contact-tracing sign-in sheets, designate each student their own tool kit to avoid sharing, and assign daily disinfecting routines. Students were separated into 3 color-coded lab groups, so that during hands-on lab activities, the students would work in the same cohort of 5. By day one of spring semester, all precautions were in place and Museum Artifacts was ready for launch.
Keep an eye out for more updates on our new Collaboration and Community Gallery and Deacy-Quinn and Holton's class. We will be highlighting some exciting lab activities in future posts.