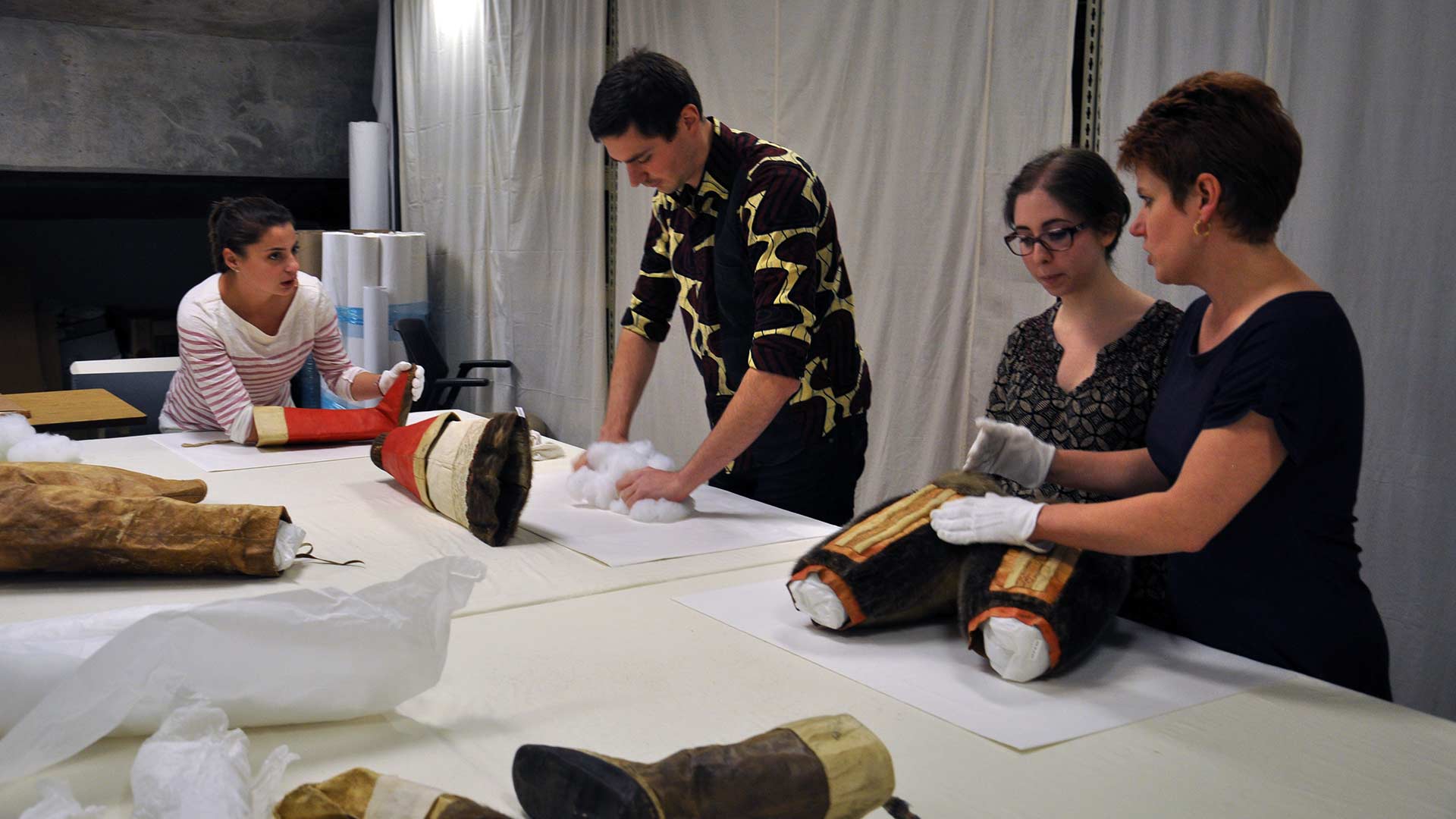 Tuesday Specials
Post Date:

9/29/2015

Author:

Gavin Robinson

Reading Time:

2 minute read
The Spurlock Museum is proud to serve as a unique educational resource for all University students. Last fall semester, Jennifer Grove and Scarlett Andes, Anthropology and Museum Studies capstone students respectively, as well as Anthropology graduate student volunteer Tatiana Niculescu had the chance to go behind the scenes with the Collections Management section. In addition to assisting with regular tasks during the week, these students gained valuable hands-on experience by taking part in regularly scheduled preservation training sessions on Tuesday afternoons, affectionately called "Tuesday Specials."
Textile rolling: Students worked on condition reporting and cleaning of large textiles that were then rolled for storage. Rolling rather than folding textiles avoids damage from folds and creases and prolongs the preservation of the textile.
New acquisition case exhibit installation: Working with Collections staff, students assisted in design and installation of a temporary exhibit commemorating the centennial of the onset of World War I.
Integrated pest management introduction: Students learned about the Museum's program to monitor pest activity in the facility. They examined commonly found pests and assisted with monthly pest trap setting and collection.
Inuit clothing re-padding: Students helped re-pad misshapen Inuit clothing from the Museum's Crocker Land collection by stuffing them with acid-free tissue paper. Reshaped artifacts include boots, gloves, and jackets.
Paper condition report and reorganization: Students helped report the condition and clean our valentine and business advertisement collection. The paper objects were rehoused into archival sleeves and placed in numerical order for easy access.
By taking part in Tuesday Specials, our students not only earned course credit towards graduation and gathered material for their final capstone projects, but they also contributed to progress on big projects at the Museum and gained valuable hands-on experience for their future studies and careers.