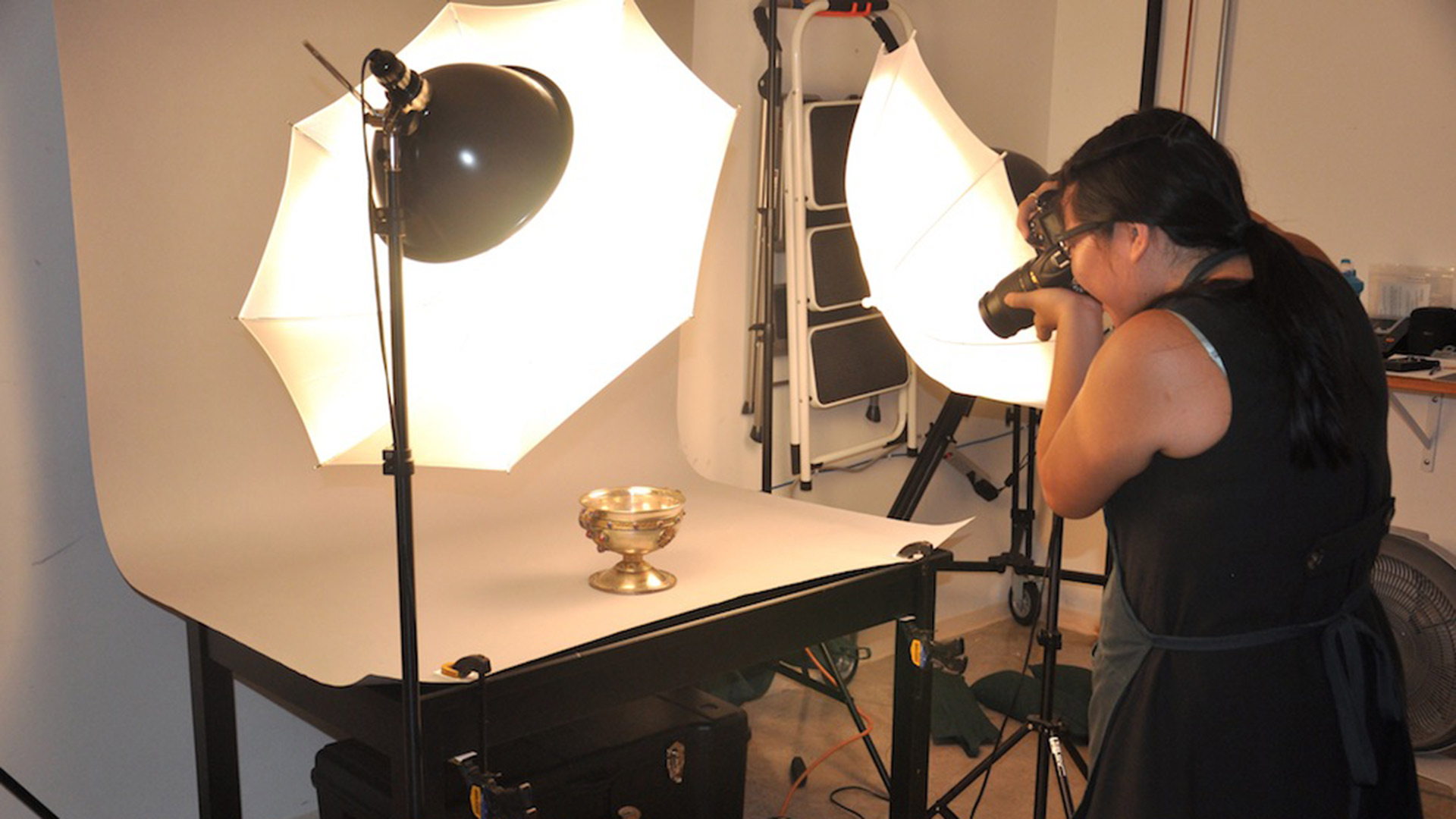 Artifact Photography at Spurlock
Post Date:

8/1/2018

Author:

Jessica Followell

Reading Time:

2 minute read
The Registration department helps manage information about the collections, including visual documentation like digital photographs. Every semester, the Registration Section, trains 2–3 undergraduate students to photograph artifact collection objects. Photography is a crucial part of incoming documentation, collection access, and scholarly research. Many images are also featured in exhibitions and publications. This is a great opportunity for students to gain paid museum experience and to apply their photography skills on a professional level.
In recent years, the photography process has grown and expanded with great results. The photography team worked together to identify areas of improvement, from new backdrops and light diffusers to utilizing props that display an object's function. Starting in 2015, the photography team transitioned from cloth to paper backdrops. Paper backdrops help create more seamless and neutral backgrounds for the objects. The Museum also purchased a portable backdrop stand which allows photographers to work in different locations throughout the museum. Student photographers can now take studio quality images outside of the photo room, photographing in exhibit prep areas and gallery spaces.
On a daily basis, students can photograph a range of objects, from tiny trade beads to long ladders. Adaptability and creativity are key. One of the biggest challenges for students is photographing oversized objects. Spurlock Museum has many ethnographic objects and textiles that are extremely large, making it difficult to photograph them in their entirety. The old method involved standing on ladders or folding up textiles and photographing only a small portion. Oftentimes, we settled for lesser–quality images. With some creative thinking and lots of research, the team found a solution that was safer for the photographers and produced better images. In 2015, we obtained funds to purchase a photography crane. Firmly planted on the ground, two photographers work together to operate the crane and remotely trigger the camera. The crane also helps to photograph oversize objects with minimal warping or distortion of the image.
With over 51,000 objects in the Artifacts Collection, photography is an ongoing process. With all of these new tools and techniques, we are increasing the number of high definition artifact images, and we are gradually incorporating these images into our database, both in-house and online. We can't wait to see the great work of our student photographers in the coming semester!