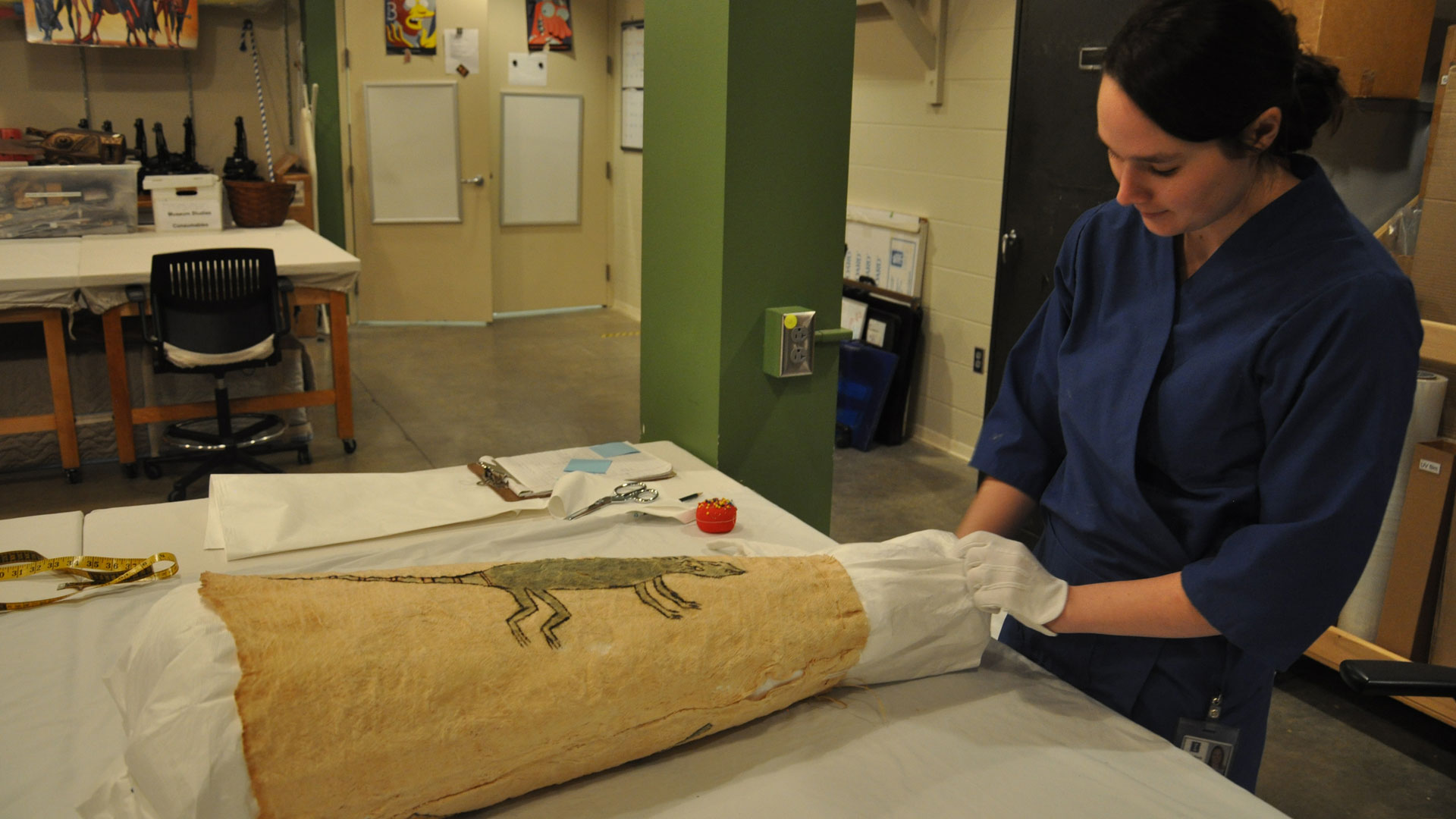 Bark cloth storage gets a makeover
Post Date

5/31/2016

Author

Jen Grove

Reading Time

4 minute read
For the past year, Collections volunteer Jen Grove has been working to improve the storage methods of nearly 50 masks, costumes, and ceremonial outfits from our Tukuna bark cloth collection. You can read more about the history of this unique collection on our Notable Collections page.
Before Jen reassessed these artifacts, many of them were being stored using a variety of inadequate techniques. Some of them were stuffed with materials that are no longer recommended for preservation, such as butcher paper and a wax paper-like material called glassine. The materials were not soft enough for the delicate bark cloth and were too acidic to be in long-term contact with the artifacts. In addition, the rough paper did not hold the ideal shape of the costumes, causing creases and warping. Other masks and costumes were never stuffed and stored flat, which also lead to deformations. Due to low humidity in our building, these pieces will inevitably dry and stiffen over time, so it is vital that they are supported and housed in a way that replicates their intended shape and how they were worn.
To provide proper support for each bark cloth piece, Jen created a custom made pillow to be placed inside each item to help comfortably hold its ideal shape. The new pillows are made of a smooth, breathable material called Tyvek—which you have seen in large-scale applications wrapped around buildings while they're under construction to prevent water damage—and filled with soft polyester stuffing.
Some masks also had ears and other appendages that needed support to prevent sagging or tearing at the seams. Custom trays and boxes were created with Ethafoam supports to stabilize the appendages in desired positions. These containers also provide easy access to artifacts without directly handling the pliable, fragile bark cloth material. Additionally, each fully enclosed box provides added protection from dust and pests and is labeled with a picture of its contents for easy identification.
These costumes are now ready for long-term preservation, future study, and exhibition.