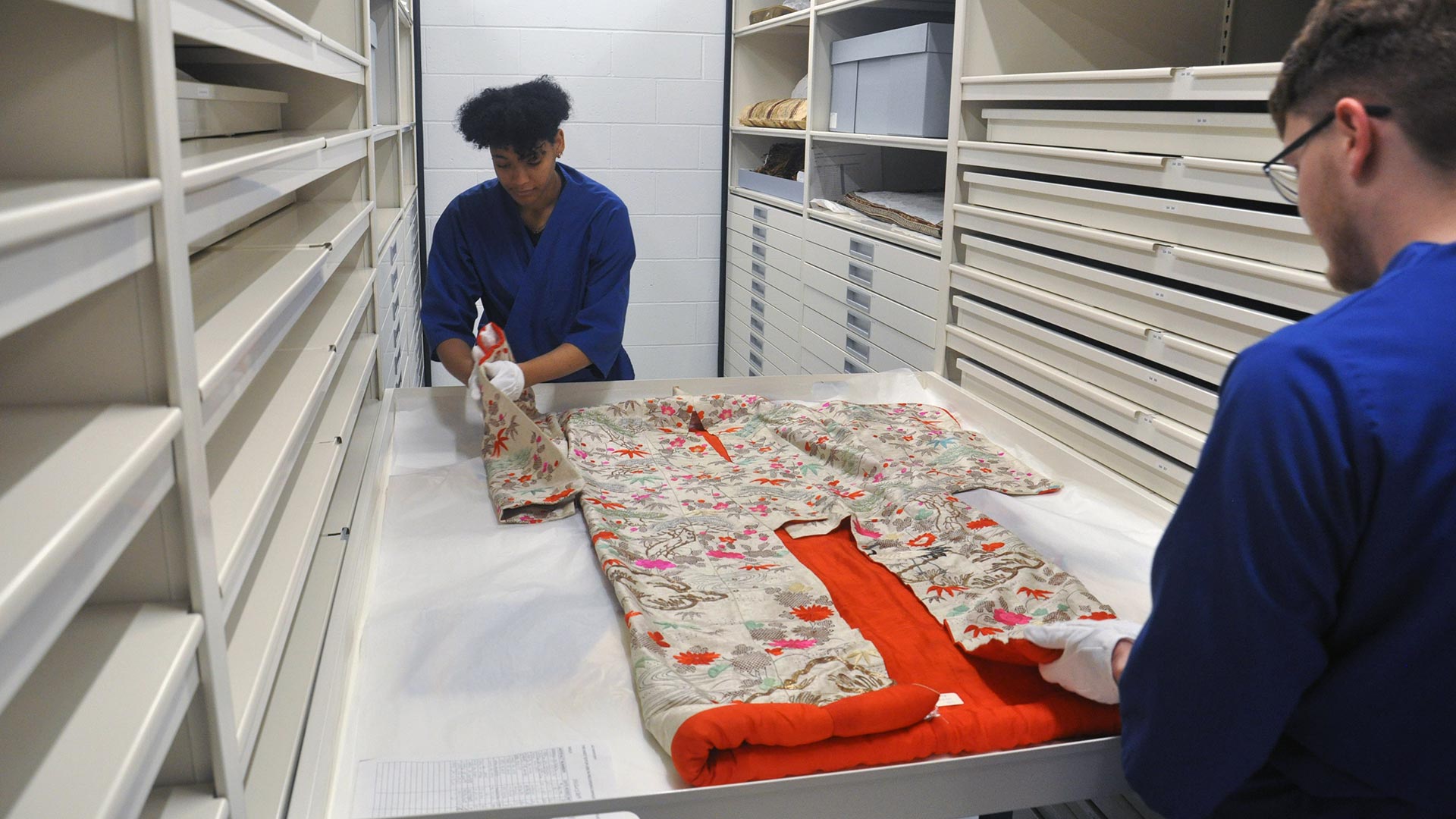 Collections staff perfects pan drawer storage
Post Date:

6/28/2019

Author:

Gavin Robinson

Reading Time:

2 minute read
Spurlock Museum Collections staff recently completed assessing and reorganizing the contents of 40 large pan drawers. These removable trays, which measure roughly 4.5 by 5.5 feet, store much of the Museum's large textile collections. Their size also creates some logistical challenges: identifying, accessing, and properly storing the contents require significant time and effort from a team of at least 2 staff members. The goal of this project was to reduce the number of textiles in each drawer, replace the acid free paper buffers with custom-sized sheets, and to organize each drawer's contents based on weight and condition.
Our first step was to cut sheets of acid-free paper to fit the interior dimensions of the drawers. Once sufficient sheets had been cut, we began assessing each drawer. During this process, it was determined that some of the textiles could be better housed in smaller drawers. These pieces were moved to more appropriate storage locations.
The remaining artifacts were returned to pan drawers with the newly-cut acid-free paper. Each sheet was then labeled with the artifact number for easier identification. The textiles were carefully stacked, interleaved with the acid-free paper, putting larger, heavier pieces towards the bottom and those made of lighter-weight fabrics towards the top.
As a result of this project, our pan drawer storage is more efficient, more easily accessible, and better for the overall preservation of our textile collections. The reorganization process also opened up more space in our pan drawers to accommodate future large textile collections.