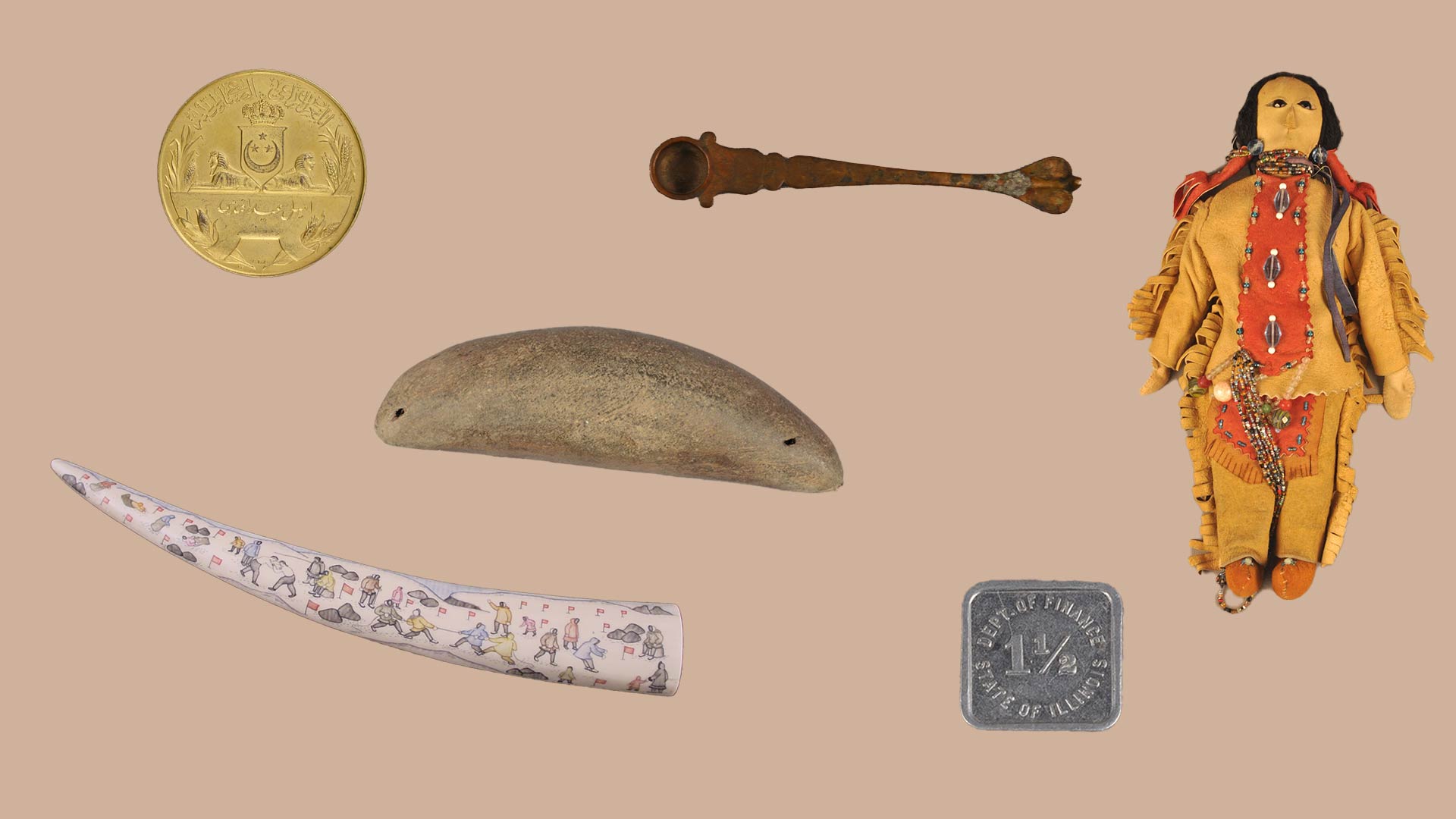 Discovering New Artifact Meetings
Post Date:

2/4/2022

Author:

Jennifer White, registrar

Reading Time:

7 minute read
We are eager to find out more by hearing personal stories about, listening to how people relate to, and exploring the context around the items in the Spurlock Museum! Learning about our collections is an ongoing process not just for our visitors, but for our staff as well. For several reasons, some of our collections lack complete cataloguing information.
Information can get lost as objects travel around the world and endure across time. From finds in grandma's attic to pieces picked up in a market place while on vacation, artifacts sometimes make it to the Museum without a complete history of who made them, where they came from, or how they were used.
Standards of record-keeping have changed over the 100+ years Spurlock and its ancestor museums have been collecting. Now, we work hard to vet new acquisitions, gather a complete history of every artifact before it enters the Museum, and record all this information, but these standards were not always practiced in the past.
Occasionally we discover that information associated with an object when it entered the Museum has become separated from its subject. In the last few decades, switching from paper records to mostly digital records has made us aware of objects that no longer have notes with them.
Our staff and volunteers work hard to reconnect information to objects and to fill in gaps, but we also rely on help from our visitors to identify things that are incorrectly labeled. Below are just some of the interesting stories we have gathered from those with personal familiarity with similar objects, members of the communities in which the items are used, and others with relevant knowledge. You can share information, stories, comments, and questions about objects in our collections through our Share What You Know! section on any object record page found through Search the Collection.
Scrimshaw
Originally labeled as Canadian or Greenland Inuit, we have now learned from Dr. Stuart Frank that this scrimshaw carving (1977.01.0272) was probably made by the Chukchi, an indigenous people of the Chukotka Peninsula of Soviet-era Russia. This is based on the style of the carving, the colors used, and the way it was manufactured using a bow-drill. Similar types of carvings were marketed in Moscow in the 1960s and 1970s, dates that are consistent with when it was collected.
Moon Blocks
David Badagnani pointed out that these small carved boxwood moon blocks (1900.43.0031) labeled as a musical instrument are more likely to be a fortune telling device. The term kwa in the Museum's records, may have actually been a reference to gua (卦) meaning hexagrams, connecting them to the I-Ching, or Chinese Book of Divination. They are known as jiaobei (筊杯) meaning moon blocks.
Dr. Goh Kiah Mok, tells us their grandmother, who was from Canton but had migrated to Singapore, called them Win Cup (胜杯). She described how her grandmother and her family would ask a question and pray, holding both blocks closed together and throwing them on the floor. If both blocks landed face down then the answer was negative. If one block landed up and another block down, then the answer was yes. If both blocks are faced up it would be done again. This method is practiced in Taoist temples in Singapore.
Dolls
Leah Bowe recognized the similarities of this doll (2009.08.0001A–B) to those made by Rebecca Bluecloud of the Upper Sioux Indian Community in Granite Falls, Minnesota. Rebecca Bluecloud (1883–1944) was the granddaughter of Taoyateduta, Chief Little Crow of the Mdewakanton Dakota. She produced dolls for the tourist market of the 1920s through early 1940s. They were sold simply as "Indian" dolls, without noting the artist's name or a tribal affiliation. Bluecloud's dolls are unique for many features: the inset black faceted-glass bead eyes, pieced leather triangular nose, lack of a mouth, style of the clothes with the attached panel on the front of the shirt, and style of beadwork and fringe. These characteristics found in the Museum's dolls make it likely they were also produced by Rebecca Bluecloud or family members working in this same tradition.
Puja Spoon
As we discovered from Sri Navuluri, what we thought was maybe a candle snuffer, turns out to actually be an utharina/udharina (1944.03.0108), a spoon used in Hindu worship (during a puja/pooja) for ritual offerings of water and cleansing. The utharina is used with panchapatra, a vessel or set of vessels.
llinois Tokens
Another visitor and alum of the University of Illinois, Jacob Ulvila, recalls Illinois tokens similar to the Illinois Tokens (1971.29.0029 through 33, 1971.29.0003) in the Spurlock's collections. The tokens were used in Illinois between 1935 and 1947 as a way to be able to offer more exact change to pay sales tax. They were issued in multiples of 1 mill, or 1/10 of a cent, thus avoiding having to charge the customer a full cent on small purchases with tax of less than one cent. Jacob's tokens were inherited from his maternal grandfather who had founded the Vanderbilt Flour Company in Chicago. Jacob tells of how as kids he and his brothers used them as poker chips.
Agricultural Exposition Medal
Didier Frenkel recalled how his grandfather kept a medal from the Agricultural Exposition of 1936 just like the Agricultural Exposition Medal in the Museum's collection. His grandparents, Bezalel and Genza Frenkel, left Russia for Israel following anti-Jewish riots in 1905. They eventually resettled in Egypt, where they, with their three sons, went into business producing Chinese-style furniture that was very much in vogue at the time. Inspired by Walt Disney's Mickey Mouse that came out in the 1920's, they also initiated a home-grown cartoon studio and created the first animated cartoons in the Arabic world. The medal was awarded to the family for these achievements.