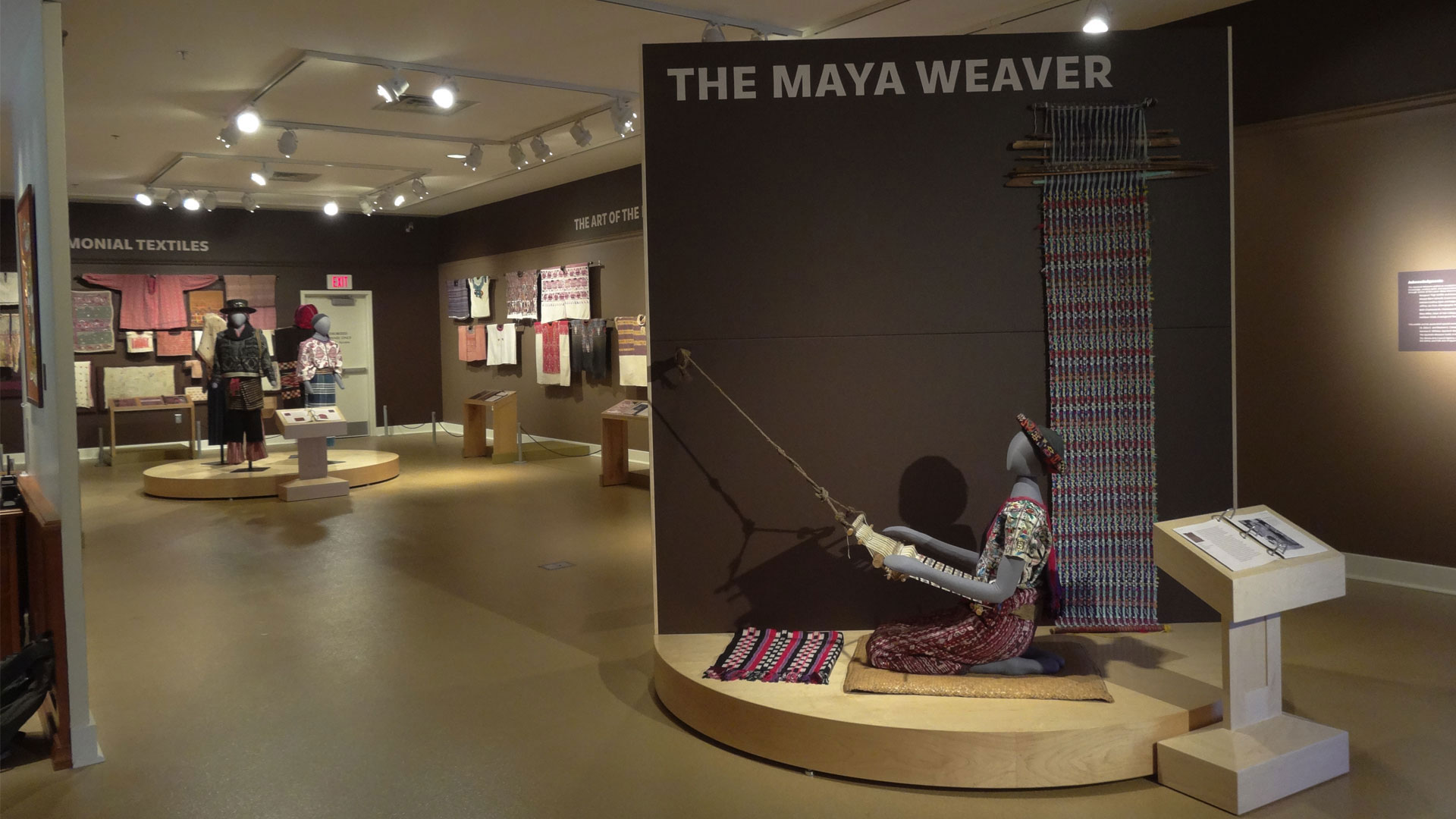 Exhibit Preview: Artists of the Loom: Maya Weavers of Guatemala
Post Date

10/6/2014

Author

N/A

Reading Time

3 minute read
When Maya women in Guatemala talk about the art of weaving with a backstrap loom, they often speak in terms of birth and creation. The loom, a simple assembly of sticks, rope, and strap, joins the weaver and her life-giving energy to the yarns of her work. As the artist leans back and forth with the backstrap around her hips, she weaves the lengths of yarn together, and the fabric takes form. When complete, it identifies her community and expresses life itself through its design and decorative motifs.
From September 16, 2014 to January 25, 2015, the Spurlock Museum celebrates the artistry, diversity and endurance of the Maya weaving tradition in the exhibit Artists of the Loom: Maya Weavers of Guatemala. A total of ninety-three textiles provide the broad cultural and geographic scope of the exhibit, with eight distinct Maya languages, thirty-two highland towns, and eleven governmental departments represented. In addition to the display of individual objects, eight complete outfits are displayed on mannequins.
Six topics are highlighted in Artists of the Loom: links between the living Maya and their ancient ancestors, the significance of the backstrap loom, ceremonial cloths and clothing, daily wear, the art of the traditional Maya blouse, called a huipil, and the evolution of huipil design. Woven throughout the exhibit is discussion of the enduring influence of ancient tradition in spite of invasion, conquest, political conflict and the tastes of modern collectors and dealers.
The textiles featured in Artists of the Loom were selected by guest curator and scholar Margot Blum Schevill, author/editor of several books on Maya textile traditions. They were chosen from among the 790 articles of clothing and adornment she reviewed and recommended to form part of the Museum's extensive Kieffer-Lopez Collection. Each piece reflects the deep appreciation for and knowledge of the Maya weaving tradition that the collector Margaret "Peg" Kieffer developed over a period of more than thirty years, beginning in 1972 when she first traveled to Guatemala to conduct research for her Ph.D.
Adding context to the individual objects are photographs by ethnographic photographer Jeffrey Jay Foxx. A winner of the Anisfield-Wolf Award in Race Relations, Foxx's images provide scenes of daily life, ceremony, and the natural environment of the Guatemalan highlands. As Foxx states: "My mission has been to document the Maya and their way of life, not turn them into my art form. That said, I tend to show the moments of beautiful light and gesture."
Foxx and Schevill will be featured speakers at the Museum on Sunday, November 16. The talk, entitled Maya Images: 1978 to 1986, begins at 2:00 PM. The talk is sponsored by the Spurlock Museum Guild Lecture and Performance Series in honor of the World Heritage Museum Guild.