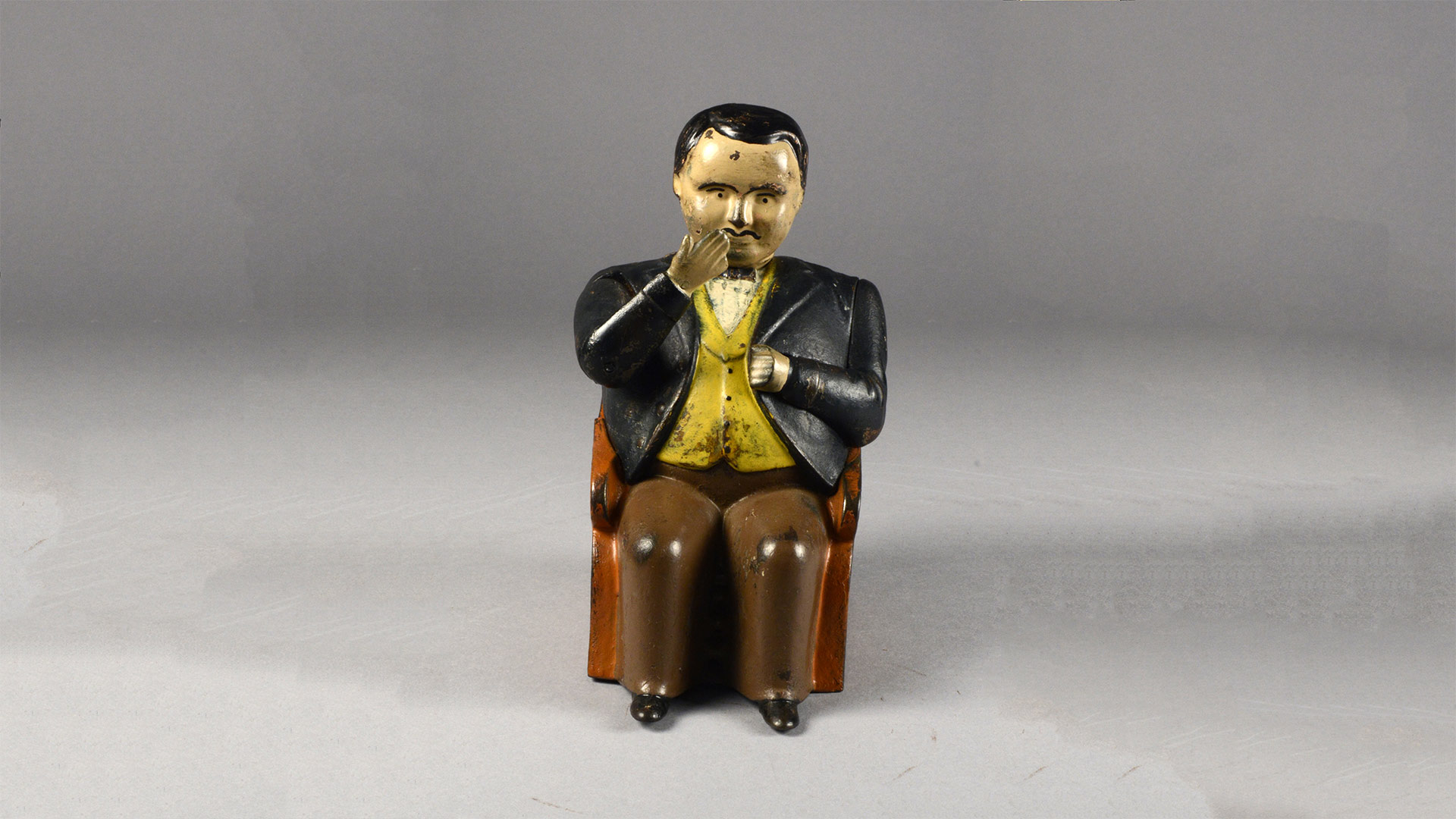 Featured Object: Mechanical Bank: Tammany Hall, 2017.06.0026
Post Date:

8/15/2018

Author:

Sidney Madden, Registration student

Reading Time:

4 minute read
In New York City across from Union Square, the former Tammany Hall building sits. For nearly two centuries, this building was home to one of the most powerful Democratic political machines in the city. Established in 1789 against the Federalist Party, Tammany Hall began influencing mayoral elections well into the 1950s. Though, the organization originally garnered support by helping poor and immigrant populations, it quickly became associated with corruption.
In the midst of this corruption, John Hall put in a patent on December 23, 1873 for his design "The Little Fat Man Bank" -- later renamed the "Tammany Bank" -- that was manufactured by the J. and E. Stevens Foundry. The bank is in the shape of a large man with dark, combed hair and a mustache, sitting on a chair with one hand outstretched while the other appears to hold the lapel of his jacket. There is speculation he could be a number of Tammany bosses, including William M. "Boss" Tweed or George Washington Plunkitt.
To the meet the growing demand, a large variety of the increasingly popular mechanical banks was produced. There are "Tammany Banks" with slight variations in color schemes, but bank collector Sy Schreckinger stresses a "Tammany Bank" in a different color combination should not preclude its authenticity. Resting on a brown chair with green trim, the bank in Spurlock's collection has a yellow waistcoat, navy jacket, and brown pants.
The clever mechanisms of the mechanical bank begin when you drop a coin into the man's hand. He quickly places it into his jacket and nods. In an early advertisement, J. and E. Stevens Foundry described the mechanism "Put a coin in his hand and see how promptly he pockets it and how politely he bows his thanks." However, some bank collectors have proposed the man on the chair is a political boss, who likely accepting a bribe, and the polite nod serves as confirmation for a corrupt deed being granted.
The "Tammany Bank" is one of the newly acquired pieces in The People's Collection: US History and Culture. This collection was developed by the donors "to honor the people of the United States. Although they consist of diverse races, cultures, religions, and beliefs, they strive to cohabit their space on earth peacefully and justice for all."