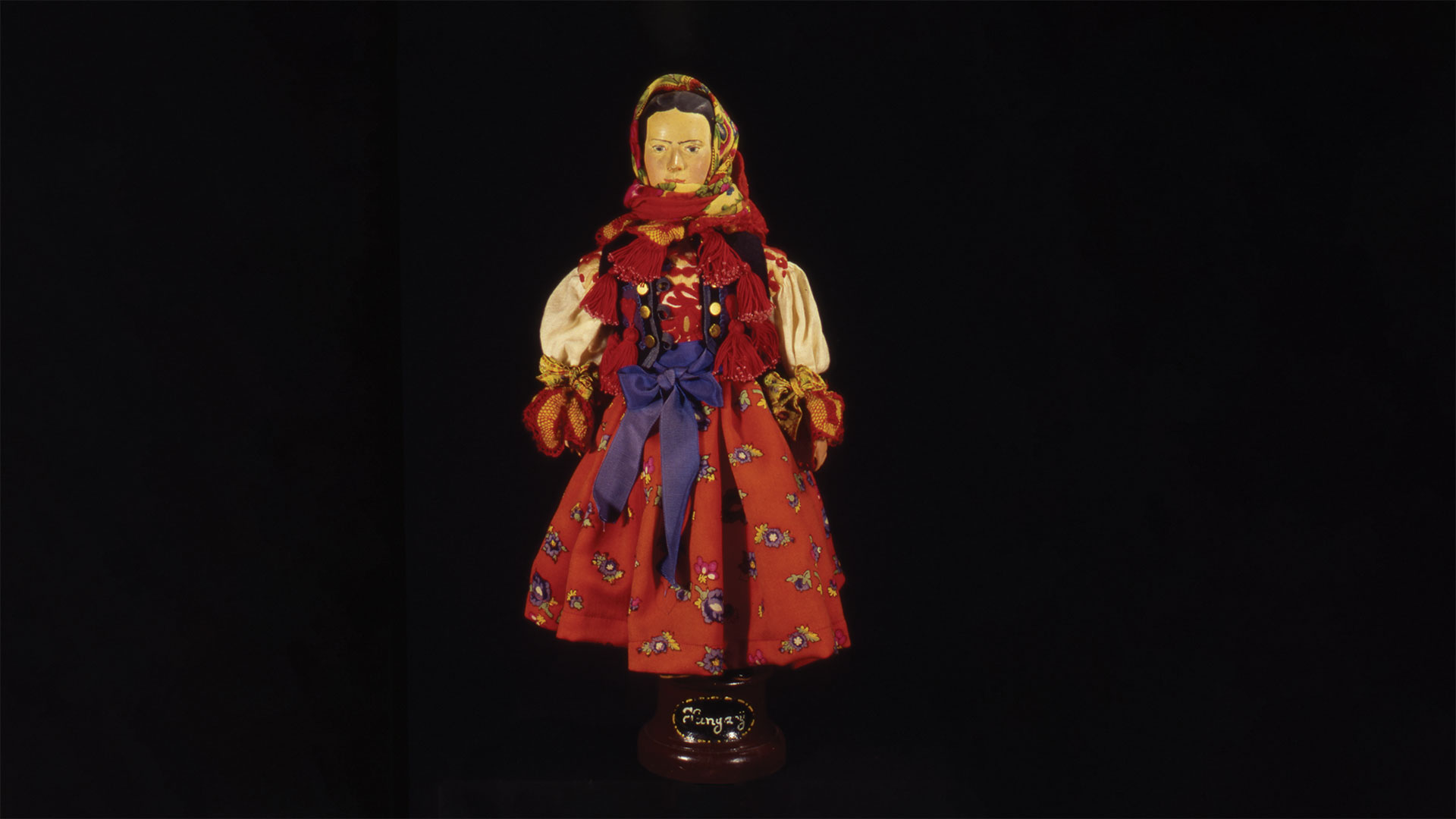 Featured Object: The Miniature Mannequins of Volkskunsthaus Wallach
Post Date:

12/23/2016

Author:

James Sinclair and Beth Watkins

Reading Time:

3 minute read
One of the Spurlock's significant collections of European cultural artifacts is a group of over 200 pieces created or collected by Julius Wallach, a German-Jewish expert on traditional European folk arts and textiles. Among these are a group of 59 miniature mannequins dressed in small-scale replicas of traditional European clothing. In 1900, Julius Wallach and his brother Moritz, who had developed an interest in European folk cultures and arts as teenagers, started a small store in Munich to make and sell traditional costumes for theatrical and musical performances and costume balls. The Wallachs' work was well-respected, and they were involved in some prominent projects, such as a Prussian royal commission for a dirndl gown and creating a variety of period costumes for Munich's Octoberfest in 1911. The brothers also ran a textile factory and opened a gallery, the Volkskunsthaus, for collecting and selling folk art.
The Wallachs soon realized that the traditional clothing from Europe was disappearing from the local communities and decided to preserve some varieties in miniature form. They collected original fabric designs from multiple countries and created authentic miniature versions of dozens of outfits. Research does not confirm whether more of these dolls were created than are in the Spurlock's holdings. Ours were purchased from the Volkskunsthaus by the University's Museum of European Culture in 1913. These dolls, each no more than 18 inches high, exhibit women's and men's clothing from the late 19th and early 20th centuries. The Spurlock Museum also holds some textile fragments and a few life-size items created by the Wallachs, including Hungarian wedding ensembles, complete with hats and boots.
In the 1930s, the Wallachs had to flee Germany and were forced to sell their store to "Aryan" buyers, but their efforts to preserve folk culture are still recognized. Much of their collection was confiscated by the Nazis—and, according to one newspaper story, there is a photograph of Adolph Hitler in a room with curtains made by the Wallachs—and later found by Allied forces, who returned the still-packed trunks of looted materials to the Wallach family. The Jewish Museum of Munich recently displayed some of these artifacts, on loan from descendants around the world, in an exhibit called Dirndls, Trunks, and Edelweiss: The Folk Art of the Wallach Brothers. Today, the Wallach store maintains its reputation as a center of traditional Bavarian clothing and handicrafts.