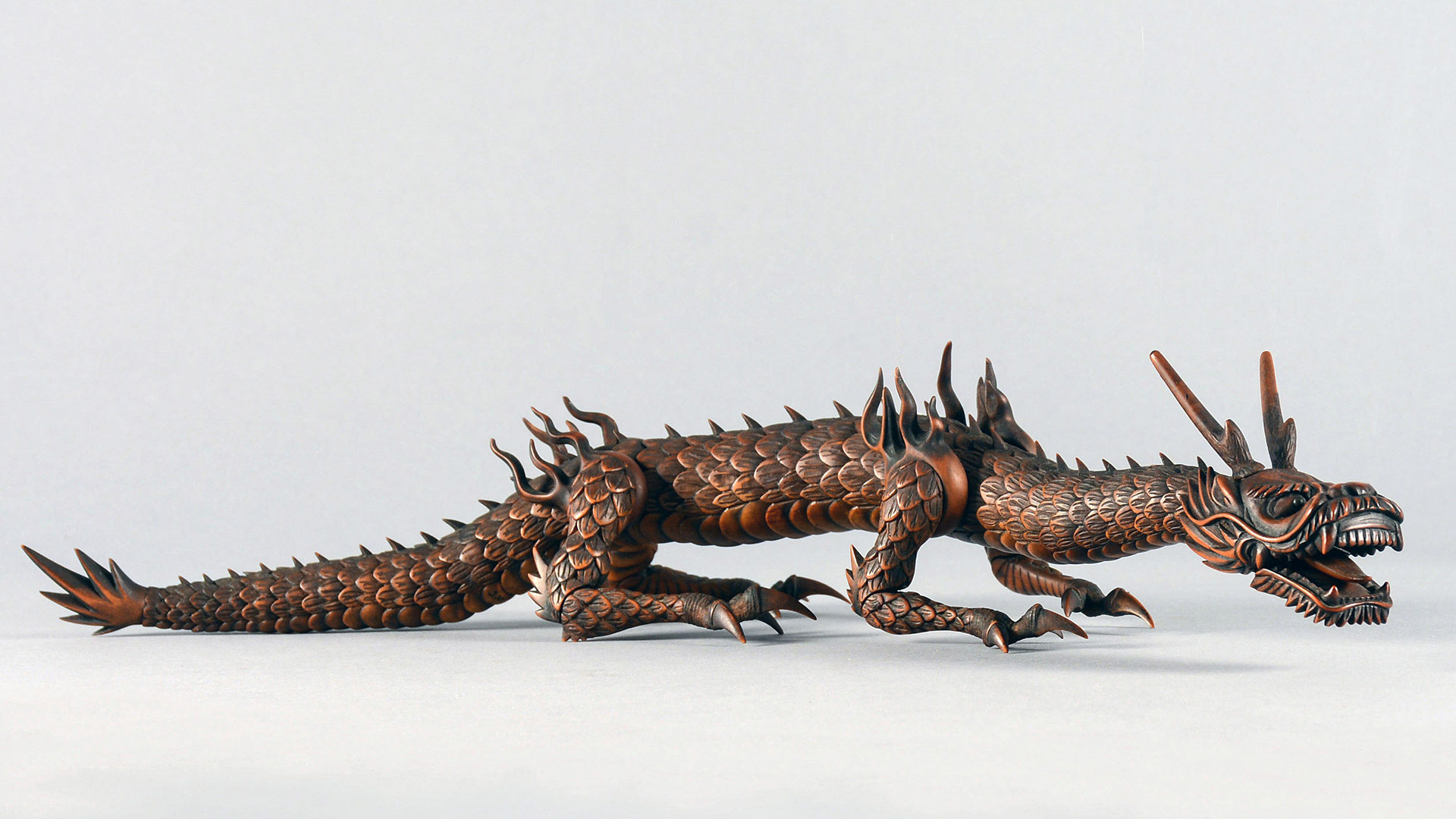 Here Be Dragons
Post Date:

2/1/2020

Author:

Travis Stansel

Reading Time:

4 minute read
Where be dragons? Here be two of the dragons who prowl the collections of the Spurlock Museum.
As a new Photography Registrar, one of my first assignments was to photograph part of the Fred Freund Collection of Chinese and Japanese carvings. Two of the most impressive pieces in the collection are these Japanese jizai dragons. "Jizai" means freely moving decorative object. These are made of carved wood, but jizai are often made of metal.
These dragons are beautiful—intricate, articulated, and posable—but without holding them up, they lie flat with their legs jutting above the body. Great for storage, but they look a little tired. Working with Collections Manager Christa Deacy-Quinn and Collections Storage Coordinator Gavin Robinson, we made the dragons more lively with some puppeteering.
Fully articulated, the bodies of our dragons bend and turn; the mouths open and the legs are jointed at the body and bend at the knee. The smaller of the two measures just over a foot and is from the late Edo Period (1603–1868) or the early Meiji Period (1868–1912). The larger dates from the Meiji period in the 19th century and is considered exceptionally long, measuring 28 inches.
Christa decided to hold them up with thread like marionettes, but with something this fragile, the type of thread matters. A clear filament, like fishing line, is so strong that it could damage the wood. Instead, silk thread was used. It's more visible but still strong, and it wouldn't harm the wood.
Then came posing each dragon. Christa and Gavin tied the thread at points that would hold the dragons up in life-like poses, such as at the necks and behind each set of legs. At first, Gavin and Christa handled the dragons like puppeteers, but this meant the dragons were constantly moving, leading to blurred photos. So Gavin rigged up a clamp to hold each steady. This worked perfectly for the smaller of the two. The larger one is much heavier in fact, heavier than the clamp and rigging assembly. We held the clamp down with sandbags, but it was not possible to get a shot without it showing. This called for construction paper and Photoshop: wrapping the clamp in the same paper as the grey backdrop made it easier to edit out.
The results bring the dragons to life. Because of their articulation and flexibility, the dragons were more difficult to photograph than anything else we shot in the Freund Collection. But those same features also enabled a variety of poses and a life-like effect that make the dragons seem in motion. We hope our photographs show a fitting respect to the skills of the original artists who created these spectacular, complex creatures.