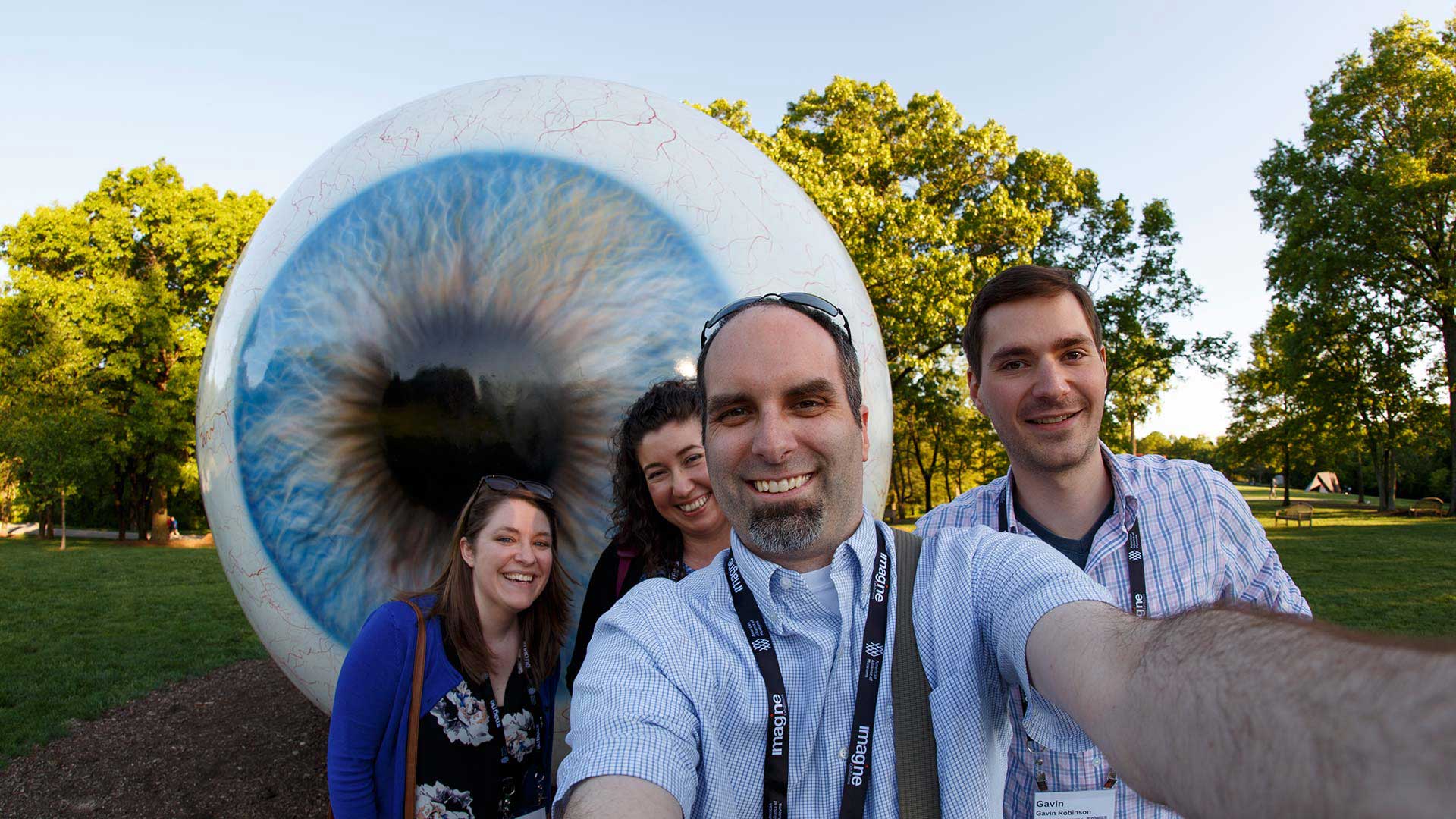 Museum staff attend AAM Annual Meeting: Day 1
Post Date

5/7/2017

Author

Jack Thomas

Reading Time

3 minute read
This year's American Alliance of Museums' Annual Meeting has come close to home in St. Louis. As a result, 10(!) members of the Spurlock staff have taken the trip to learn about all sorts of aspects of Museum practice from our peers in institutions all over the United States and globe.
The Annual Meeting is an opportunity for all of us who attend to grow our awareness of what's going on in the museum field and to be inspired to improve our service to you and all of our other visitors. Take a look at some of the things attending staff are tracking, learning about, and looking to improve back at Spurlock:
I attended a session called "Empathy as Disruptive Innovation" to see how I could think about extending the process of mindfulness to Spurlock and its visitors. The panel in the session spoke about how children and adults alike can both learn by watching, mimicing, and learning about others. Museums are one of the few spaces we have to help encourage empathy, and I'm hoping Spurlock can explore and state its Core Values to help build empathetic and mindful ideals into exhibits and everyting else we do.Melissa Sotelo
I heard a lot of interesting stories about the creation of the Osage Nation Museum in Oklahoma. Their story restated for me the importance of standards, collections policy, funding, publicity, etc. I'm hoping that we can use some of their success to find ways to identifgy and engage with our audiences. I hope that we can use the Osage Nation Museum's experiences as examples to help people find ownership of Spurlock and become more involved, volunteer, or contribute in other ways. It was refreshing to see a smaller museum's successes, and I'm hoping we can eventually better provide resources to meet community needs.Jessica Followell
As Director of Information Technology, I'm not only attending digital- and technology- focused sessions, but also sessions on exhibit design, writing, and accessibility. This is my first AAM Meeting and I'm excited to be around such a densely packed group of Museum professionals, and I'm hoping to take that opportunity to learn about areas outside of my specific field. Back at the Museum, I'd like to take some of what I've heard to better solidify a digital content strategy for the Museum. Jack Thomas
I had a great first day at AAM and was able to reconnect with former colleagues and meet some new ones. Really enjoyed hearing about the Broad Museum of Art's Visitor Services Associate program that focuses on creating a supportive experience for museum guests while empowering them to help preserve objects in the galleries.John Holton
Go Explore! St. Louis
After a full set of conference sessions, the first day of the meeting concluded with the Go Explore! St. Louis program, which is a set of several unique experiences. These field trips allow attendees to tour and see firsthand what some of the approximately 150 museums and other cultural institutions in the Greater St. Louis Area have to offer. Most of the Spurlock contingent "Went West" to explore the Laumeier Sculpture Park and The Magic House, St. Louis Children's Museum. We had a blast, and wholeheartedly recommend that you explore either (or both!) the next time you visit St. Louis.