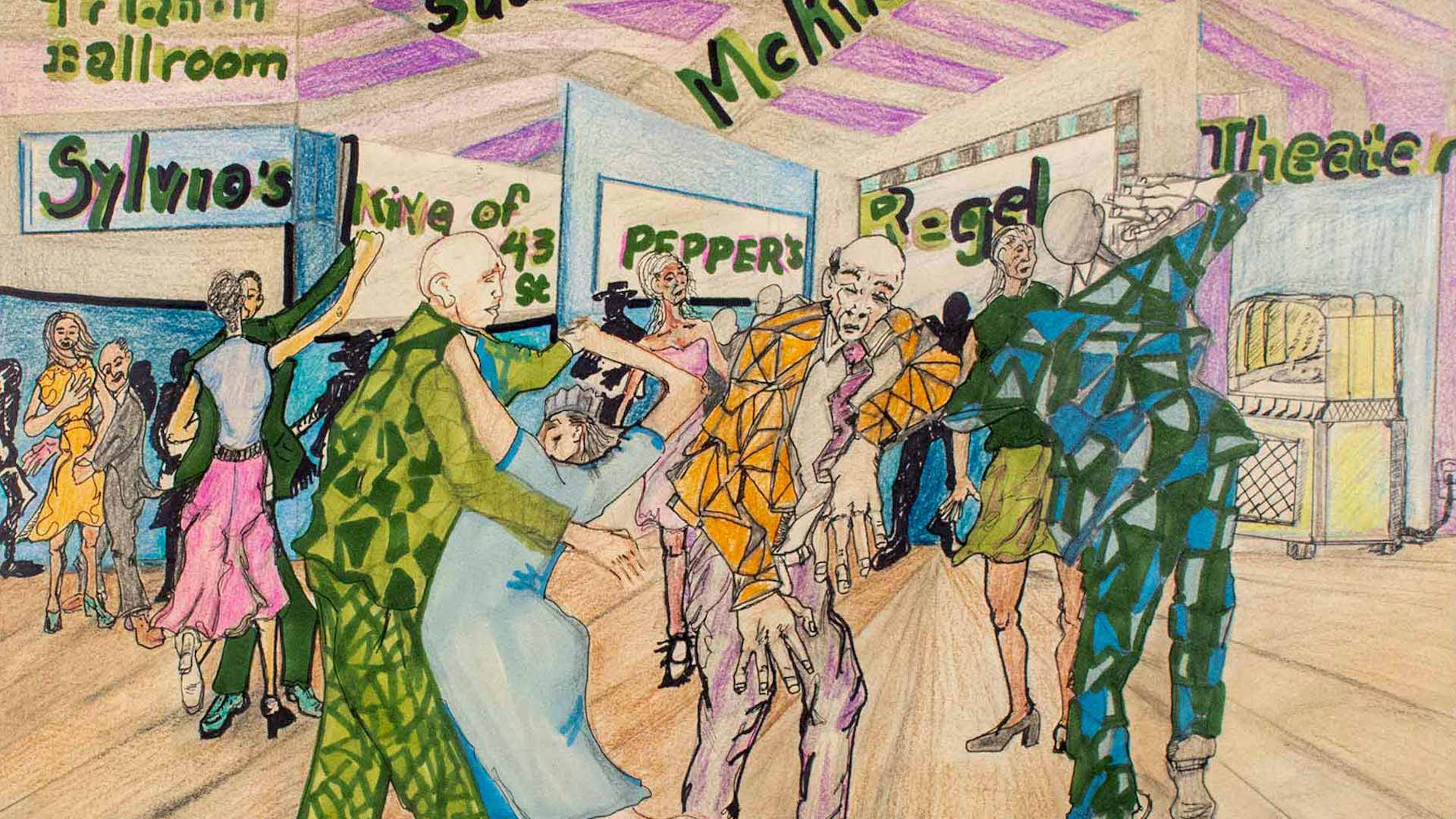 An Artist's Take on the Juke Joint, Chicago Blues, and the Great Migration
Post Date:

2/18/2022

Author:

Mike Sherfield and Jennifer White

Reading Time:

4 minute read
Mike Sherfield, a University of Illinois retiree and local dancer, spoke with curator Jennifer White about how his artwork, inspired by the Blues, illustrates the joy of living, with all its ups and downs.
Jook Joint
Jook Joint was inspired by Mike Sherfield's memories as a young man in the late 1960s, when his uncle would take him to juke joints on the Southside of Chicago that catered to Black audiences. In this colored drawing, floating above the sea of writhing dancers are the names of clubs that hosted many famous Black Blues musicians like John Lee Hooker, Junior Wells, John Primer, Buddy Guy, Howlin' Wolf, and others. All of whom were critical in the evolution of Chicago Blues music.
Although he didn't realize it at the time, it was the ambiance of the small venues, with musicians and dancers crowded together, that made a lasting impression on Sherfield. He tells how he was drawn to the music, with its complex rhythms and driving beat, and connected with its inherent emotional tensions, as well as with the positive energy of the Blues. His fascination with the movements of the dancers also comes through in his images and in his movements when he gets on the dance floor in Champaign-Urbana, where before the COVID pandemic, he danced regularly.
Gumbo!
Gumbo is a phrase Sherfield often uses to describe his art and his dance. Gumbo, as a concept, takes everything together; impressions and memories, images and movements, shapes and colors. As he describes it, "putting them together, and making them work so that it looks good and feels good."  In this street scene, all sorts of people dance together. Mike finds joy in this form of artistic improvisation. His works and his dance, like the Blues, express the ups and downs of life—hardships and pain, as well as the joy of living. Thus, when someone asks him, "What is that?" his favorite reply is "Gumbo!."
Highway 99
Highway 99 speaks to the spread of Blues music as African Americans left the South in search of work and a better life during the Great Migration. It also reflects the migration of his own family. Between 1916 and 1970, an estimated 6 million African Americans moved from the South to the Midwest, Northeast, and Western United States. Sherfield can trace his family back to Mississippi, Tennessee, and Kentucky. He himself was born in Southern Illinois. With no Black hospitals nearby, he was delivered at home by his Great Aunt and Great Grandmother. By the end of the migration, his family had settled in Chicago and Indianapolis.
Boom Boom
Boom Boom is one of many works that focus on Sherfield's fascination with musicians, especially guitar players. Music is integrated in his daily life. His grandfather was self-taught and could play music by ear. His mother was a classically trained singer. And his cousins played with famous musicians, such as Mahalia Jackson and Junior Walker. In spite of this, his grandmother discouraged him from his dream of becoming a professional musician because it was often a very difficult way of life.  
Explore More
Listen to more stories of dance in the lives of Mike Sherfield and others connected with the Champaign-Urbana area in the Blues Dancing and its African American Roots Oral Histories