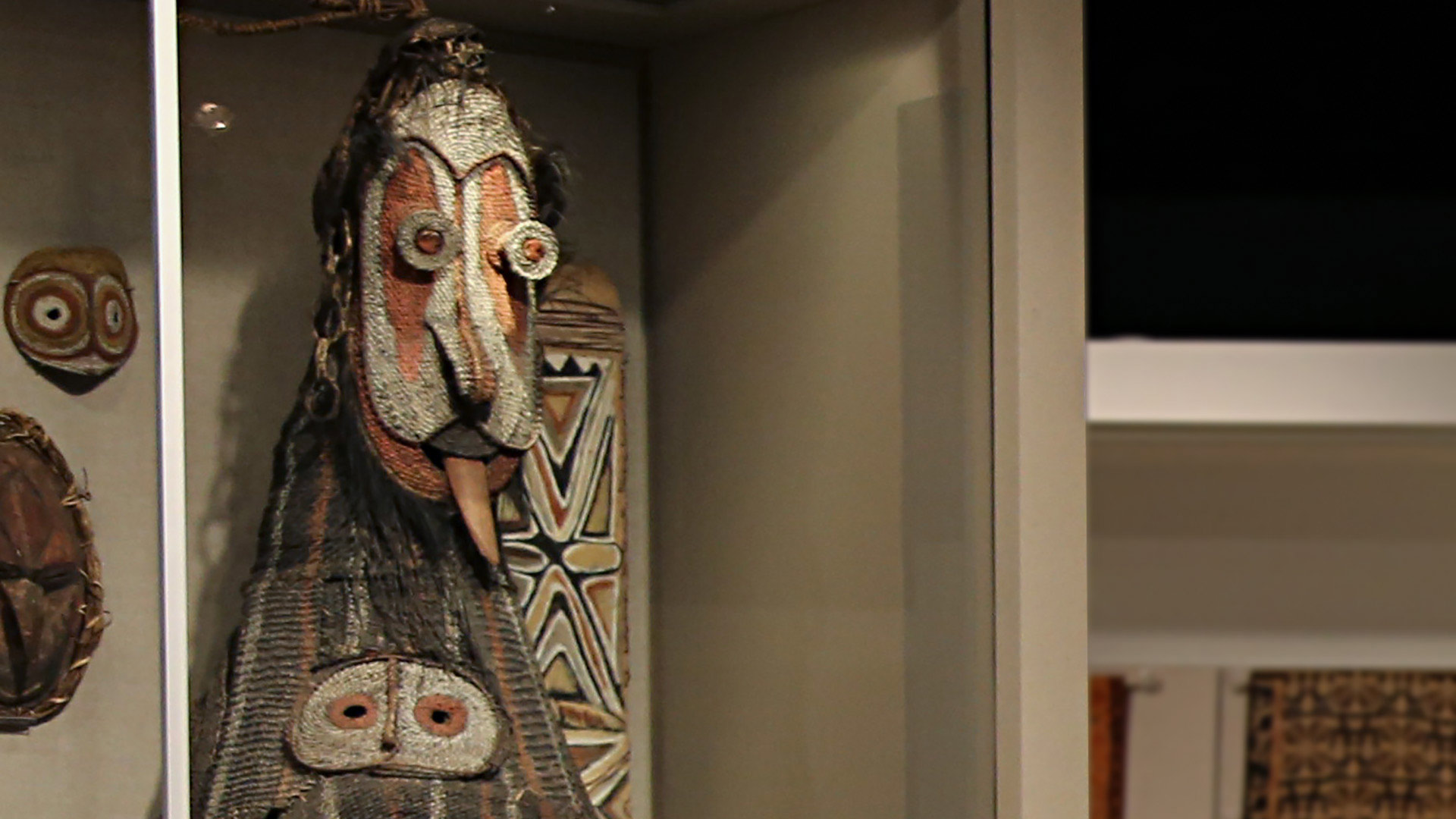 Audio Staff Pick: Ancestor Mask
Post Date:

5/7/2020

Author:

John Holton

Reading Time:

6 minute read
Assistant Collections Manager John Holton shares one of his favorite objects in the Museum—this ancestor dance mask from Papua New Guinea. Listen below to why he chose this object and some interesting details about its installation in the gallery. The audio and transcript follow photos of the object currently in the Crossroads exhibit in the Workman Gallery of Asian Cultures.
Audio
Music credit: Legend of One by Kevin MacLeod | License
Transcript
Hi, my name is John Holton, and I am the Assistant Collections Manager here at the Spurlock Museum. Today I would like to tell you about one of my favorite artifacts in our collection, this ancestor dance mask from the Middle Sepik District of Papua New Guinea.
I really like this mask for two main reasons.
The first reason is its sheer size and presence. Standing almost nine feet tall, this mask towers over visitors and draws them in with curiosity. I find the mask's face, with its distinct colors, bulging eyes, and tongue hanging out, so expressive. I also find it fascinating how this mask is worn. The smaller face you see about mid-body is actually the space through which the person wearing the mask sees out. There is an interior support that rests on the wearer'sshoulders, and they feed their arms through the holes on the sides of the mask.
(Narrator) Memories of installing this mask into the Workman Gallery of Asian Cultures also helped John choose to hightlight it. He recalls:
Back in the day, I helped design and build its display mount with my co-worker Kim back when we were student employees at the museum. As you could imagine, working with an artifact this big had its challenges, but luckily it is fairly light (weighing only about 14 lbs.) and fairly easy to move and work with with a partner. I remember when we were moving the mask into the Asian gallery for installation, we realized that our hallway ceiling was actually not tall enough to move the mask upright on it's mount as we originally intended. We instead had to unmount the mask, turn it on its side, and hand carry it from the elevator into the gallery space.
Luckily, we successfully got the mask safely into the gallery and fully installed, and it has been greeting our visitors ever since.
One day in the near future, I hope our lives can return to some sort of normal and you can visit the museum. If you want to see this amazing mask, wander up to the Asian gallery and it will be facing you on your left. Believe me, you can't miss it! It's huge!