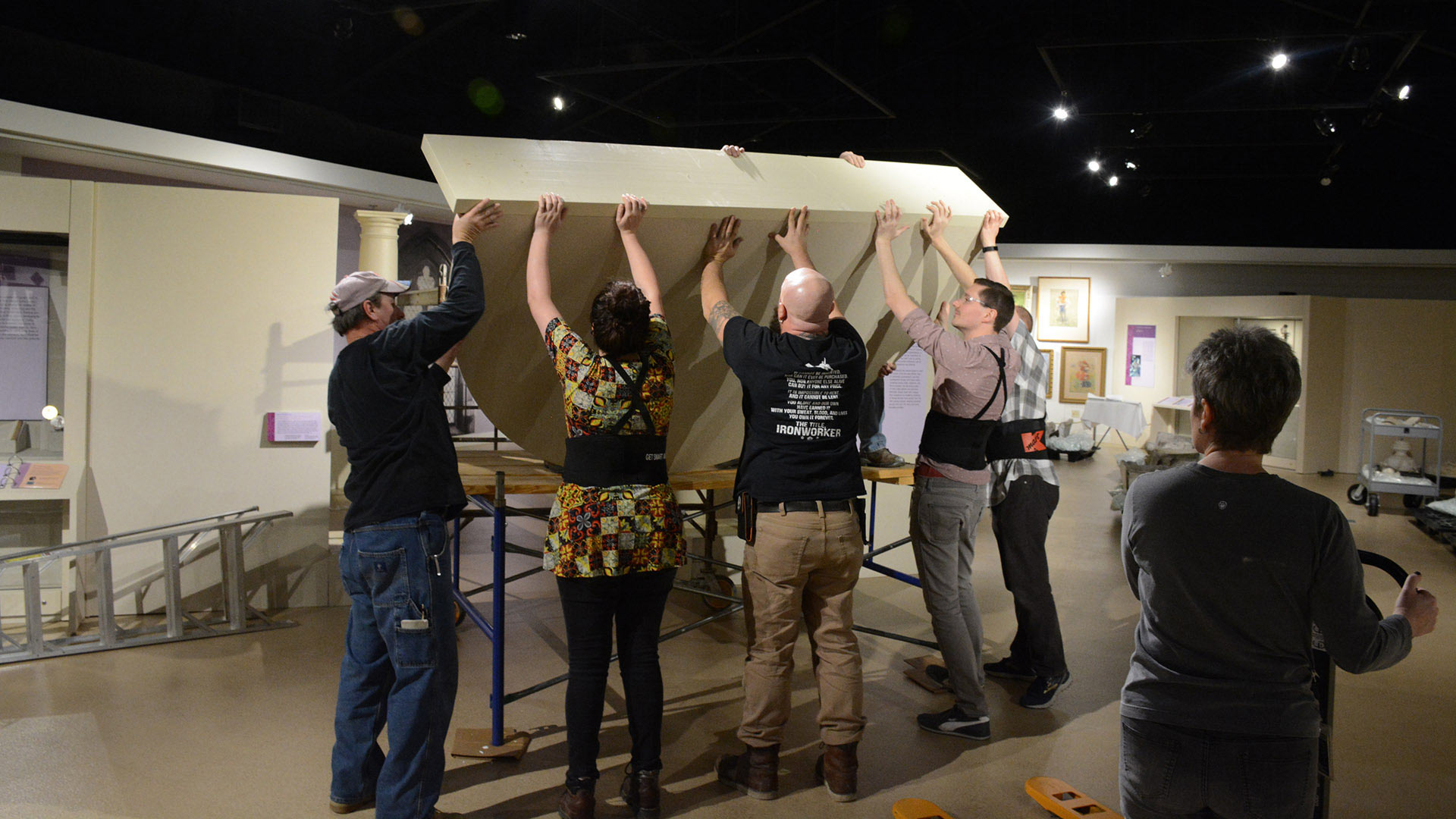 Change is underway in the European Cultures Gallery
Post Date:

12/26/2019

Author:

Beth Watkins, education and publications coordinator

Reading Time:

4 minute read
Have you been by the second floor of the Museum lately? If so, you've seen the beginning of a new master plan for the European Cultures Gallery. Staff have begun a months-long process of shifting around many of the display areas to create space in the back half of the gallery for a multi-purpose classroom space.
In order to support faculty and other educator requests for students to view collections that are typically in storage, the Museum needs a space that accommodates both a large group of students and a secure place to temporarily display and house the objects. A classroom that is bigger than the Zahn Learning Center and has secure storage built in enables students and instructors to have access to those objects while also minimizing the physical distance that the objects need to be transported in between class sessions.
To make room for the classroom space, we started by prioritizing which existing exhibit areas should stay to meet known curricular needs of university, elementary school, and middle school educators—plus keeping some visitor favorites in the mix. We also made a list of some objects that needed to come off display for preservation reasons and planned room to bring out some other objects that haven't been on display much in our current building. For example, the renovated gallery will eventually be small selections of medieval metal pieces from France and Ireland.
Over many weeks in the early spring semester, objects and casework will be moved around the gallery or into storage. To facilitate this process, the gallery will be closed during the month of January. We're thrilled to be collaborating with Illinois Facilities and Services (external link) ironworkers to safely remove the most unwieldy pieces like plaster casts and stone carvings. The ironworkers, who are experts in strategizing processes for heavy objects needing complex treatments, have helped us many times over the years, including hanging the Balinese barong ket from a pulley system in the ceiling of the Asia gallery and the recent re-mounting of a model of a geological specimen (external link).
Update 1/28/2020: The European exhibit is now expected to reopen on Tuesday, February 18.