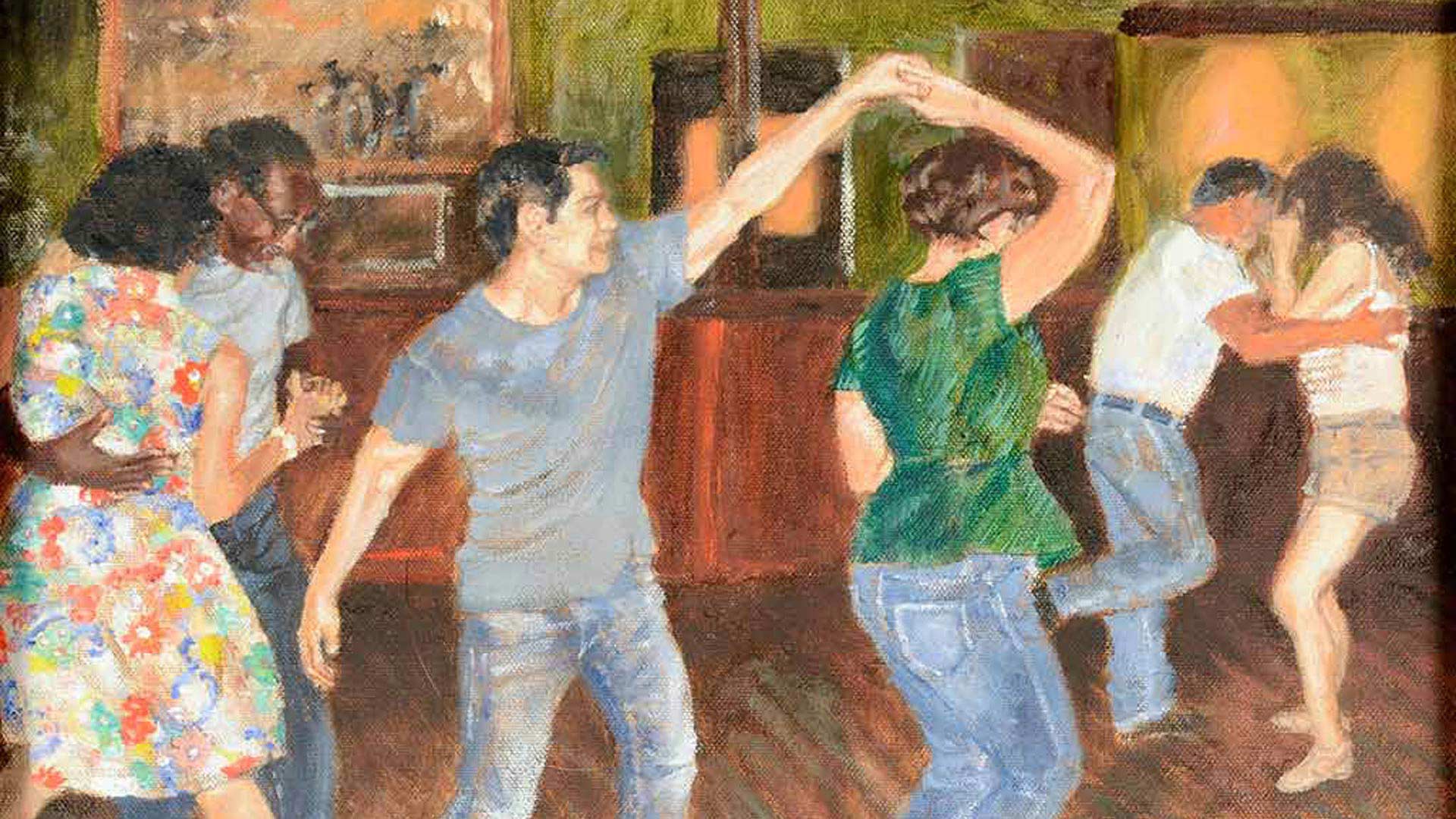 Exploring Blues Dancing and Its African Roots with Artist Laura Gillen
Post Date:

6/28/2022

Author:

Laura Gillen and Jennifer White, registrar

Reading Time:

4 minute read
As Black Music Appreciation Month comes to a close, we highlight a component of our Blues Dancing and Its African Roots exhibit. Laura Gillen, local artist and blues dancer, reflects on the significance of blues dancing to her as portrayed in her paintings. While the physical exhibit recently closed, several of Laura's works as well as artworks and stories from other artists and dancers can be enjoyed in the Blues Dancing And Its African American Roots online exhibit.
"When people are my subject matter, I am interested in the ways in which they interact, or don't. Even though the subject is not sitting, gazing at the viewer, I would call these paintings portraits, of a mood, of a situation, of my story. Having spent over 10 years painting my version of what it is to be a mother, a daughter, a child of the suburbs, I was aware (not too long ago) that my subjects were no longer reflecting the world around me. By that I mean, as my own child was growing up, my circle was expanding, my world was once again becoming my own. My art was not representing the world I live in, nor the world I wanted to see.
"That world is diverse in many ways; with respect to gender, race, class, and background. I work as a carpenter on an otherwise (usually) all-male but not all-white crew. Living in a university town I have the opportunity to know people from all over the world. My world includes joy, sadness, heartache, triumph and solitude. What better way to express all of those things than with the blues.
"Blues dancing became part of my personal story, and it was the perfect subject for a series of paintings. With their permission, I was able to photograph my friends dancing at our Monday night blues dancing classes. From those photographs I had plenty of material from which to make a series of paintings. The series hopefully expresses the feeling of connectedness and satisfaction I get when I am collaborating with my dance partner along with a community of dancers around me. As one of the titles suggests, this is 'the kind of blues that won't get you down.'
"In retrospect, I couldn't have chosen a better vehicle to express what I want to see in the world. I have never been part of a more diverse, inclusive, historically charged group than the blues dancing community. Blues dancing was the perfect subject for me to attempt to visually normalize diversity and to show the joy in unity that I see in my world."
Black Music Appreciation Month
With an over 40 year history, Black Music Appreciation Month was recognized by President Biden again in 2022 with a presidential proclamation, excerpted here:
"Music has the power to lift our spirits, comfort our souls, and inspire our hearts. It gives a voice to the human spirit, creating a common language that unites people and breaks down barriers. Perhaps no music has had as profound and powerful an impact in shaping America's musical score as Black music. Intricately woven into the tapestry of our Nation, Black music enriches our lives and pushes the boundaries of creativity. Throughout the decades and across the country, Black music has fueled a myriad of genres — from rhythm and blues to jazz, gospel, country, rap and more. This month, we celebrate the extraordinary legacy of Black music on American culture and recognize the indelible impact it continues to have on the world."
The full text of the Proclamation on Black Music Appreciation Month, 2022 is available at whitehouse.gov (external link).
For more information about Black Music Appreciation Month and the contributions of Black artists to cultural heritage, community, and identity, also see Celebrating Black Music Month at the National Museum of African History & Culture (external link).