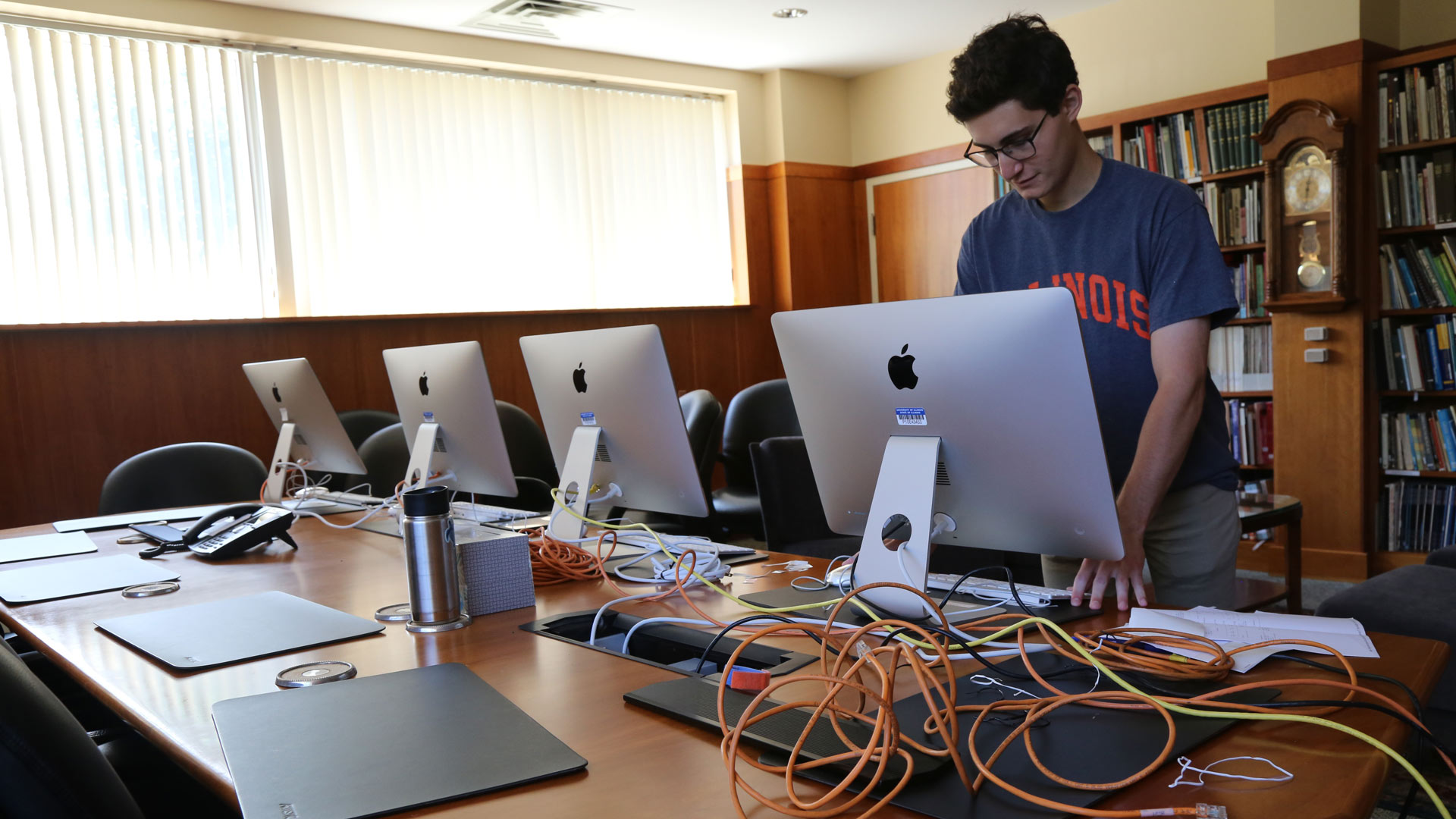 Interviewing Former IT Students: David Marcus
Post Date:

10/12/2020

Author:

Seetha Ramaswamy, IT student

Reading Time:

4 minute read
David Marcus worked in the IT Section of the Spurlock Museum from December of 2017 to the summer of 2019. He was a web development IT assistant, which meant that he primarily helped with maintaining and making changes to Spurlock's website and improving its user experience/design. David discusses his time at the Spurlock Museum with Jack Thomas and me.
Coming to Spurlock
Seetha: Why the Spurlock Museum? Why did you decide to work here?
David: Spurlock was very meaningful, it was a big deal for me. My first IT job was at Spurlock. I was an English major and around my sophomore year I became very interested in software and web development. I started teaching myself and then decided that I wanted to get a job to get some experience. Of course, it was difficult finding a job, since I was completely self taught at that point. I applied to the Spurlock Museum and interviewed with Jack. I thought it was great because the position had so much potential for learning on the job and I knew I had so much to learn. Also, I felt like I was basically being hired to learn and so I had the responsibility to learn and try my best. Spurlock was not just a stepping stone for me but it was like a foothold, the only rock in the rapids that I had, in order to get the experience I needed in something I really had an interest in. It definitely felt like Jack (and the Museum) had taken a chance on me and I remember that I told him in my interview that I would have even been willing to work for free because I truly wanted that opportunity to learn and gain experience.
Working at Spurlock
Seetha: What was the most memorable part about working at the Spurlock Museum?
David: Oh, I remember it all. Work was constantly interesting, challenging, fun, and a non-stop learning experience. I was always learning and trying something new. Some of the more memorable projects for me are creating the Spurlock style guide (used to keep the website consistent), working on an iPad kiosk design (now on hold), thinking of ways to improve user experience, and solving this problem related to the PHP scripts that were generating content being broken on certain computers (this was my first project and it taught me a lot about PHP and the Spurlock website, which helped a lot with other projects I did later on). My absolute favorite part about working at the Museum would have to be the brainstorming sessions in the IT section about the best ways to improve the website and IT services, which were usually about all these complex topics and problems. I haven't been able to find that kind of truly collaborative environment anywhere else. I was encouraged to share my ideas and to not be afraid to share because we all felt like we had something to contribute, even with our differences in experience. It was truly a team effort: if I had a problem I couldn't solve, I could ask the rest of the section and somebody could help me.
After Spurlock
Seetha: What are you doing now?
David: Right now, I'm at the University of Michigan's School of Information (external link), getting my masters (external link). I'm specializing in User Experience Research and Design (external link), which is all directly related to the work I did at Spurlock, actually. I have one year left of my masters and I'm interested in pursuing work related to user experience and data analysis.
At Spurlock, I learned that in creating and maintaining a website, you always need to be considering—especially at a museum, where having a community of users is crucial to creating an overall positive museum experience—that each person of that community should be able to fully experience the website and that ultimately, it's a good experience. Working at a museum sparked my interest in how to take the physical space and information of a place like a museum and relate it to an online space. I also found the Museum to be a really unique and perfect place to learn about how people interact with information. My current work in information architecture and user experience and my interest in the relationship between physical and digital spaces and accessibility, definitely stems from my time at Spurlock.