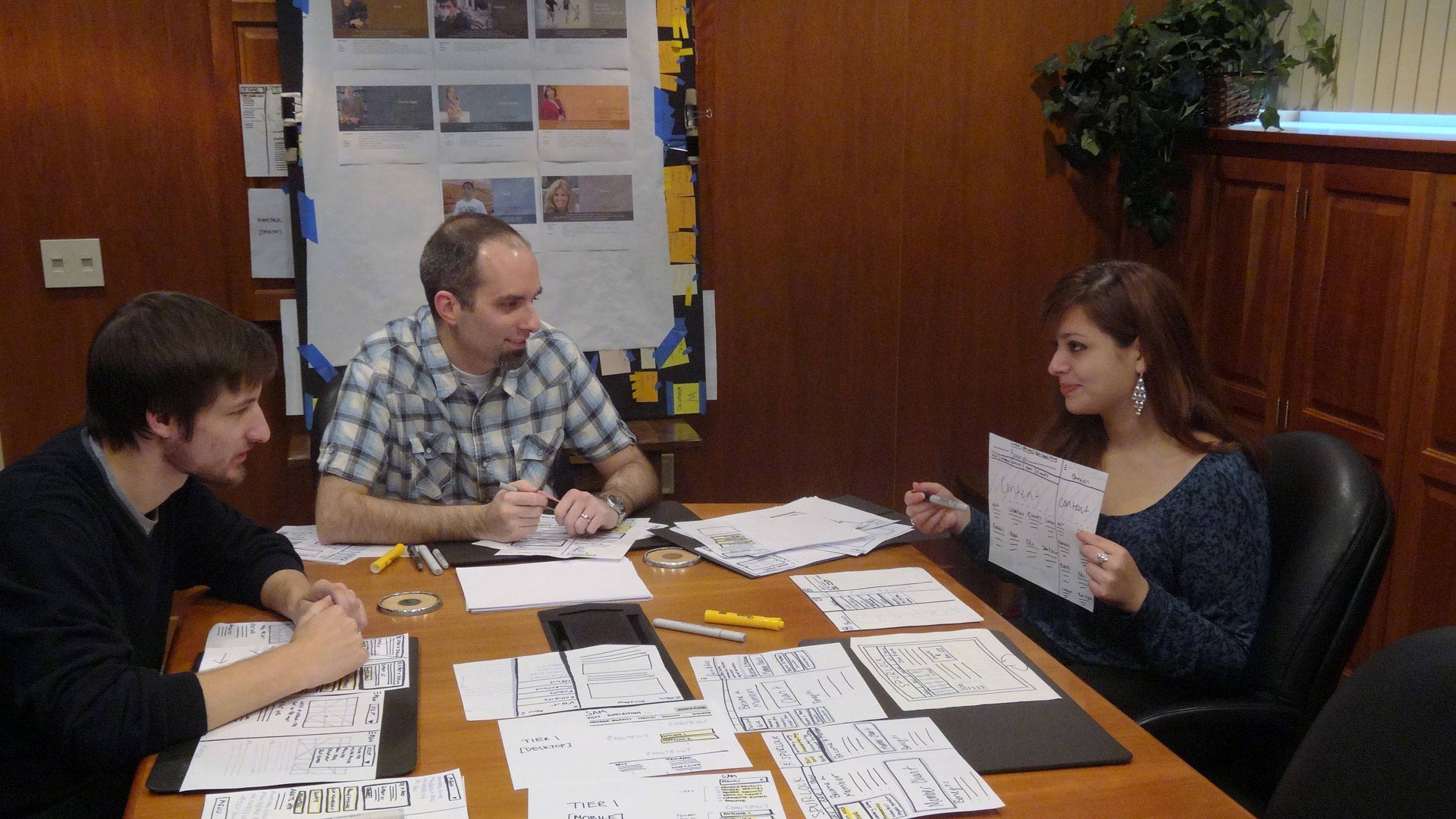 Interviewing Former IT Students: Allyssa Mejia
Post Date:

07/14/2021

Author:

Seetha Ramaswamy, IT student

Reading Time:

6 minute read
Allyssa Mejia worked in the IT section of the Spurlock Museum from 2012–2016 (all 4 of her undergraduate years). Allyssa was an animal sciences major (external link) with interests in web creation, graphic design, theater, and dance. She mostly worked on the website redesign project (also discussed in our blog post Interviewing Former IT Students: Andy Estabrook), along with some creative media projects, while at the Museum. IT Director Jack Thomas and I talked to Allyssa about her 4 years with IT and what she's doing now.
Coming to Spurlock
Seetha: Why did you choose to work at the Spurlock Museum?
Allyssa: In high school, I took a web creation design class that covered HTML and I also dabbled in graphic design, theatre, and dance. I liked that class, so I liked this job too. I appreciated that it wasn't anything related to animal sciences, so it gave me a break and I was able to focus on something different from my major. I also liked the creative outlet that doing media work gave me.
Jack: Allyssa had an interesting mix of technology and media that I thought would be a good fit for the IT section. I was also interested in her excitement for learning more, and from her interview, I felt like she would be a great collaborator for the web design project I had been planning.
Working at Spurlock
Seetha: What were some of the things you worked on in the IT section?
Allyssa: I mainly did creative media work. For video projects, I would do inventory of the tapes and take care of them, (like rewinding and digitizing them). One of these video projects was the Mesopotamian cylinder seal video. I filmed Wayne [Pitard, the former director of the Museum] talking about the cylinder seal, and then I edited the footage. Another project I worked on was the annual video that was submitted in the grant application for Illinois Arts Council funds for Museum education programming.
I also worked on the website redesign, which was a large portion of what I did.
Seetha: What was the most memorable part of working at Spurlock?
Allyssa: The website redesign, which I worked on for all 4 years. One of my favorite parts was the drawings everywhere around the office. We were surrounded by sketches everywhere—of how the website could look on desktop and on mobile, and different versions and edits. It felt empty when we took down sketches at the end. Each wall of the [IT] office [represented] a different major section of the website and had sketches for that section taped on it.
I really liked the whole design process. We spent a lot of time discussing what we liked and what we didn't like, and you could tell how well we worked together as a team, bouncing ideas off each other. At other jobs, I haven't seen that kind of collaborative work. We could see our ideas put on paper, and what we put on paper was then put on the website. Through this process, we were able to create something together. Just thinking about how the website looked before, we really changed everything. I never thought that I would be a part of remaking a website after just taking one web design class in high school.
After Spurlock
Seetha: What did you do after graduating and leaving the Museum?
Allyssa: I went to work at Animal Kingdom in Walt Disney World for a bit as part of their college internship program. I then came home and went with my original plan of pursuing veterinary medicine. I started working at a veterinary office and ended up really liking it. Now, I'm a veterinary assistant. I'm currently working at Banfield Pet Hospital (external link) part time and at GoodVets West Loop (external link). I like that I'm able to contribute and provide more input because it's a smaller team at GoodVets. The job is really rewarding and I definitely feel fulfilled by my work. I'm also in school again so that I can become a certified veterinary technician.
Seetha: Do you think that your work at Spurlock helps you in any way with your current work?
Allyssa: Last year, I helped with Angel Tree, which is a donation tree with tags that people can take. Each tag has a "wish" on it. We dedicated our tree to the Anti-Cruelty Society, so each "wish" pertained to something a shelter pet might want for Christmas. For example, a puppy may wish for peanut butter or treats. We asked people who took a tag to return the donation items by a certain date so that we could deliver them to the shelter. Overall, the project was a success!
I utilized a lot of the skills I learned while working in IT with Spurlock. The website redesign project as a whole really helped me with project planning, whether the project pertains to work or fun (Angel Tree was a mix of both). I had open discussions with my team and surveyed them on what to include. I made an excel spreadsheet itemizing everything and then went with a simple design for the tags. I've also recently created puppy packets for new pet parents using similar project planning techniques and created codes for our software system to make our medical record keeping more efficient.
Aside from all these skills I've gained, the most vital lesson was learning how to work as a team. During my time at Spurlock, I learned how important it was to have a voice in a team setting. I always felt like my input mattered and because of that I was able to contribute so much to my work, and the same is true today. Being able to bounce ideas off of each other during our redesign project was so much fun and it showed me how being a part of a good team is so important, fulfilling, and rare.
Seetha: What do you think are the benefits of a museum like Spurlock and/or the benefits of working at a museum like Spurlock?
Allyssa: I liked that Spurlock is a cultural museum. In Chicago, one of the big things to do was going to museums. From Spurlock, I was able to really develop an appreciation for cultural museums. With the videos I worked on, I could see different cultures and learn about them. I could also see representation of my own in culture at Spurlock and that was something I really appreciated. I also liked working with a smaller community, as everybody knew each other. I could see the passion in other staff members, which was inspiring.