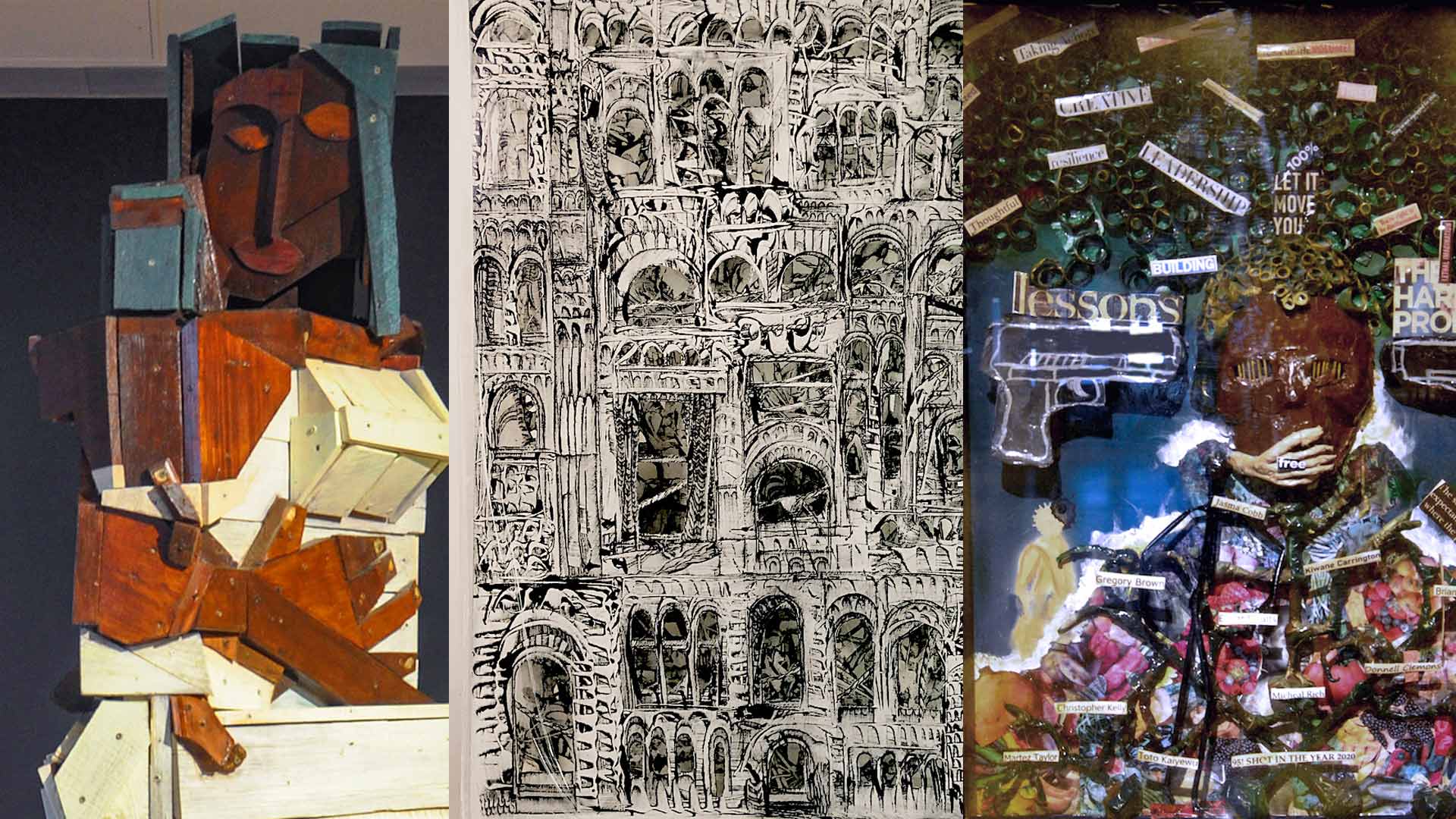 Three New Contemporary Artworks Now On View
Post Date:

3/24/2021

Author:

Katya Reno, marketing and communications coordinator

Reading Time:

5 minute read
Three new pieces of contemporary art are now on view in the Museum's front lobby. The Syrian-Armenian artist Kevin Mourad's multimedia piece, A World Through Windows (2020), which the Spurlock Museum commissioned, is now a permanent part of the Museum's collection. Kinsey Fitzgerald's sculpture Mother and Child and Ja Nelle Davenport-Pleasure's mixed-media painting Seeds of Injustice were both included in last year's Great ARTdoors program and located in area parks. The works have since moved to a temporary location at the Museum and will be on display until May 16, 2021.
A World Through Windows
Together, the three works, all made during the last year, explore both loss and hope for a better future. Kevork Mourad's multimedia piece A World Through Windows, creates a three-dimensional simulacrum of a building made of windows, which invites the viewer to peer inside. While the building is empty on the interior and the windowed spaces closed off from one another, the space for Mourad also evokes community and the ways in which the pandemic has created a shared human experience throughout the world.
"In the layers through which I invite the viewers to peer, with the guiltless voyeurism of a child," says Mourad, "I seek to evoke the emotions that have defined us all in this period of pandemic—angst, fear, boredom, loneliness, anger. These emotions have often been formless, aimless, without overt expression, as we all have tucked ourselves into our isolation. As an artist, my wish is that my art might help a viewer toward an understanding of their own emotions, as I find my own understanding of myself evolve every time I delve into a work of art."
Seeds of Injustice
Like Mourad, Ja Nelle Davenport-Pleasure, also describes how her art helps her understand and process difficult emotions related to race and gun violence. Her mixed-media painting, Seeds of Injustice, was born, she says, "out of a frustration of the violence in the world and within our backyard in Champaign County… People nowadays have been hit so hard with pain after pain and struggle after struggle." She worries that we have become numb as a result. The names that appear to be growing from a tree's seeds include those of people killed by gun violence in the Champaign-Urbana area. Newspaper cutouts of victims' names intersperse with words like "Lessons," "the Hard Problem," "95 Shot in the Year 2020." A central image of a muzzled Black face in what appears to be a death mask can also be seen as the trunk of a tree, with a green arbor spreading above it. In the arbor, the cutouts, with words like, "resilience," "taking action," "feel," and "let it move you," indicate hope moving out of a difficult situation. Davenport-Pleasure says that she wanted to communicate her own feelings to the viewer: "I put all of those thoughts, frustrations, anger-filled tirades into a box looking back as us. I want people to feel something when they look at this piece." 
Mother and Child
Kinsey Fitzgerald's Mother and Child engages with race and the social justice issues that energized the #Blacklivesmatter protests during the summer of 2020. The image she depicts speaks back, as Fitzgerald says, against the stereotype that Black mothers are absent mothers. In her sculpture, a Black mother tenderly embraces her young child, recreating a quiet and nurturing moment. Fitzgerald says she was inspired by a similar sculpture in São Paulo, Monumento da Mãe Preta ("The Black Mother Monument"), by Júlio Guerra, a monument to Afro-Brazilian women who were enslaved in Brazil. That monument also gestures toward the act of making slaves perform as wet-nurses, and in turn, taking them away from feeding their own children. Thus, Fitzgerald's sculpture points in two directions, both toward an intimate moment between mother and child, and toward a history that includes slavery and its destructive force in particular against mothers and children.  
Taken together, the three pieces capture the difficulties and suffering of our contemporary moment. But each in turn also expresses hope that communities can rebuild, that resilience will lead to solutions, and that tenderness and compassion are still with us.