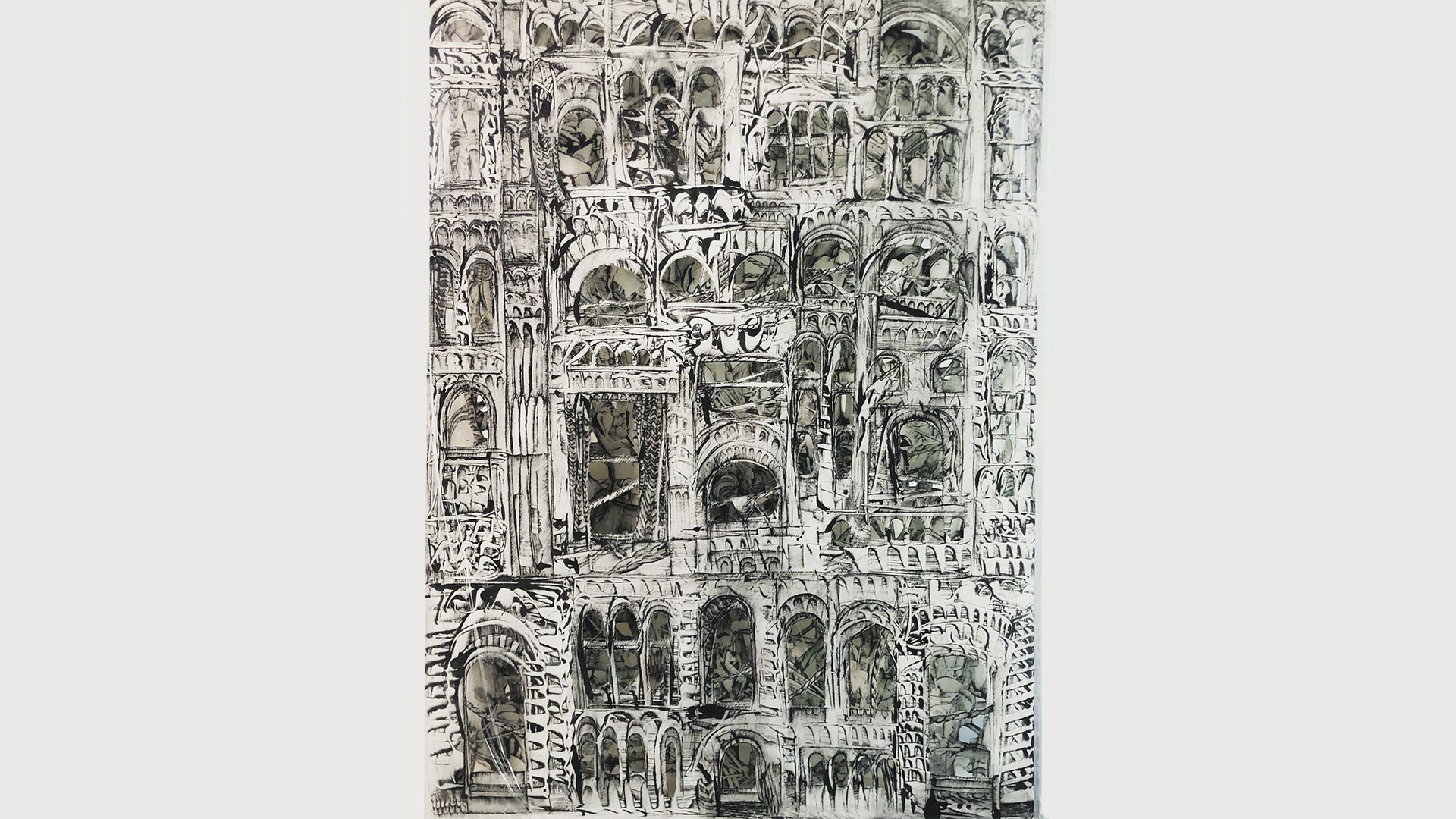 "A World Through Windows"
Duration:

Permanent

Location:

Leavitt Gallery of Middle Eastern Cultures
(date) 2/23/2021—indefinitely
4/10/2023
Coming Soon!
This artwork returns to display on April 11, 2023.
Featured Artwork
In his new work, "A World Through Windows", Syrian-Armenian artist Kevork Mourad explores how the "pandemic has reduced our sense of space and our spheres of influence," even while it has "increased our connectivity around the world" (Mourad). Using a technique that employs monotype on fabric, ink drawing, and sculpture, Mourad has created a network of windows, through which a viewer can peer. Each window is separate from the other, each "sealed entity," gestures toward our current state of isolation, and yet when viewers step back and look at the whole of the building image, they see that the spaces are connected. The effect is that of an ancient ruin, with architectural details reminiscent of Islamic patterning, witha mix of Italian baroque complexity. And while the emptiness that the windows hold and the time-worn structures suggest war damage and loss, the building's network still holds, as it seems to be waiting for its inhabitants to return. Thus, as Mourad points out, the piece suggests "angst, fear, boredom, loneliness, anger," but also "community," wherein we share in both our "happiness and our suffering."
The Spurlock Museum of World Cultures commissioned "A World Through Windows" from Mourad early last year, and he worked on it during the early months of the pandemic, from his studio in Brooklyn. Mourad is an internationally recognized artist, who often employs live drawing and animation with live music. He has developed collaborations with Yo-Yo Ma, Kim Kashkashian, the Los Angeles Master Chorale, Brooklyn Rider, The Knights, Perspectives Ensemble, Paola Prestini, and Kinan Azmeh. He has performed live drawing at the Metropolitan Museum of Art, Walt Disney Concert Hall, Carnegie Hall, Lincoln Center Atrium, The Art Institute of Chicago, The Brooklyn Museum of Art, The Bronx Museum of Art, The American Museum of Natural History, ElbPhilharmonie (Germany), Rhode Island School of Design, and Nara Museum (Japan).
Mourad has been a resident teaching artist at Harvard University, Brandeis, and Holy Cross. He is also a member of musician Yo-Yo Ma's Silk Road Ensemble, a loose collective of musicians, composers, arrangers, visual artists, and storytellers from Eurasian cultures. Mourad was featured in the Grammy–nominated documentary on the Silk Road, Music of Strangers (2016). Recent commissions of Mourad include Israel in Egypt,for the Los Angeles Master Chorale, Sound of Stone for the exhibition Armenia! at the Metropolitan Museum of Art, and Well Wish Ya for the OYO Dance Troupe (Namibia). His performance, Home Within, co-produced with clarinetist Kinan Azmeh, has toured throughout the world.
Kevork Mouard premiered his animated film, 4 Acts for Syria, at the Stuttgart Animation Festival in 2016, for which he won the Robert Bosch Stiftung Film Prize. In 2019, he was commissioned by the Aga Khan Foundation to create a site-specific twenty-foot drawing-sculpture, "Seeing Through Babel", at London's Ismaili Center. In October 2020, he premiered the visuals for Beethoven's Fidelio for the Korea National Opera. His works are in the permanent collection of the Institut du Monde Arabe, in Paris. "A World Through Windows" is now in the permanent collection at the Spurlock Museum of World Cultures.
Artist Talk
Kevork Mourad travelled virtually to UIUC on April 21 at 7:00 pm as part of the Millercomm Lecture Series. In the event, Kevork Mourad, "Conceptualizing Migration, Memory, and Place Through Art", he discussed how he understands and works with these concepts in his paintings and visual performances, especially in the ways that they related to his Armenian heritage and early experiences in Syria. The event was hosted by the Initiative in Holocaust, Genocide, and Memory Studies, and was sponsored by the Center for Advanced Studies and the Spurlock Museum, among others.
Videos of A World Through Windows
In a set of three fully produced videos, Kevork Mourad walks viewers through the process he used to create A World Through Windows. Together, the videos are an intimate and enjoyable view into the process of this world-renowned artist.
Introduction to Kevork Mourad's Artwork
Preparation for A World Through Windows
Making A World Through Windows