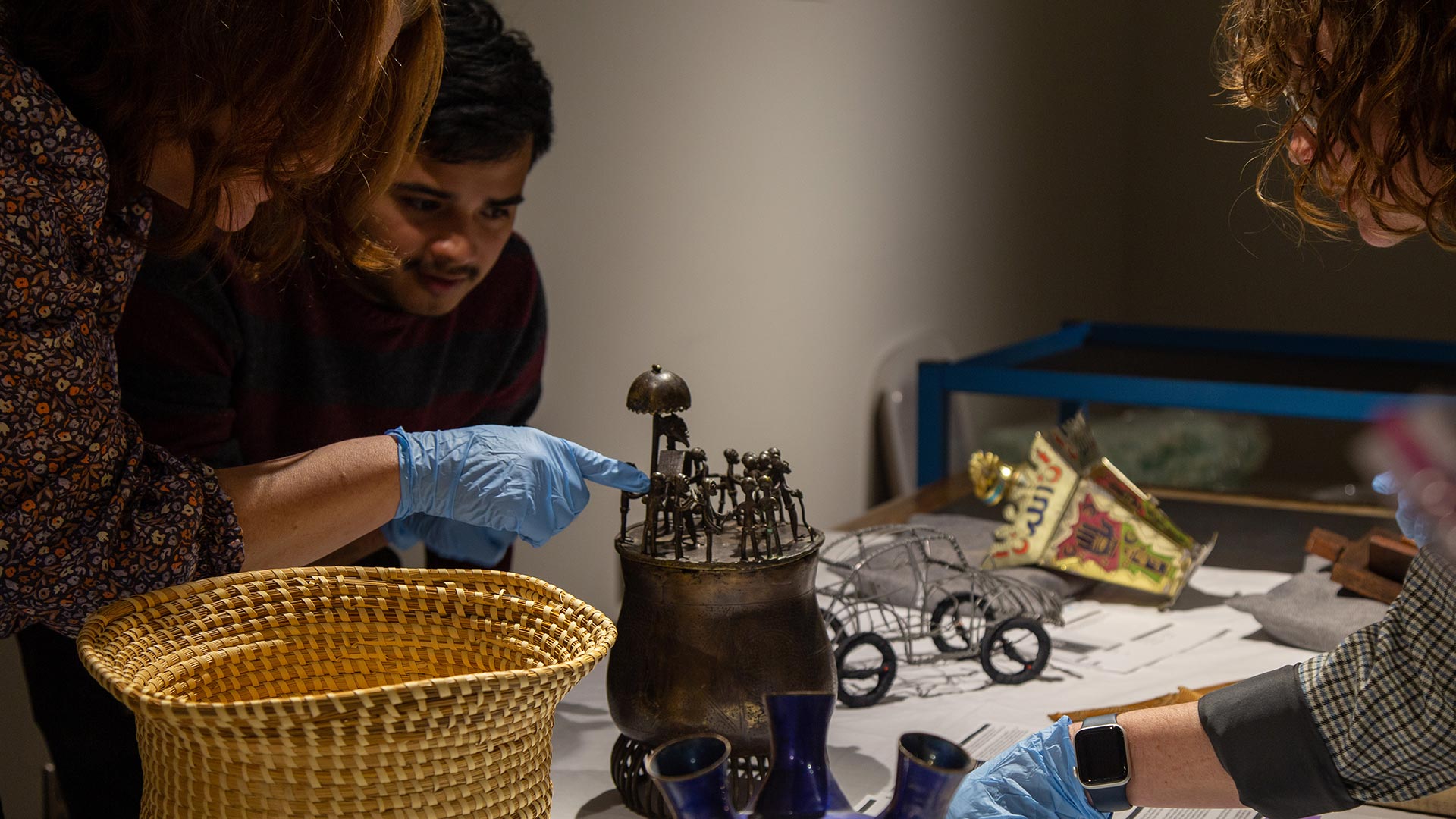 Reinterpreting Africa: Centering Diverse and Authentic Cultural Voices
Post Date:

04/15/2023

Author:

Monica M. Scott, Manager of Community Engagement and Programs

Reading Time:

4 minute read
If you have recently visited the Spurlock Museum, you may have noticed the Gallery of African Cultures looks different. The empty cases are a sign that changes are on the way!
Last Spring, Spurlock received a societal impact grant from the Chancellor's Call to Action to Address Racism and Social Injustice Research (external link) program. With this grant, the Museum launched the project Reinterpreting Africa: Centering Diverse and Authentic Cultural Voices in a Museum Gallery.
How can a museum address racism and social injustice?
We start by addressing the structures of power within these spaces. Museums are colonial institutions that collected some objects through questionable means and prioritized academic knowledge over traditional knowledge and lived experiences.
We asked ourselves: How can our communities contribute their voices, perspectives, and knowledge to Spurlock Museum exhibits?
Spurlock has partnered with community curators to present meaningful temporary exhibits such as In Her Closet—How to Make a Drag Queen, Sewn in Memory: AIDS Quilt Panels from Central Illinois, and Quinceañeras: Celebration, Joy, and Ethnic Pride. Many of the Museum's permanent galleries, however, have been minimally updated since the Museum opened in 2002. The Gallery of African Cultures required a critical response.
The best way for us to better understand, engage, and reflect our diverse communities is to seek their feedback. Our project aims to reinterpret the Gallery of African Cultures through intensive community evaluation.
What do our visitors like best or least about the gallery? Do they experience challenges navigating the space or understanding the content? What are their thoughts about the objects on view? What's missing? What should be left out? What's the best way to talk about these objects…and who should talk about them?
How You Can Help
Everyone is a stakeholder and can visit the Museum to complete a survey. These surveys are short and each person (over 18 years old) who completes one will receive a free poster (while supplies last). Museum visitors can also help test exhibit prototypes once they're available.
Some people are key stakeholders.
Key stakeholders were invited to participate in special focus groups. These stakeholders have a relationship to Africa in one of three ways.
Identity: they were born in an African country; 1 or 2 generations removed from Africa and identify, for example, as Nigerian, South African, Congolese, Kenyan, etc.
Heritage: they are generations removed from Africa by immigration or the Transatlantic Slave Trade; ancestry is African; could identify as Black, African American, Afro-Latino, Afro-Brazilian, Jamaican, etc.
Research: their scholarly or professional work focuses on some aspect of the African continent; could be faculty, graduate student, curator, etc.
Reinterpreting Africa underscores the Museum's intention to respect diverse knowledge systems and to assemble multiple curatorial voices—including authentic cultural voices—to develop exhibits that collaboratively engage the broadest population.
We want to do our best to get it right, and this process takes time. We appreciate the patience and understanding of our communities while we work together to build a transparent and civically focused museum.
---
Acknowledgments
This material is based upon work supported by the University of Illinois Urbana-Champaign Chancellor's Call to Action to Address Racism & Social Injustice Research Program.
Disclaimers
Any opinions, findings, and conclusions or recommendations expressed are those of the author(s) and do not necessarily reflect the views of the Office of the Vice Chancellor for Diversity, Equity & Inclusion, the Chancellor, the University of Illinois Urbana-Champaign, or The Board of Trustees of the University of Illinois.