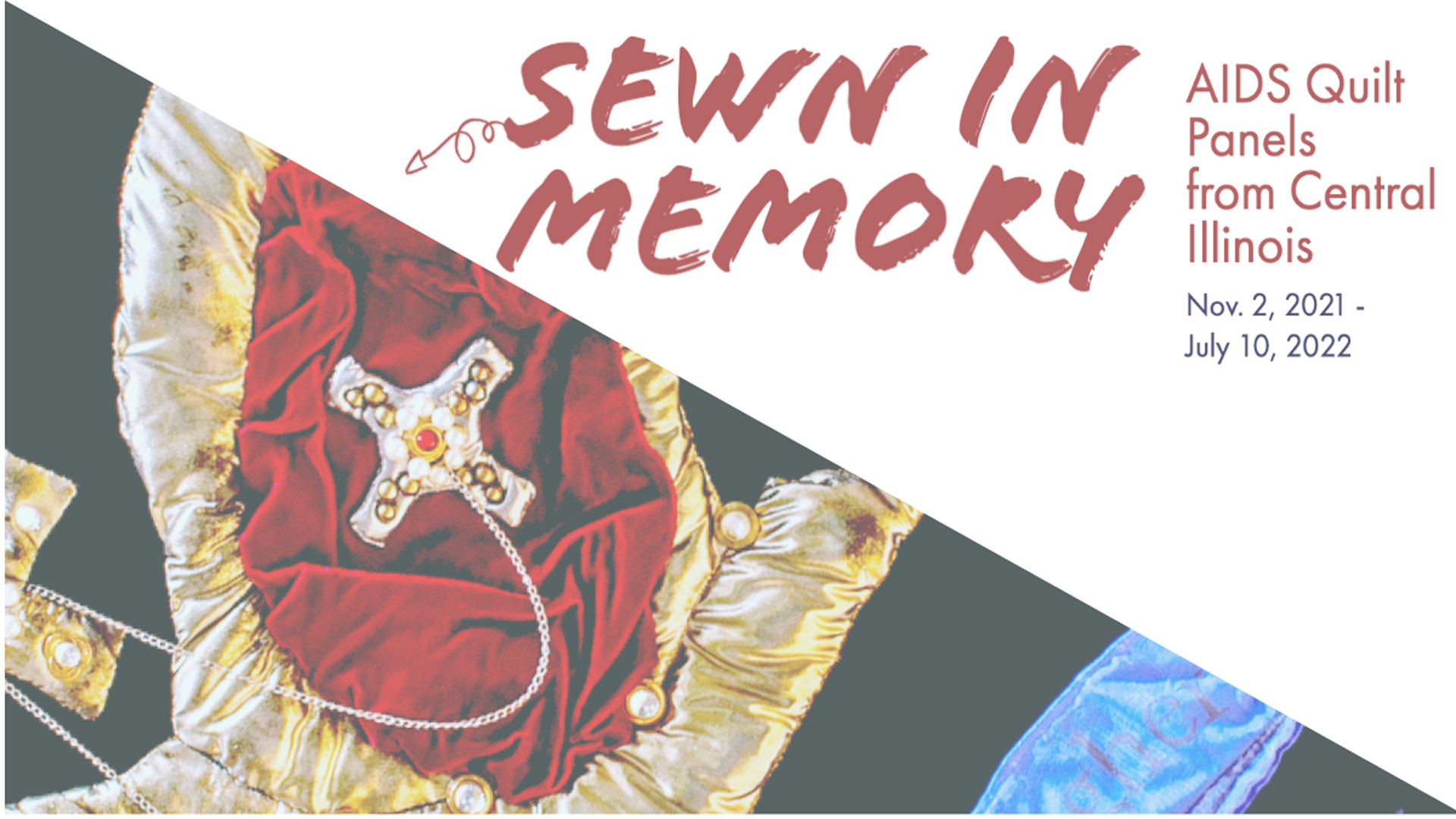 Exhibit commemorating people with HIV/AIDS comes to Spurlock Campbell Gallery
Post Date:

10/22/2021

Author:

Travis Stansel, assistant registrar, photography and photographic archives

Reading Time:

6 minute read
In October of 1987, 1,920 fabric panels covered an area larger than a football field on the National Mall in Washington, DC. Each of the panels was the approximate size of a grave's plot—3 by 6 feet—and commemorated an individual who lost their life to AIDS.
This was the NAMES Project AIDS Memorial Quilt. Its beginnings were humble: in 1985, activists taped placards to the side of San Francisco's City Hall. Written on each placard was the name of 1 of 1,000 SF residents who had died of AIDS. Gay rights activist Cleve Jones saw these cards and thought they resembled a patchwork quilt. Thus, the idea for the National AIDS Memorial Quilt was born.
GCAP Forms
In the early 1980s, AIDS was thought to be confined to large cities, but within a couple years, it was taking the lives of people in smaller communities, as well. As a response, in 1985, members of the Champaign-Urbana LGBTQIA+ community founded the Gay Community AIDS Project, now the Greater Community AIDS Project, or GCAP.
Spurred on by the national quilt project, GCAP activists, partners, parents, and volunteers began sewing AIDS quilt panels in Champaign-Urbana to honor and remember those friends and family members that they'd lost. Jerry Carden, a founding member and the first chairperson of GCAP, described the process of making quilts "to commemorate their loved ones" as a "healing" process that focused on the lives of the remembered.
According to Carden, some of the panels from Champaign-Urbana made their way to the National Quilt Project, while others stayed here in the area, in GCAP's holdings. Still others were made in duplicate, with one copy staying here in Champaign-Urbana, and the other copy traveling to Washington, DC, to be a part of what is now called the National Memorial AIDS Quilt.
The Spurlock Museum of World Cultures is honored to show 21 panels made as part of this effort, from the late 1980s and early 1990s. Our newest exhibition, Sewn in Memory: AIDS Quilt Panels from Central Illinois, will open in our Campbell Gallery on November 2, 2021. The exhibit will run from November 2 , 2021 to July 10, 2022. The exhibit timing aligns with the 40th anniversary of the identification of AIDS as a disease, and International AIDS Day on December 1. According to current GCAP Executive Director Mike Benner, the Sewn in Memory exhibit will be the first time all of the panels have been together on display since 1993.
History Harvest Commences Research
The origin of Sewn in Memory: AIDS Quilt Panels from Central Illinois was a class project led by Professor Kathryn Oberdeck, Associate Professor of History at Illinois. The History Harvest Project collaborates with community members who share documents and items of personal and historical interest, so that students can digitize the materials and display them in an online archive.
The 2019 iteration of History Harvest focused on changing urban spaces in Champaign-Urbana. Through its research, the class also became aware of the 2017 closing of Champaign's Chester Street Bar. Chester Street Bar had been a hub for the local LGBTQIA+ community for decades.
As the class came to a close, Professor Oberdeck noted that conversations with students led to a shared desire to keep the project going. "We discovered there was a real interest in collecting and displaying this community's history." For this reason, she says, they "planned a second course that would focus more specifically on LGBTQIA+ history in C-U, using the year in between the two courses to develop networks of interested donors in the community."
Two of the contacts Professor Oberdeck's class reached out to were GCAP members, Jerry Carden and Mike Benner. The Spurlock Museum of World Cultures became involved when Exhibit Committee Member Beth Watkins met with Professor Oberdeck and Mike Benner about photographing the panels, both for History Harvest and for GCAP's archives.
Launching the Exhibit
GCAP's Jerry Carden said the panels had been in storage and out of sight for so many years, that when they were revealed recently, he experienced a strong emotional response to seeing them. Some of these panels, Carden crafted and/or designed himself and some of them were dedicated to close friends of his.
Mike Benner, GCAP Executive Director, recognizes the importance of the memorial but says he also has a hope that the exhibit will go beyond memorial, functioning also to help GCAP in its research. In particular, he hopes the exhibit will help GCAP and others gather information about the people who are commemorated in the panels, but about whom very little, or nothing, is known. He encourages those who think they might have information on the memorialized or about the quilters to reach out to GCAP or to the Spurlock Museum at Email: spurlock-museum@illinois.edu. You can also find both of our organizations on social media, where you can send private messages or generate query posts.
Illinois Public Media to Create Short Films
Looking forward to January, we will be welcoming short films into the Campbell Gallery, which will appear alongside the quilts. These documentary films, creations by a cross-disciplinary group of UIUC students, led by Illinois Public Media Director of Community Content & Engagement Kim Kranich and Journalism Professor Charles Ledford, will document the stories behind some of the quilt panels, including stories by friends and family who knew the deceased.
Exhibit-Related Events to Watch For
11/2/2021, 11/7/2021, and 12/5/2021: Private tours of the exhibit by curators and community leaders (advance registration required)
1/30/2022: Opening reception
11/30/2021 at 7:30pm: Spurlock Book Club reading "Angels in America," Book 1 (Zoom)
1/18/2022 at 7:30pm: Spurlock Book Club reading "Angels in America," Book 2 (Zoom)
Be sure to follow us on our Facebook page, Instagram, Twitter, and Youtube channel for updates on these events and timely announcements about others. We look forward to seeing you at the exhibit!