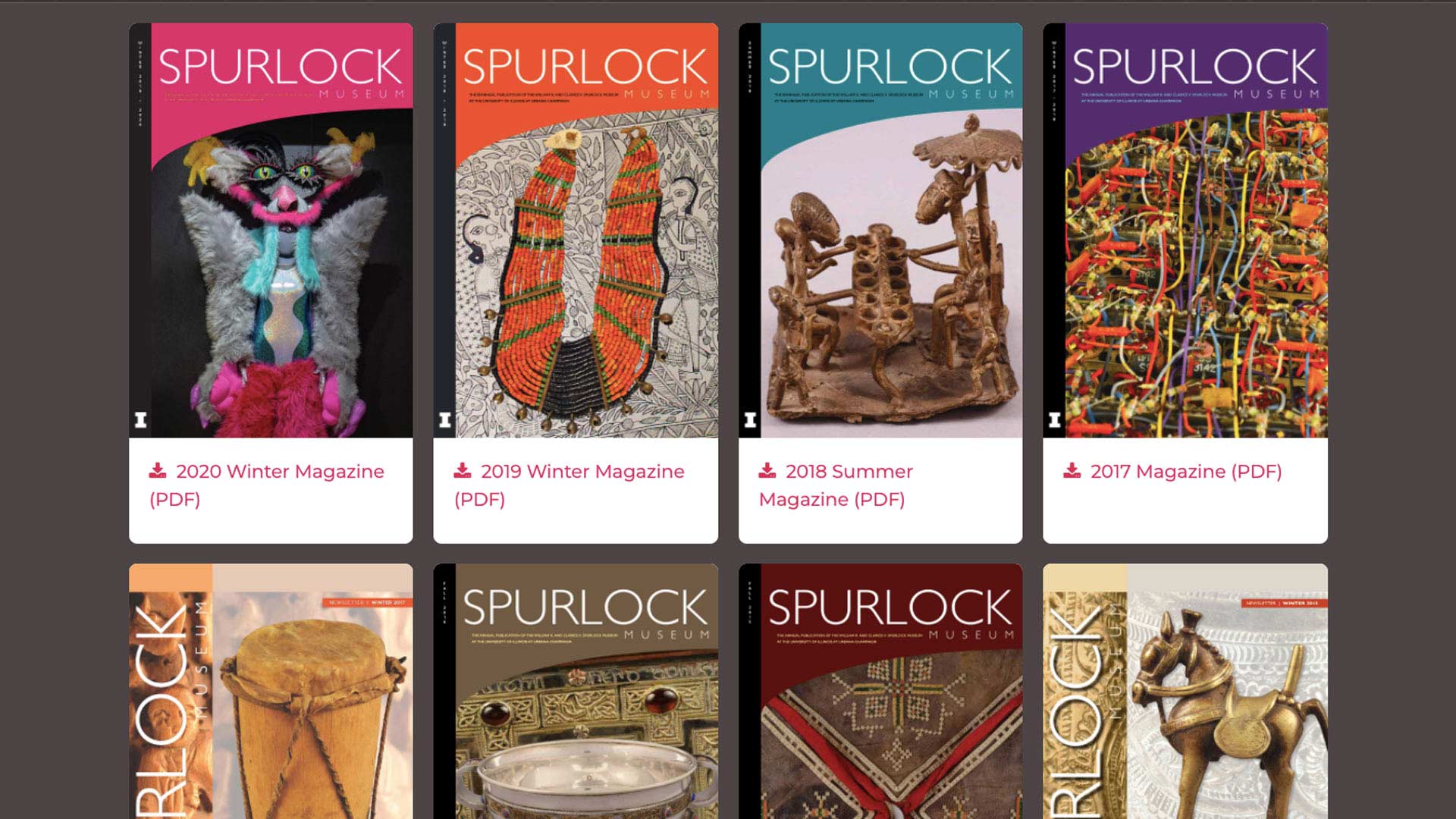 Spurlock Resources to Explore During Shelter-in-Place
Post Date:

4/29/2020

Author:

Seetha Ramaswamy, IT student

Reading Time:

7 minute read
As mentioned in our previous update on Museum operations during COVID-19, the Spurlock Museum is closed to the public until further notice and all scheduled in-person events hosted by the Museum are canceled until at least May 16th. While we're closed, we wanted to highlight some of our online resources that are available and that can hopefully be useful, entertaining, and engaging.
Current Exhibits
Our two temporary exhibits, In Her Closet—How to Make a Drag Queen and Blues Dancing and Its African American Roots, have some content that can be accessed online.
Video interviews of African American community members (alumni or people living in the Champaign-Urbana area) explaining blues dancing and their connections to it are now available, while other portions of Blues Dancing and Its African American Roots are currently being developed as an online exhibit. The exhibit will re-open once the Museum opens to the public.
In Her Closet now has a photo gallery available to view the mannequins and objects on display in the gallery. We also have links to performance videos of the drag artists who are featured in the exhibit. Both are available on the profile page of the In Her Closet exhibit. If you did not get a chance to check out In Her Closet, this is a great way to experience some of the artists' looks and performances. The exhibit has been extended to August 2, 2020, so you'll have a bit of time to explore it once we reopen. Until then, we are exploring ways to bring more of the content of this popular exhibit through online channels.
Blog
Our blog highlights past exhibits selected objects, and behind the scenes work at the Museum. Blog posts are written by staff and students and are often reflective of their personal interests and specialties. The blog can be a great way to get started on exploring different objects in our Collections database, or to find a past exhibit you want to see more pictures from. You can also read updates on the Museum's activities, especially in regard to operations in the face of COVID-19.
Publications
You can find electronic versions of our magazines and newsletters here on the site. These Publications are great resources to get caught up with what's (and who's) new at the Museum and to read about exhibits and items in our Collections.
Collections
The Collections section of our website allows you to search the Artifact Collection. Many objects have high-quality pictures available and are cataloged as thoroughly as possible. There's also a Notable Collections section that highlights some of the significant collections available. However, you can also search through the Collection for objects based on particular criteria: geographical area, time period, function, material, etc. Our blog also features a Collections tag that provides some quick and easy reads about certain objects that students and staff have researched.
Online Exhibits
We also have 4 online exhibits. Using colorful graphics (maps, pictures, videos, etc.), these exhibits are an easy way to navigate, to comprehend, and to gain an in-depth view of specific topics. Buddhism in Mid-20th Century Thai Villages is a series of in-depth blog posts written by curator Professor Clark Cunningham, corresponding with Buddhist artifacts on display in the permanent Southeast Asia and Oceania: "Crossroads" exhibit. The online exhibits of Senufo-Tagba of West Africa, Mandarin Squares, and Egyptian Mummification are modules that walk you through the history and key aspects of these subjects.
Our Social Media
Our Facebook page, Twitter, and Instagram are active, and a great way to engage with us, to see updates, and to see a variety of posts like community resources, object highlights by students, and staff picks of favorite museums to visit in person and online.
Let Us Hear From You!
We hope you are doing well during these difficult times, and we hope the Museum can be a resource for you for learning, culture, and curiosity. Please reach out via social media if you have questions or needs. You can also continue to contact us through our general email (spurlock-museum@illinois.edu (e-mail link)).